Smarter, Faster, Better
The drive for perfection.
From the moment you place an order until it has arrived at your door, our people are at work driving industry-leading efficiencies for your team and ours.
We measure inspection systems, study dimensional data, and ensure perfection in quality, logistics, and process. We connect both customer and associate with the right steel at the right price at the right time. After all, our shared goal is a visible, positive impact on your bottom line.
We're an innovation company. Flat Rolled Steel is where we usually start.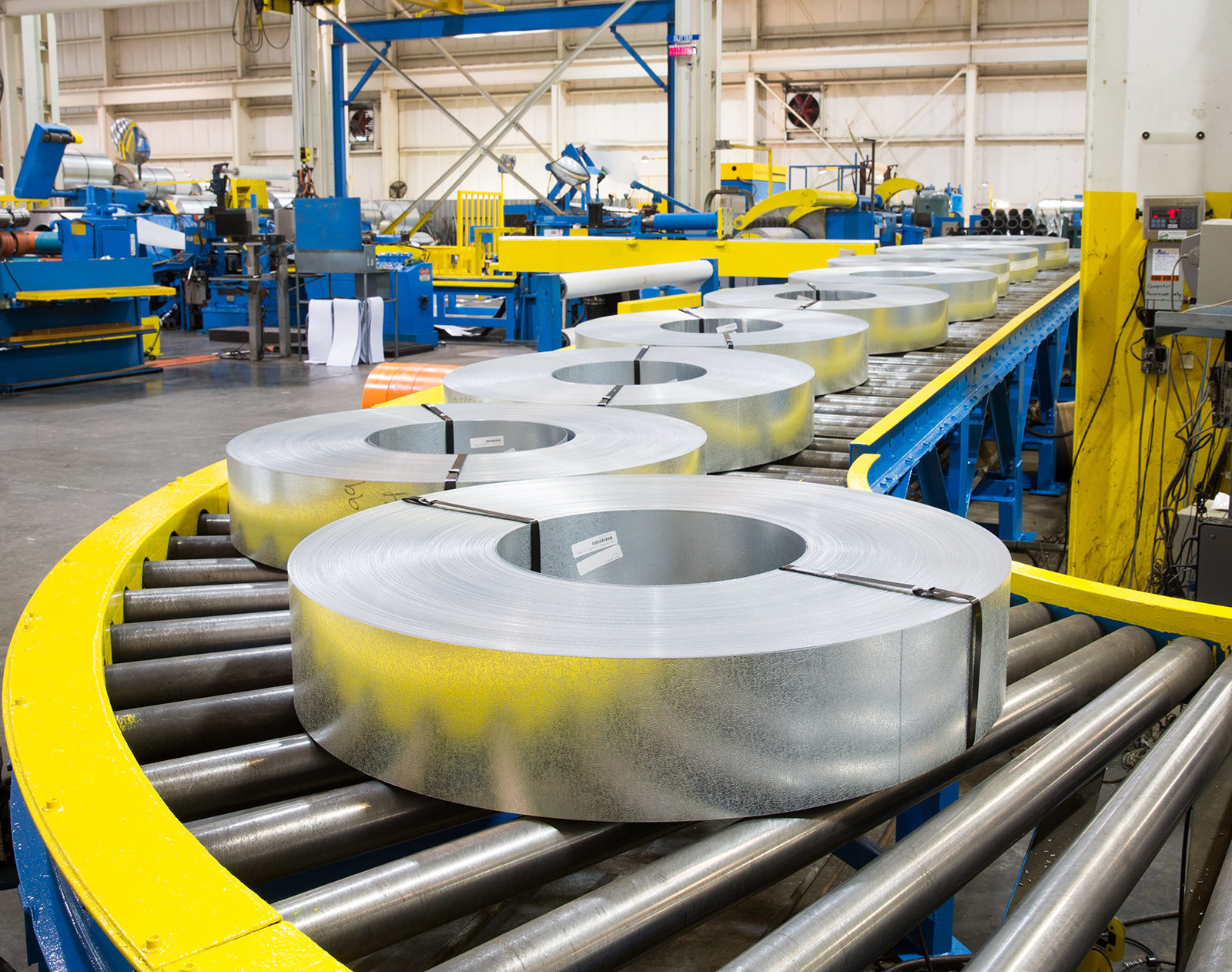 Galvanized

Steel substrate and a 99% zinc coating
Need it UL Certified? We do that too

Cold Rolled

Typically supplied annealed and temper passed

Galvannealed

90% zinc and 10% iron

Aluminized

Type 1 aluminized has a coating of approximately 84%
Type 2 aluminized has a coating of commercially pure aluminum

Stainless

Stainless steels are iron alloys with a minimum of 10.5% chromium
Alloying elements enhance formability, strength and cryogenic toughness

Galvanized Bonderized

Zinc phosphate treated galvanized steel
Inhibits corrosion and promotes paint adherence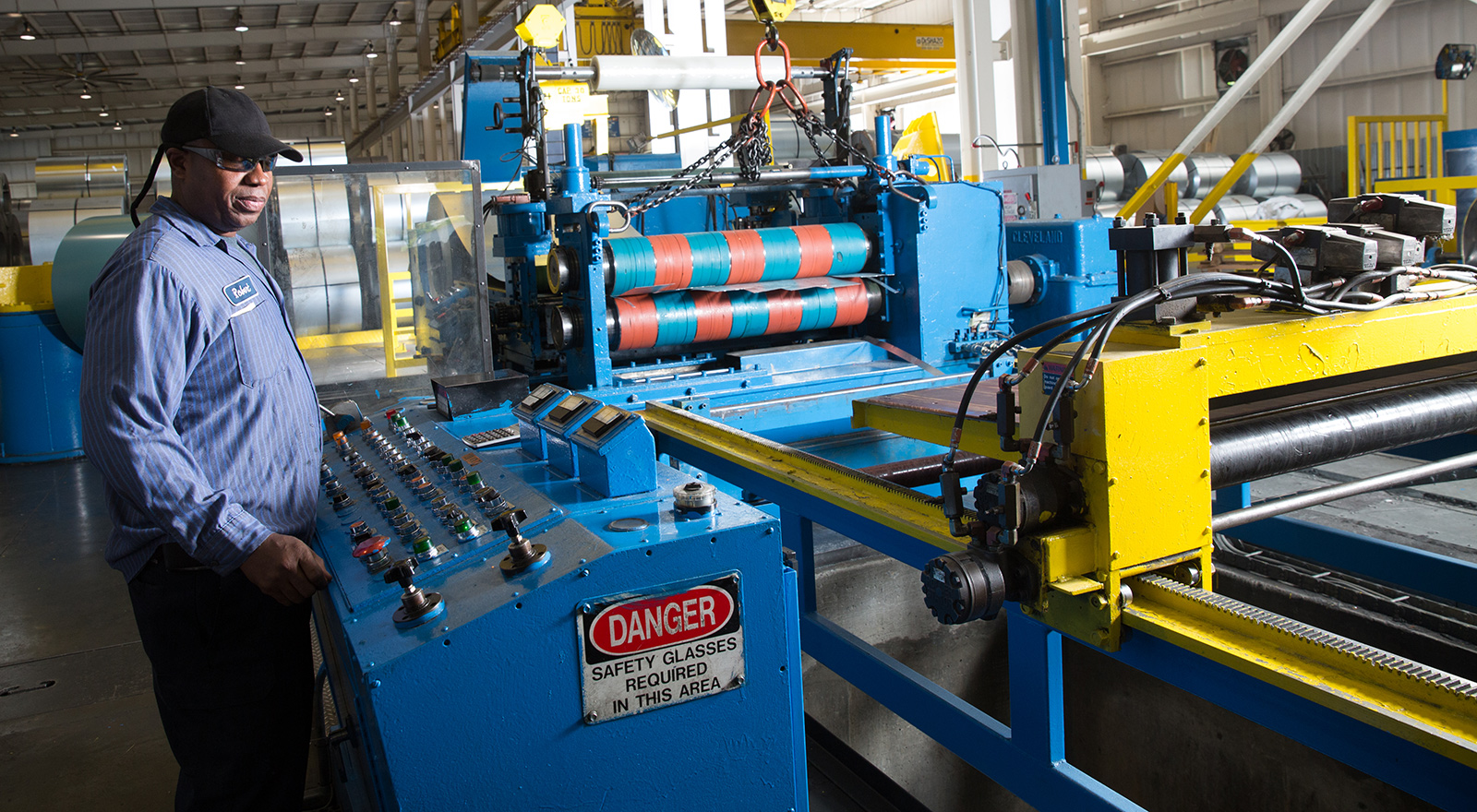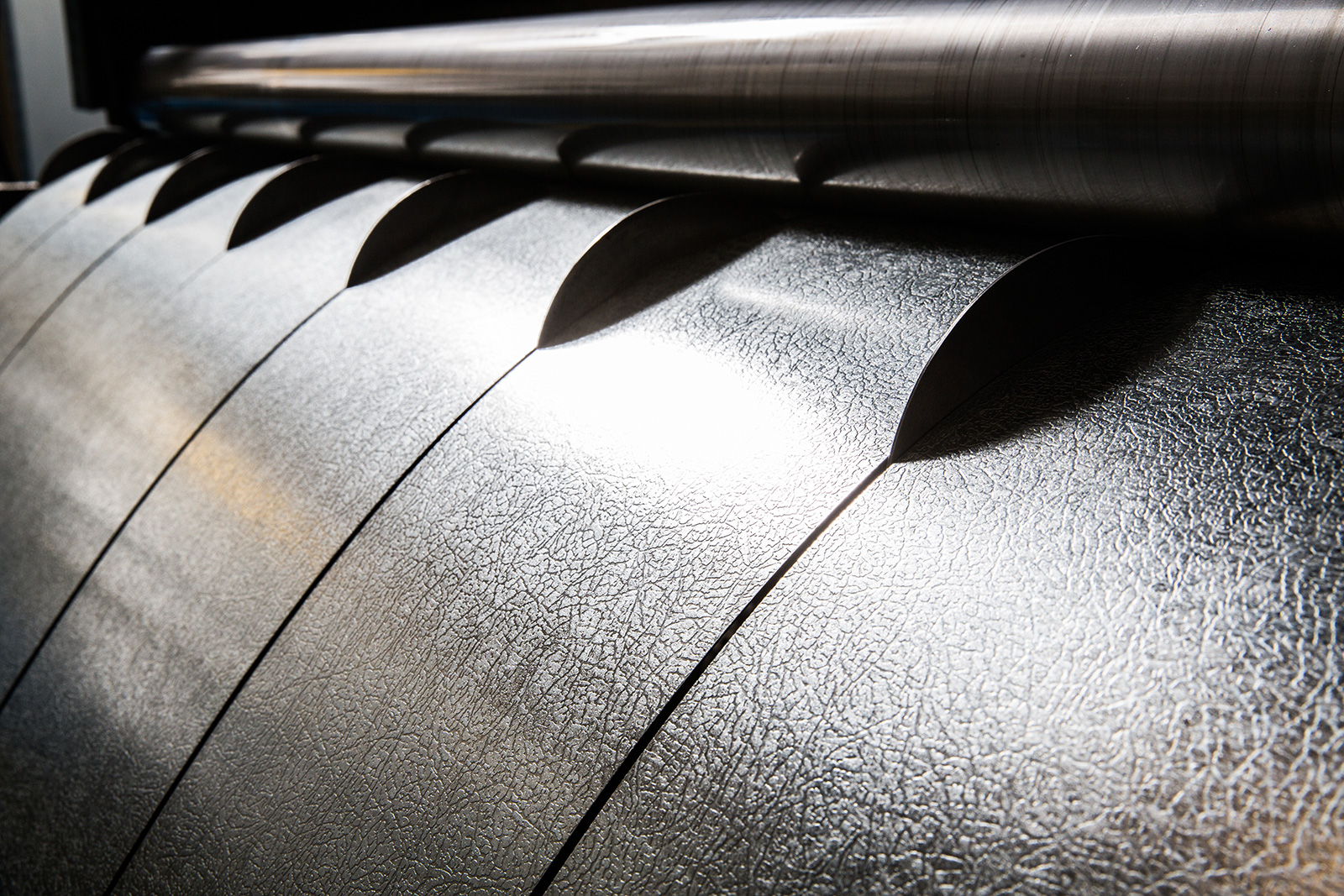 Slitting
We provide high-speed precision steel coil slitting with full loop capabilities and a combination of drag pad and roll tension stands to provide a camber-free product. Coil slitting prior to metal forming economically cuts high volumes of steel to precise widths within +/- 0.005″. Our slitters are equipped with packing lines for quick banding and packaging of finished products. Each slitter is capable of applying protective film (strippable) and oiling.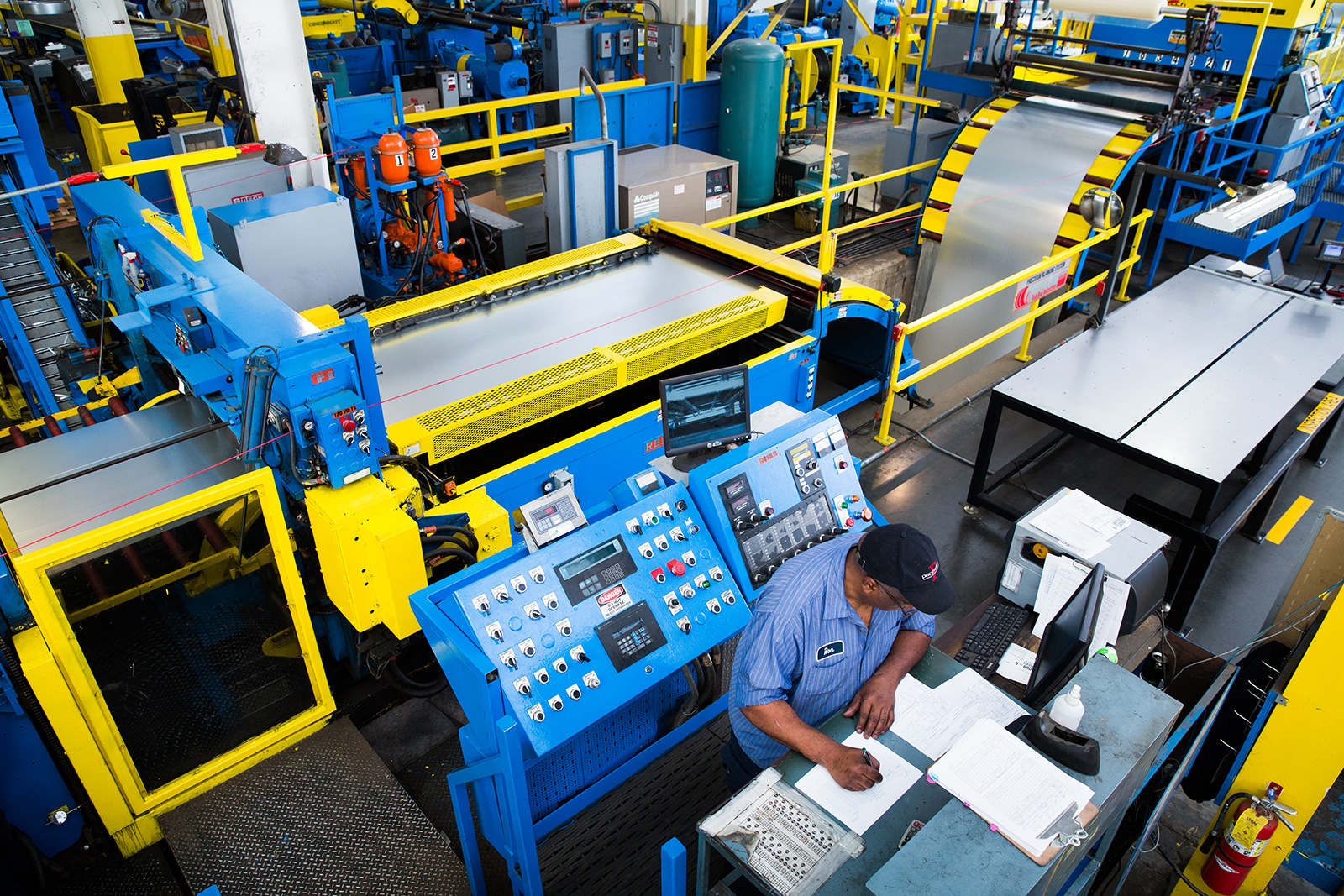 Blanking
Precision blanking equipment produces blanks with tolerances of +/- .005" for width and +/- 0.015″ for length, as well as equipped corrective levelers that elongate the material beyond its yield point in order to remove residual stresses and produce panel flat blanks. Our blanking lines are designed to process surface critical material; additionally, each line is capable of applying protective film (strippable) and oiling.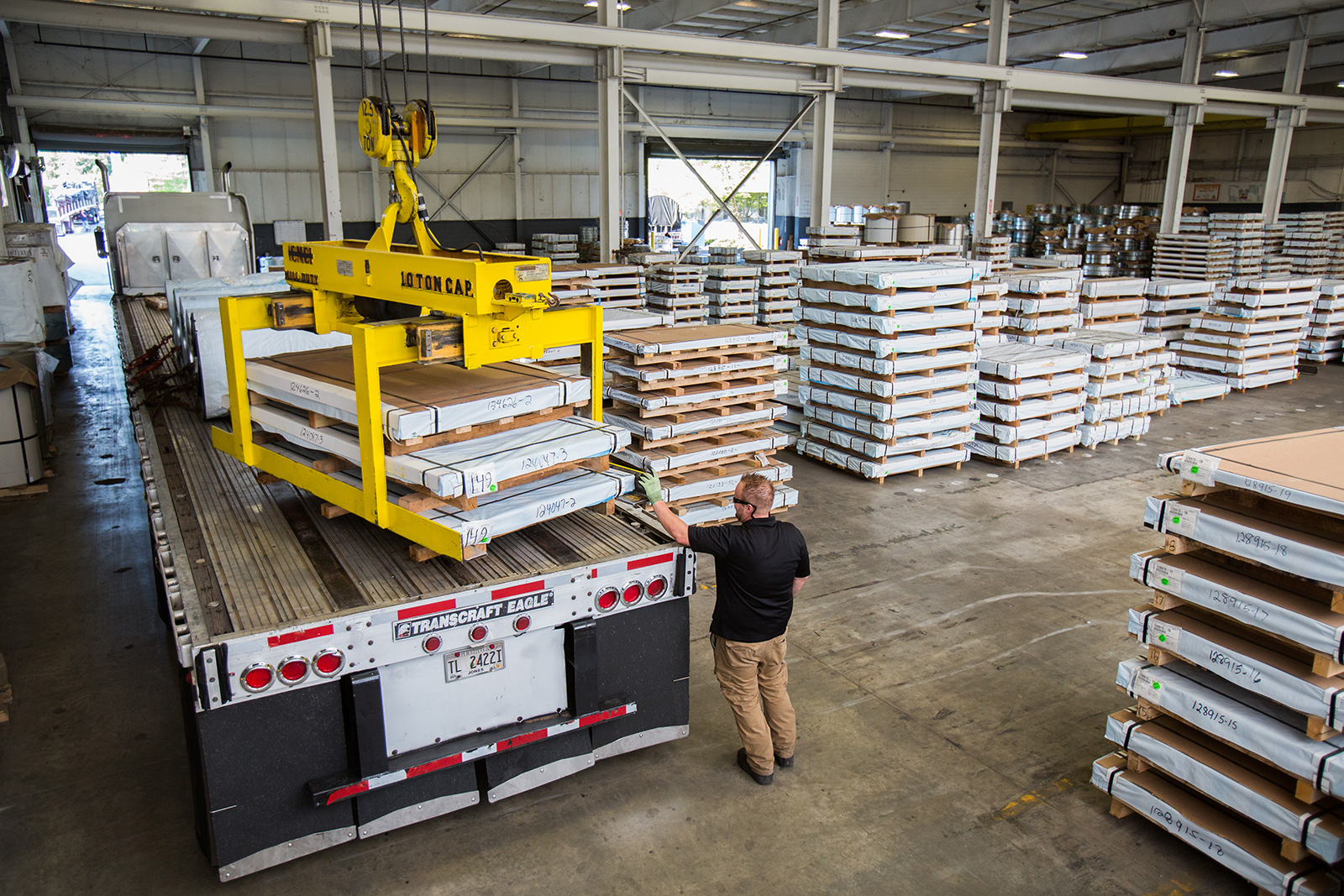 Cut-to-Length
We provide precision cut-to-length equipment boasting length tolerances within +/- 0.015″ for dry and +/- 0.031″ for oiled steel. Precision corrective levelers elongate the material beyond its yield point, remove internal stresses, and produce a panel flat sheet. We can produce processing-painted and surface-critical sheets, and each line is capable of applying protective film (strippable) and oiling.
Prepainting
Cleaning, priming, and painting extra smooth steel to precise specifications. We can fulfill virtually any specified color to meet and exceed even the most exacting surface and color needs of our customers.
Embossing
Coated or uncoated steel with a specified pattern rolled into the surface. Embossing is typically utilized on food cases, restaurant equipment, and other exteriors for its aesthetic value. We help each and every customer get the look and specifications they want.
Perforating
The process of punching small holes in a specific diameter and pattern. Perforating is often seen on products like speakers and intercom facings. We can service the specialized perforation needs of each customer.
Fabricating
Bending and forming steel into parts for manufacturing. Fabricating can be as complex as a car body or as simple as a door hinge. From the complicated to the straightforward, we can make sure parts are fabricated to each customer's exact specifications.