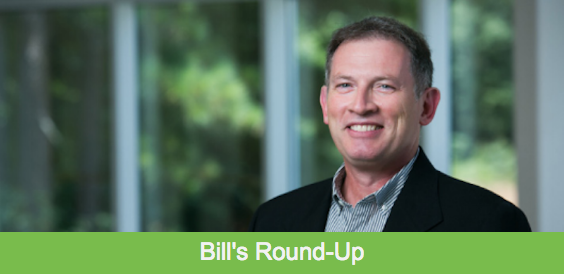 3D printing might be the next big thing for housing. The first all-electric commercial aircraft has taken flight. Clean burning Hydrogen might soon be fueling electric companies. The Fed kept interest rates steady. Inflation is well under control. Steel mills have been running under 80% of capacity for three consecutive weeks. Galvanized imports are at the lowest level of the last few years. There were some steel mill price announcements last week. Hyundai seems to think calming sounds of nature is just what a commuter needs.
---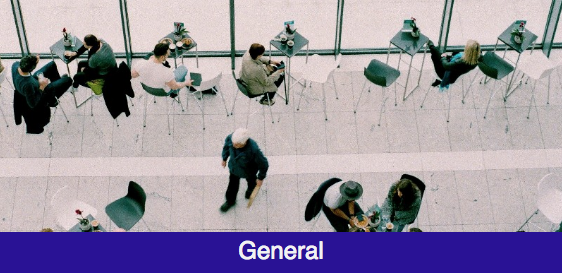 + New Story's has created the world's first 3D-printed community, which is currently under construction in rural Mexico. The project, which was created in partnership with Icon and Échale, is located in Tabasco, southeastern Mexico. The team aims to produce 50 homes for families in the area who are living in extreme poverty. So far, two homes have been completed and the families chosen will receive them at a zero interest, zero profit mortgage costing around 400 Mexican Pesos (about US$20 per month), which will run for seven years. The construction process for the homes was essentially the same as other 3D-printed projects and involved the Vulcan II printer extruding cement out of a nozzle, layer by layer, until the basic structures of the homes were completed. This process took about 24 hours per house. Human builders then came in and finished them off by adding roofs, windows, and doors. "The 3D printer for homes, called the Vulcan II, is designed to work under the constraints that are common in rural locations, but the journey has not been easy," says New Story. "Power can be unpredictable and local rainfall has often flooded access roads to the construction site. This printer, designed to tackle housing shortages for vulnerable populations, is the first of its kind." The finished homes measure 500 sq ft (46.5 sq m) and look well made. The interior is laid-out on one floor and divided into two bedrooms, a living room, a kitchen, and a bathroom. There's also a small porch area for dining outside. They come with electrical and water hookups and, according to New Story, have been engineered above the standard safety requirements to ensure they will withstand both the local seismic conditions, and the test of time.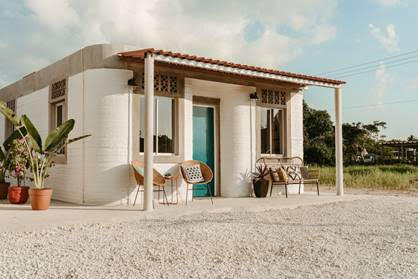 + An all-electric powered seaplane has taken flight in Vancouver, Canada, in what the operators describe as a "world first" for the aviation industry. The short test flight by Harbour Air and magniX involved a six-passenger aircraft fitted with an electric motor. The companies said it was a first step to building the "world's first all-electric commercial fleet". The push to electric could help slash carbon emissions in the high-polluting aviation sector. "This historic flight signifies the start of the third era in aviation – the electric age," Harbour Air and magniX said in a statement. The flight involved a six-passenger DHC-2 de Havilland Beaver with a 750-horsepower (560 kW) magni500 propulsion system. Canadian seaplane operator Harbour Air hopes to electrify its entire fleet by 2022, provided it secures safety and regulatory approvals.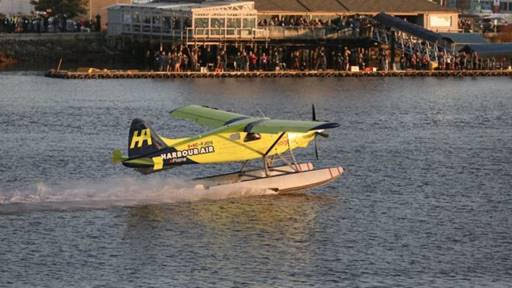 + As Los Angeles weans itself off the last of its coal-generated electricity, the city needs to replace that fuel with a natural gas plant in Utah, Los Angeles Department of Water and Power staff insisted last Tuesday. But they also pledged the facility would eventually burn renewable hydrogen instead of natural gas (something that has never been done before). Following pressure from climate change activists, DWP laid out its most detailed timeline yet for transitioning from planet-warming gas to clean-burning hydrogen at a new facility that would replace the coal-fired Intermountain Power Plant. If the utility succeeds, the Intermountain plant could become a model for governments and power companies around the world. "There is no way to get to 100% renewable energy that I can see right now without hydrogen in the mix. It doesn't exist," DWP General Manager Marty Adams told the utility's board of commissioners on Tuesday. Utility staff told the board it's critical to build an 840-megawatt gas-fired power plant to replace the coal-burning facility that DWP operates today. Without a traditional power plant, they said, the city might have trouble keeping the lights on when there's insufficient electricity being generated by solar panels and wind turbines. But for the first time, DWP leadership committed to installing turbines capable of burning a mix of 30% hydrogen and 70% gas when the new power plant opens in 2025. Under the timeline described Tuesday, that ratio would steadily change until the plant burns 100% hydrogen in 2045, the deadline set by state lawmakers for a 100% climate-friendly electricity supply. + Japan and Korea are pressing ahead with their efforts to build a new energy economy that could make liquid hydrogen as common as petroleum or natural gas. This would allow, in particular, for a lot more zero-emissions driving thanks to fuel cell cars, trucks and, potentially, aircraft. A pilot program is kicking off thanks to a partnership between Kawasaki Heavy Industries, Iwatani Corporation, Shell Japan and J-Power, and last week, Kawasaki delivered on its part of the deal by launching a brand new ship designed to carry liquid hydrogen between the south coast of Australia and an unloading terminal under construction in Kobe, Japan. It's the first ship of its kind, the world's first liquid hydrogen transporter. Japan seems highly motivated to make this liquid hydrogen economy work. Korea, too, is aiming very high, hoping to clean up its smoggy city air thanks to a targeted 1,200 hydrogen stations, 40,000 hydrogen buses, 80,000 hydrogen taxis, 30,000 hydrogen trucks and six million fuel cell hydrogen cars by 2040. A number of big players seem very determined to make this happen, so it'll be interesting to see how the scheme develops as the emissions costs begin to become clear for energy exporting countries.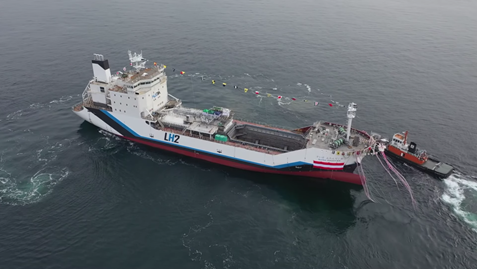 + Gasoline prices are steady with the possibility of a decrease soon.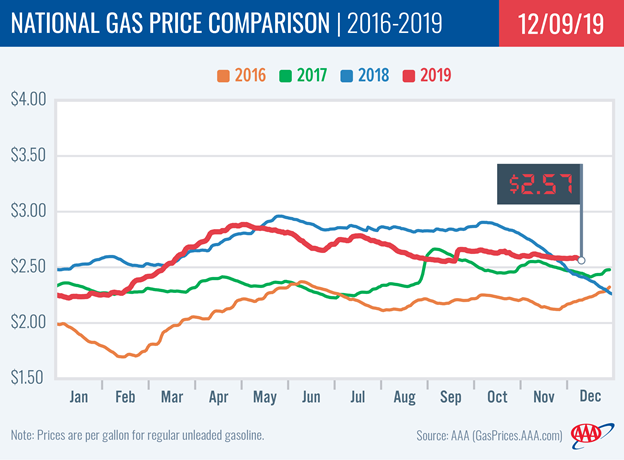 – Freight rates are all up.

+ The Producer Price Index was showed zero inflation in November. + The Fed met and decided to keep interest rates the same at 1.5% to 1.75%. + The Consumer Price Index rose .3% in November which isn't alarming. – Business Inventories rose .2% in October.
---
– #1 heavy melt scrap is at $229 per ton and #1 busheling scrap is at $270 per ton. – Raw steel production fell to 78.7%, the 3
rd
straight weekly decline. – Iron ore FOB Chinese ports jumped to $92 per dry metric ton. + Zinc prices are on a good downward trend.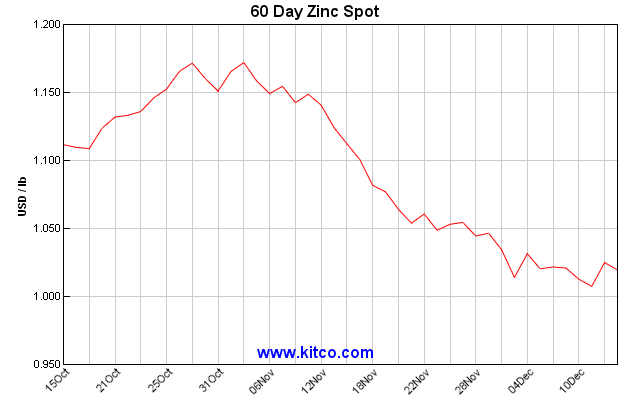 – Galvanized imports for November were disappointing, but December is looking worse.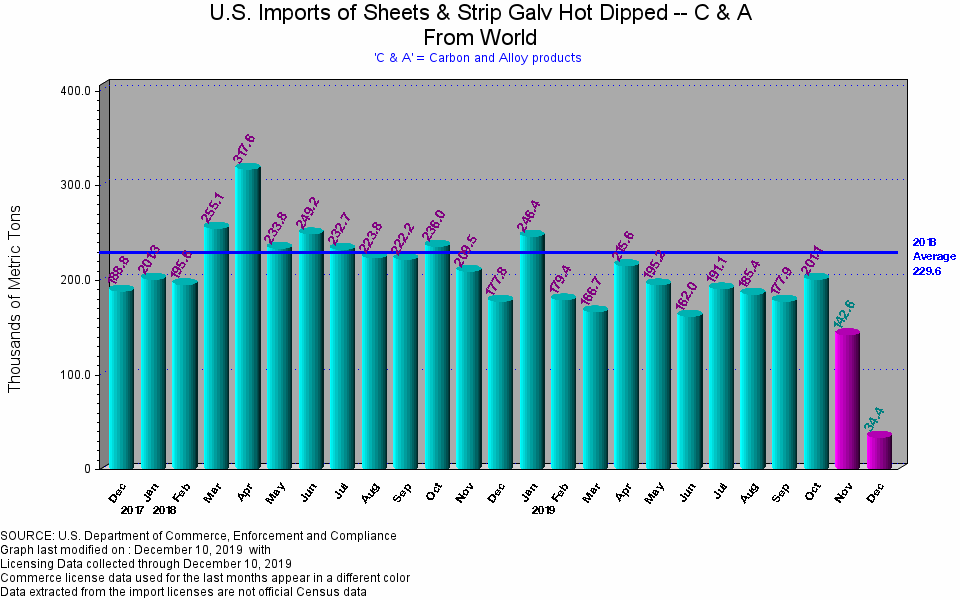 + California Steel raised prices across the board $70 per ton. + ArcelorMittal raised prices $40 per ton. + NLMK announced a $40/ton price increase.
---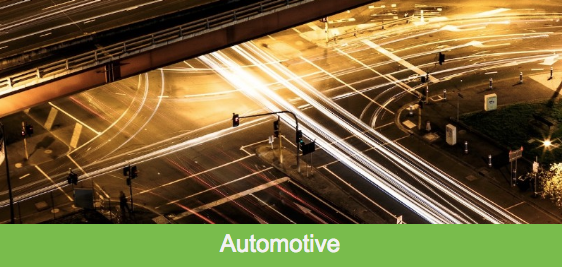 + Forget roaring engines and squealing tires. Your next car could sound like a gentle rainfall or crackling fire. On the inside, anyway. The 2020 Hyundai Sonata midsize sedan has a feature that is a strong candidate for 2020's goofiest and most endearing: Nature Sounds. Sonatas with the optional navigation system have built-in settings for sounds including "lively forest," "open-air cafe," "calm sea waves" and more. The sounds are intended to be calming, helping the driver to unwind on the way home regardless of traffic snarls. There's not much chance of falling asleep during "lively forest" for sure. It's replete with what sounds like parrot screams in a rain forest. Listening to it driving through the Arizona desert was odd, but nowhere near as odd  as the crunching footsteps in "snowy village," which also includes a rather disconcerting child's giggle that seems to emanate from the back seat. It might not be your cup of tea, but that's one of the beauties of modern, electronics-laden cars: Automakers can add some features at virtually no cost, just a couple of hours to write new software. And I'll bet some drivers will love Nature Sounds, even if only to mess with their passengers.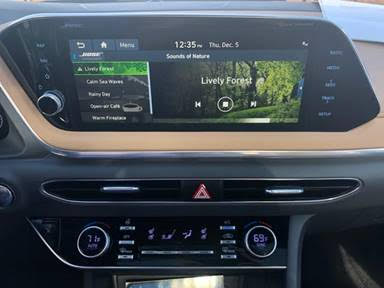 ---