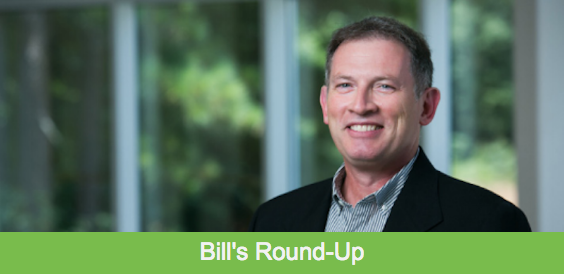 Who would have thought that Americans don't drink enough milk? Our hectic life apparently doesn't leave enough time for a bowl of cereal. Inflation crept into consumer and producer prices. Business inventories are a little high. Gasoline is steady. Steel mills are doing a good job of keeping their mills booked up over 80%. October imports came in stronger than expected. The auto industry remains in chaos as they make their way through mergers, labor agreements, new model roll outs, and consumer lethargy.
---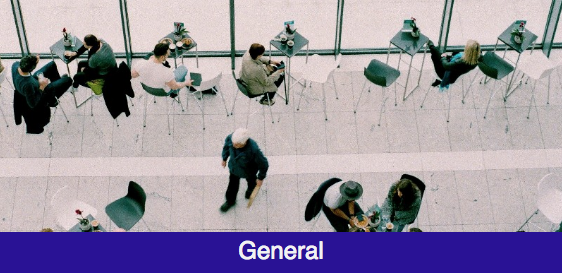 – Got milk? Increasingly, Americans don't, and that led the nation's biggest milk producer to file for bankruptcy Tuesday. Dean Foods blamed a decades long drop in milk consumption that has seen people turn to alternatives like soda, juice and almond milk. The Dallas company said it may sell itself to the Dairy Farmers of America, a marketing cooperative owned by thousands of farmers. "Despite our best efforts to make our business more agile and cost-efficient, we continue to be impacted by a challenging operating environment marked by continuing declines in consumer milk consumption," CEO Eric Berigause said in a statement. Since 1975, the amount of liquid milk consumed per capita in the U.S. has tumbled more than 40%. Americans drank around 24 gallons a year in 1996, according to government data. That dropped to 17 gallons in 2018. An increasing variety of beverages, including teas and sodas, has hurt milk consumption. So have protein bars, yogurts and other on-the-go breakfasts, which take the place of a morning bowl of cereal.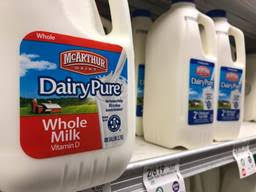 – The Producer Price Index rose .4% in October, driven by increased cost from trade services, energy, and food. – The Consumer Price Index also gained .4% in October, driven mostly by energy costs and medical care/health insurance. + Business Inventories came down .2% in September leaving the inventory to sales ratio at 1.4 to 1 which is still a little too high. – Industrial Production fell .8% in October, mostly due to a 7.1% drop in motor vehicle production. – Gasoline prices stayed steady as refineries accelerated to 87.8% of capacity. Oil futures are at $57 per barrel.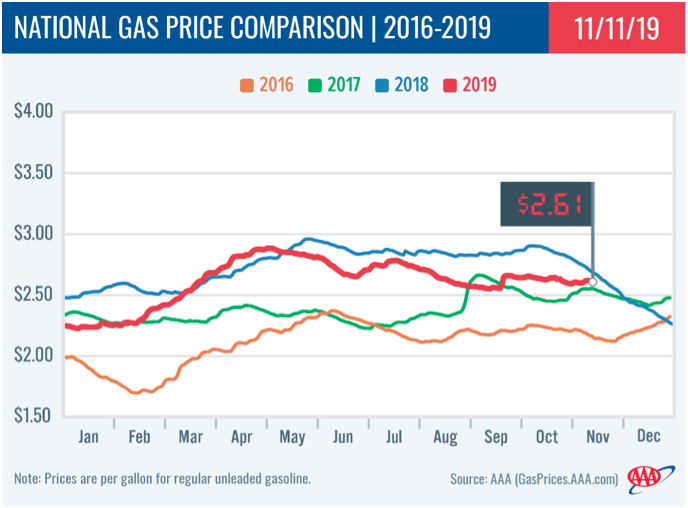 + Although multicopter drones now are being used to transport medical samples and supplies, their 30-minute (or so) battery life limits their range. This week, however, a hydrogen-powered delivery drone managed a one-hour, 43-minute ocean crossing. The exercise was the result of a collaboration between Texas-based drone development company Guinn Partners, Georgia-based Skyfire Consulting, the US Department of Health, and drone manufacturer Doosan Mobility Innovation – the latter supplied the aircraft, a hydrogen fuel cell-powered DS30 octocopter. Utilizing its temperature-controlled payload system, the drone was used to transport live bacteria samples from a hospital on the Caribbean island of St. Croix to a testing facility on the neighboring island of St. Thomas. This involved crossing 43 miles (69 km) of open ocean. Upon successfully reaching its destination, the copter reportedly still had almost 30 minutes of flight time left on its fuel cell.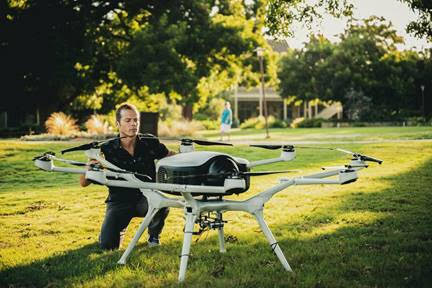 – Freight rates are increasing except for flatbeds.
---
– #1 heavy melt scrap is up to $202 per ton while #1 busheling scrap is steady at $240 per ton. + Raw steel production was 80.5% of capacity, a little less than last week. – Iron ore FOB Chinese ports is up to $81 per dry metric ton. + Zinc prices are falling.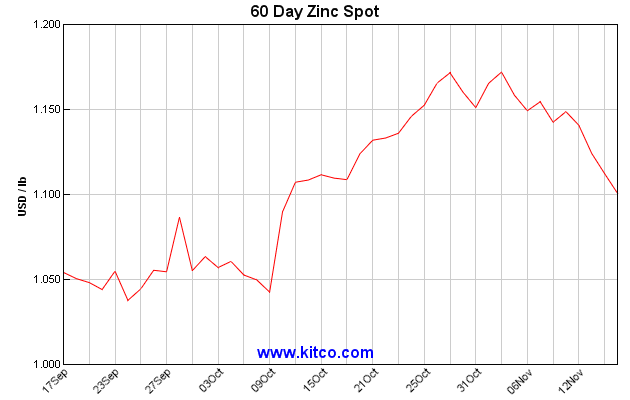 – After a surprising October, November imports are looking weak so far.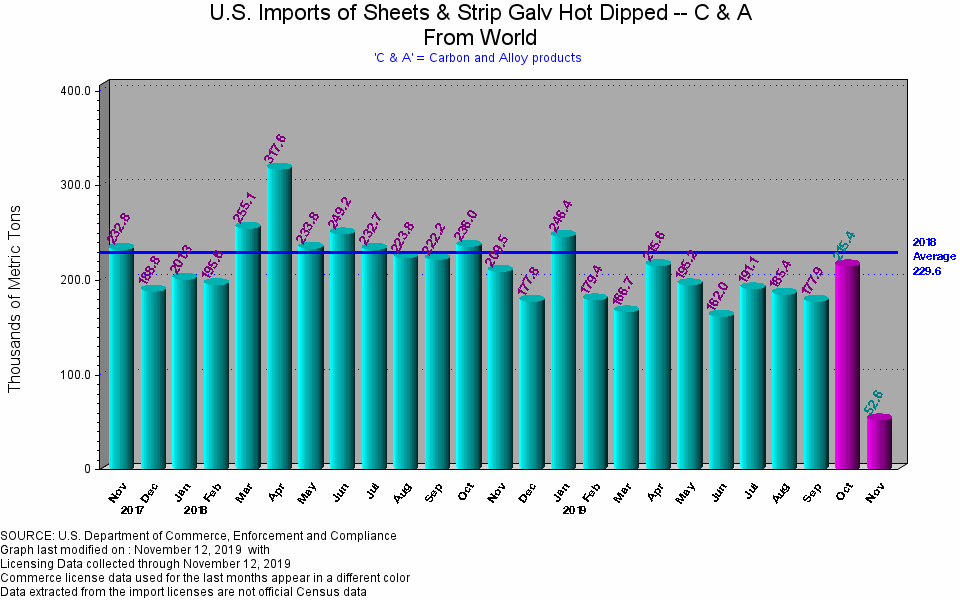 – U.S. Steel confirmed Friday that it had initiated a round of layoffs tied to a restructuring that the Pittsburgh-based steelmaker announced early last month. The company declined to disclose the number of people let go. It said the layoffs — all nonunion positions — affected operations nationwide, including in Pittsburgh. "We need to truly become a leaner, more efficient organization faster," U.S. Steel said in an emailed statement. "As part of this process, we are taking the difficult step to eliminate a number of non-represented positions in the United States. "It's always difficult when we have to say goodbye to valued colleagues, but these moves will allow us to better manage our resources amid challenging market conditions," the statement added. The company announced Oct. 8 that it was realigning its operating and organizational structure, a move that it expects will generate $200 million in annual cost savings by 2022. The announcement offered few details about the initiative, but the company did not rule out plant closings, divestitures or layoffs. In the third quarter, the steelmaker posted its first quarterly loss since the first quarter of 2017 as it contended with a downturn in steel prices. Losses were $84 million, or 49 cents a share, for the three months ending Sept. 30. That compares with a profit of $291 million, or $1.62 a share, in the third quarter of 2018 when U.S. import tariffs caused steel prices to spike higher.
---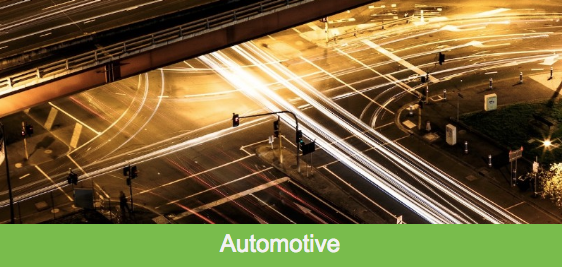 + General Motors Co confirmed on Thursday it has sold its shuttered Lordstown Assembly plant in Ohio to a start-up that has an ambitious plan to begin building electric pickup trucks by the end of 2020. Lordstown Motors Corp, which is 10% owned by Workhorse Group Inc, has retained Ohio investment bank Brown Gibbons Lang & Co and is working to raise additional capital, Lordstown Chief Executive Steve Burns said in an interview. Workhorse shares closed up 27% on the news. The fate of the northeastern Ohio plant has become a lightning rod in the 2020 presidential election after GM announced in November 2018 its planned closure, drawing condemnation from U.S. President Donald Trump and many U.S. lawmakers. The fate of the plant, which ended operations in March, remained uncertain until the Detroit automaker reached a new contract with the United Auto Workers union last month. The company has been working on the engineering of the new truck called Endurance and hired Rich Schmidt, a former director of manufacturing at Tesla Inc, as chief production officer. – Nissan Motor Co forecast a 28% plunge in its annual operating profit, putting it on course for the weakest earnings in 11 years. The lackluster outlook from Japan's No.2 automaker – hit by Ghosn's arrest last year and troubles at its North American business – is likely to add to the pressure on CEO Hiroto Saikawa as he tries to overhaul corporate governance and put Nissan on a more equal footing with alliance partner Renault. Nissan's weakening profit and a growing number of departing executives and managers have raised concerns at Renault, which holds a 43% stake in the Japanese firm. The biggest blow to Nissan's bottom line has come from the costly sales incentives in the United States, where its sales fell 9.3% to 1.44 million units in the year ended March 31. For years it has relied on heavy discounting in its biggest market to sell its Rogue compact SUVs and Altima sedans, under aggressive targets Ghosn set during his time as CEO. Saikawa has pledged to focus on improving U.S. profit margins, but it has been a slow process as Nissan continues to resort to discounting. – Fiat Chrysler Automobiles NV has been manufacturing more cars and trucks than its U.S. dealers are willing to accept, at one point creating a nationwide stock of about 40,000 unordered vehicles and stoking tension with some of its retailers. Four dealers, two of whom spoke on the condition they not be named, said Fiat Chrysler has revived what's known in industry circles as a "sales bank." The practice is decades old and frowned upon by investors and analysts because it can obscure an automaker's inventory figures. Dealers don't like it because it can amp up the pressure companies place on them to take delivery of vehicles they don't want. Chrysler implemented sales banks in the run-up to the two times it needed rescues from the U.S. government, in 1980 and 2009. While the company is nowhere near that sort of trouble — it just reported record quarterly profit — the surging supply of unassigned vehicles coincided with a period when the company was pursuing mergers. After efforts to combine with France's Renault SA fell through, it announced a tie-up with Peugeot owner PSA Group last month. + 2020 Jeep Wrangler Eco diesel, on sale late 2019. Base Price: $39,290. Drivetrain: 3.0-liter turbo-diesel V6, eight-speed automatic, 4WD, 260 hp @ 3,600 rpm, 442 lb-ft of torque @ 1,400-2,800 rpm. Fuel Economy: 21 mpg city, 29 mpg highway (Est.)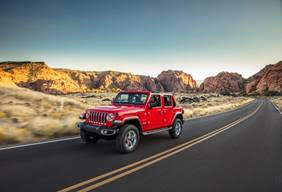 +Fiat Chrysler Automobiles was the only Detroit automaker to have a brand make the Top 10 in Consumer Reports' reliability rankings released last Thursday. The annual survey based on data the magazine receives from members about their experiences with more than 400,000 vehicles placed FCA's Dodge brand in eighth place, up 13 spots from last year. The move up was attributed to above-average reliability ratings for the Challenger and Grand Caravan. Meanwhile three of General Motors Co.'s four brands saw their rankings drop this year. The Cadillac brand was dead last at No. 30.  Buick fell five spots to No. 18, marking the largest decline for a domestic automaker. Chevrolet dropped three spots to No. 25, partially because the Silverado 1500 had below-average reliability along with Camaro, Colorado and Traverse. The Ford brand ranking went unchanged at No. 16. Ford's re-introduced Ranger improved to an above-average rating and the Mustang improved to average. But its top-selling Ford F-150 dropped to well-below average because of minor transmission issues, body hardware and drive system problems.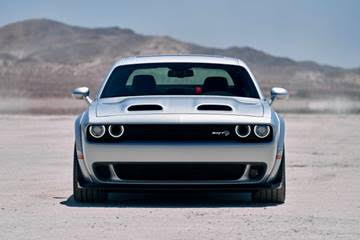 + Hyundai to expand their Alabama plant to build the new Santa Cruz pickup. The automaker said the project will add 1,200 new and indirect jobs at the Montgomery factory, which builds the Elantra and Sonata sedans and the Santa Fe crossover.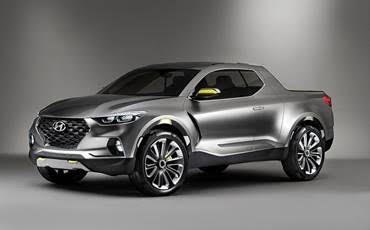 + Roughly 55,000 UAW members at Ford Motor Co. on Friday ratified a new four-year labor contract that allows the automaker to close a Michigan engine plant but provides for raises, thousands of new jobs and more than $6 billion in U.S. manufacturing investment. With a Ford deal in hand, union officials can now move on to Fiat Chrysler, the last of the Detroit 3 to finalize a contract this year. The UAW said the deal passed with a 56.3% margin. Ford's deal largely resembled GM's in terms of broad economics, including two 3 percent raises for workers and two 4 percent lump-sum bonuses. The first of those bonuses, worth about $2,700 for an average production worker, will be paid within weeks. Full-time Ford workers also will receive a $9,000 ratification bonus, while temporary employees will get $3,500.
---