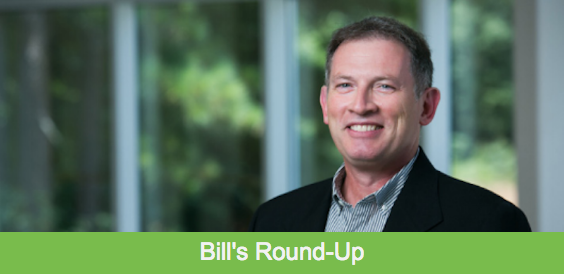 Housing starts slowed dramatically in September. Industrial production slowed too. Gasoline prices are softening. Steel makers are still running under 80% of capacity even though imports remain weak. It looks like by the end of the week, the GM strike will be over, and people can get back to work.
---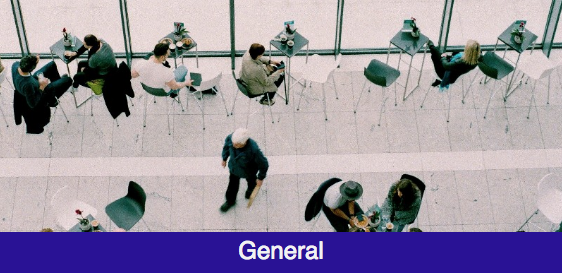 – Housing Starts dropped 8% in September, pulled down mostly by a huge 28% drop in multi-family starts. Permits were down 2% in September, which doesn't give much confidence that this index will be picking up any time soon. – Industrial Production fell .4% in September, pulled negative by a 4.25 drop in motor vehicle production. Manufacturing and business equipment also declined. – Business Inventories were dead even in August with an inventory to sales ratio steady at 1.4 to 1. + Gasoline prices are retreating. Refinery output is down to 83.1% of capacity. Oil futures are relatively steady at $53 per barrel.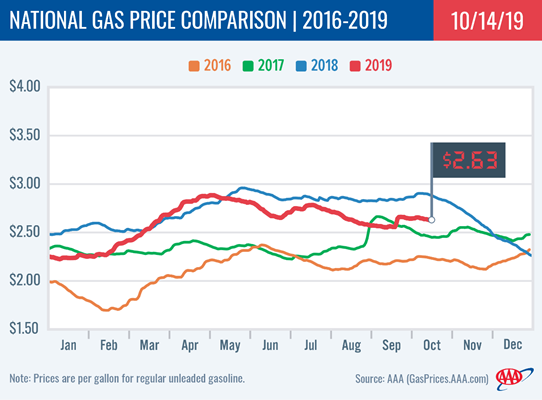 + Freight rates are settling.

---
+ #1 heavy melt scrap fell to $182 per ton as #1 busheling scrap remained steady at $220 per ton. – Raw steel production was 78.7% of capacity. + Iron ore FOB Chinese ports is down to $88 per dry metric ton. – Zinc continues to climb.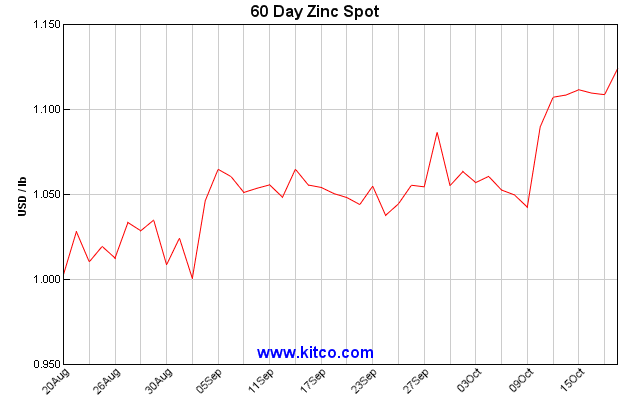 – Galvanized imports might come in a little bit stronger in October.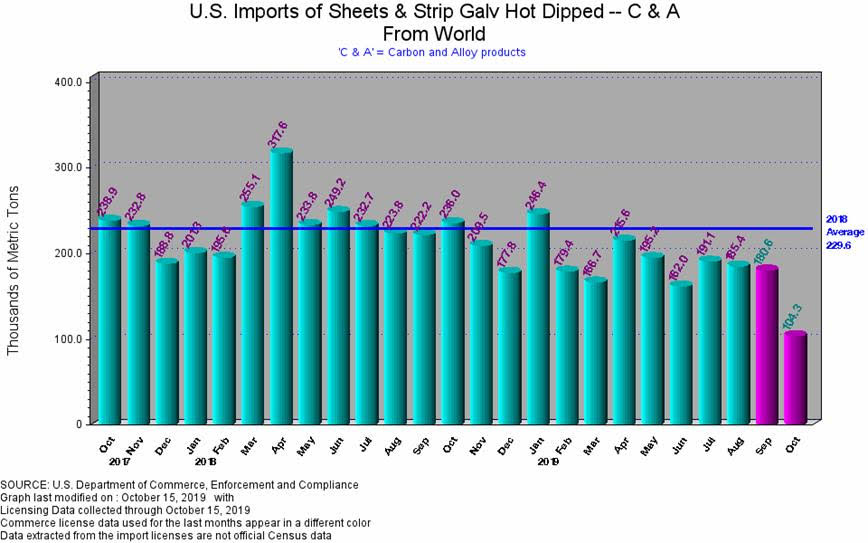 – President Trump last Monday said he will double the Section 232 tariffs on Turkish steel from 25% to 50% as a result of the country's military actions in Northeast Syria. In a statement posted to Twitter last Monday afternoon, Trump said he would soon be issuing an executive order increasing the steel tariffs and authorizing the imposition of sanctions against Turkey. The United States will also immediately stop negotiations, being led by the Department of Commerce, with respect to a $I00 billion trade deal with Turkey. Trump previously raised Turkey's steel tariff rate from 25% to 50% in August 2018 due to the devaluation of the Turkish lira and increased political tension between the countries due to the detention of US Pastor Brunson. Turkey's tariff rate on steel was later dropped back to 25% in May 2019. Under Section 232 of the 1962 Trade Expansion Act, the president is able to adjust the tariff level set for any country at any time they see fit. + Steel Dynamics, Inc. announced third quarter 2019 results. The company reported third quarter 2019 net sales of $2.5 billion and net income of $151 million. Comparatively, prior year third quarter net sales were $3.2 billion, with net income of $398 million. Q3 steel production totaled 2.74 million tons, down 4% from a year ago. – US Steel extended their maintenance outage at their 16 million ton per year taconite plant in Mount Iron, Minnesota due to weak demand for steel.
---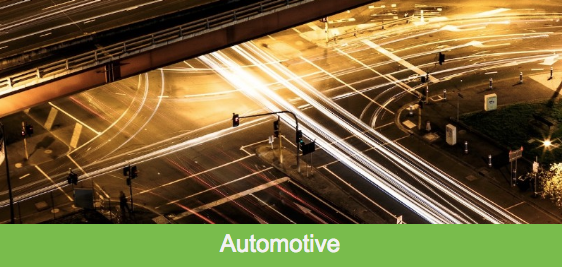 – Damage from the UAW's nearly month long strike against General Motors goes far beyond the plants that have been surrounded by picket lines, and recovery after it ends could take significant time for the dealerships, suppliers and other employers that depend on GM. Some small businesses have warned they're in danger of failing from the lost revenue. By the end of last week, some 150,000 workers either had been laid off or had their pay reduced as the walkout "ballooned in scope," Anderson Economic Group said. The Michigan consulting firm's figure includes 75,000 supplier employees and 25,000 GM salaried workers. But it doesn't account for restaurants and shops in factory towns that are seeing sales slump as GM workers adjust to living on just $250 a week in strike pay. + The United Auto Workers struck a tentative labor deal with General Motors Co. GM +2.08% last Wednesday, a critical step in ending a month-long strike that has brought more than 30 GM factories in the U.S. to a standstill. The UAW said the agreement, covering more than 46,000 union-represented workers at GM, achieves major gains for members. – UAW leaders voted to extend the union's national strike against General Motors until members ratify the tentative agreement. Following a 6 1/2-hour meeting of the UAW's GM national council, union spokesman Brian Rothenberg said the council voted to send the deal for ratification and to keep members on picket lines until the deal is ratified. The process should be completed Friday, Oct. 25. The tentative agreement includes a total $9 billion in investments by GM, a commitment to keep open the Detroit-Hamtramck Assembly Plant and a path for temporary workers to gain full-time status, among other gains. Union members can ratify the deal with a simple majority of members voting in favor. Prolonging the strike by another week means $14 million more in lost wages for workers, $20 million in lost wages for supplier employees who continue to be laid off and $400 million in losses for GM, according to the Anderson Economic Group, a consulting firm in East Lansing, Mich. The UAW's tentative agreement with GM would give full-time hourly workers a signing bonus of $11,000, provide wage or lump-sum pay increases of at least 3% annually and allow new hires to reach top wages in four years instead of eight, according to a summary of the deal provided by the union. The tentative contract with GM, if ratified, would result in all current workers earning at least $32.32 an hour by September 2023. Temporary workers would have a path to becoming full-time employees. Profit-sharing payouts would no longer be capped at $12,000 annually, though the formula for calculating them would not change. Health care coverage also is unchanged. GM also will contribute $1,000 to the pensions of workers hired prior to 2007 who still are eligible for that benefit and is offering $60,000 bonuses to up to 2,060 workers eligible for retirement who leave the company in January or February. – Most surveyed consumers aren't budging on their lack of confidence in tomorrow's self-driving cars and today's battery-electric vehicles according to new J.D. Power polling. As auto manufacturers invest billions in impending autonomous vehicles and increased EV choices, many consumers question the new technologies. That's according to J.D. Power's 2019 Q3 Mobility Confidence Index Study. With the latest polling, the index now stands at 36 (on a 100-point scale) for self-driving vehicles and 55 for battery-electric vehicles. The quarterly study measures market readiness for and acceptance of self-driving and battery-electric vehicles, as seen by both consumers and industry experts. J.D. Power teamed with survey software company SurveyMonkey to conduct the study in which more than 5,000 consumers and industry experts were polled on self-driving vehicles and another 5,000 on battery-electric vehicles.
Key findings about self-driving vehicles:
Scoring lowest among the self-driving attributes are comfort riding in a self-driving vehicle and comfort with self-driving public transit.
More than two-thirds (68%) of consumers say they have little to no knowledge about self-driving vehicle technology
Women are less comfortable about autonomous vehicles than are men. Only half as many women say they are OK with various self-driving scenarios, including riding in one and being on the road with them.
Industry experts say perfecting self-driving technology is proving more challenging than originally thought. One industry expert noted, "Tech and automotive companies continue to learn how difficult the problem really is." Gaining consumer trust and acceptance will be critical.
Consumers are more hopeful than worried about the overall benefit of technology in their lives, but 38% remain unexcited about any self-driving technology. Consumers are most worried about tech failures/errors (71%). One consumer said, "History has shown that past technological advances, such as electrical or computer, fail with time and are too costly to repair."
Key findings about battery-electric vehicles:
Scoring low among consumers are likelihood of purchasing an electric vehicle and reliability confidence.
Industry experts say consumer affordability and trust remain the top challenges. They also recognize that the cost to produce electric vehicles and the development of a charging infrastructure are critical challenges that must be addressed.
More than half (60%) of those who have owned a battery-electric vehicle are "extremely likely" or "very likely" to repurchase a similar vehicle. Conversely, 59% of those who have never been in such a vehicle are "not too likely" or "not at all likely" to purchase or lease one. However, more than three-fourths of both groups say tax credits or subsidies could affect their purchase decision. (A mere 4% of respondents have owned an EV.)
Nearly two-thirds (63%) of respondents believe the cost of charging an EV will be cheaper than gasoline expenses, but 65% are concerned about charging-station availability.
---