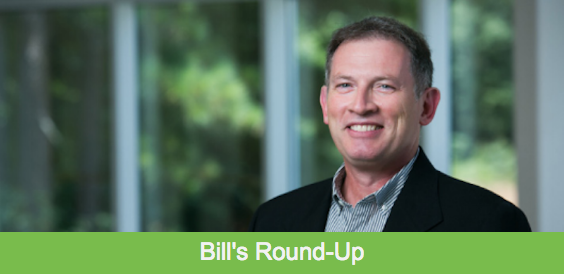 The US economy is starting out strong in 2020. The Dow is well over 29,000. Who would have ever believed that a few years ago? Manufacturing and orders for various goods are increasing. Job creation is going well. Gas prices are coming down and so are freight rates. Steel mill output remains over 80% of capacity. The auto industry is off peak, but still selling pretty well. The Wuhan Coronavirus is putting a damper on Chinese industry as well as global companies who are dependent on parts and pieces made in China. The auto industry is feeling the effects right now as assembly lines have been shut down due to lack of parts.

---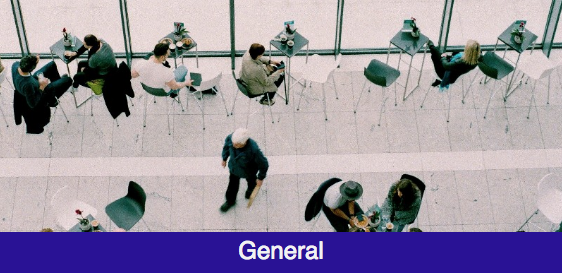 + Factory Orders rose 1.8% in December, driven by new orders, and rising shipments.
+ The ISM Non-Manufacturing Index rose to 55.5 in January, driven by increased business activity, new orders, and increased employment.
+ The US economy added another 225,000 jobs in January, well past the 160,000 forecast. Hourly wages are up 3.1% from a year ago.
+ The national gas price average is $2.47, which is four cents cheaper than last week and 11 cents cheaper than the beginning of the year. Motorists are paying less to fill up especially as crude oil prices are less expensive. "Gas prices are pushing cheaper for two reasons. Crude oil prices are $10 less a barrel than one month ago and U.S. gasoline stocks sit at an all-time record high," said Jeanette Casselano, AAA spokesperson. "Cheaper crude and healthy stock levels mean motorists can expect prices to continue to decline this month." Oil refineries operated at 87.4% of capacity. Oil futures are at $52 per barrel. Anything over $50 per barrel keeps demand to hot roll coil up.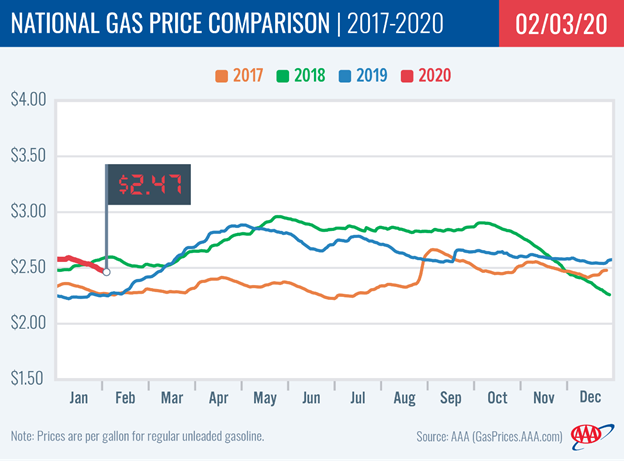 + Freight rates have all come down.

– Global commerce seems to be slowing. German industrial production fell 3.5% in December. Germany is the manufacturing leader in Europe. China canceled the release of its trade data altogether, saying it will merge the January report with February data.
– Arcelor Mittal reported Q4 net loss of $1.8 billion vs a $1.2 billion profit a year ago. Net sales in Q4 was $15.5 billion down 15% from last year. Q4 steel production was 19.8 million tons down 13% from a year ago. For 2019, their net loss was $2.5 billion vs a $5.2 billion profit the previous year. 2019 sales were $70.6 billion, down 7% from the previous year. 2019 steel shipments were 37.1 million tons, down 1.3%.
---
– #1 heavy melt scrap is steady at $259 per ton as well as #1 busheling scrap at $300 per ton.
+ Raw steel production was holding up well at 82.1% of capacity.
+ Iron ore FOB Chinese ports has dropped to $79 per dry metric ton.
+ Zinc prices are on a good trend.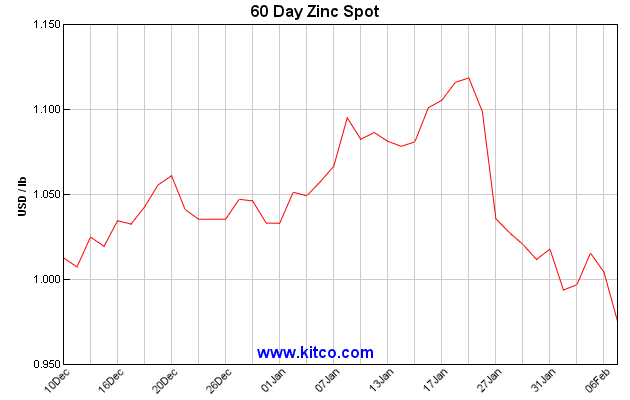 + January galvanized imports was the best performance since April 2019 but not as good as a year ago.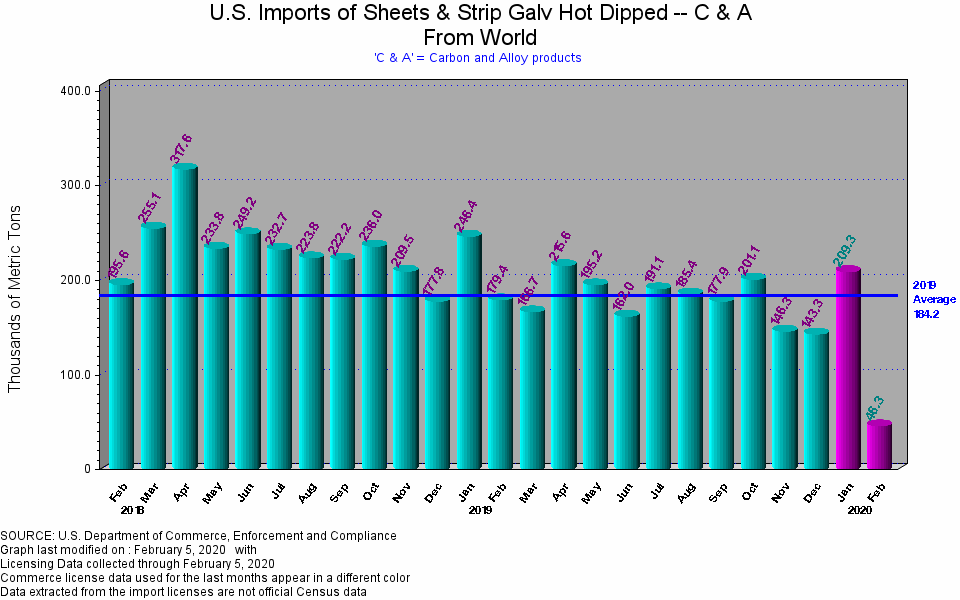 ---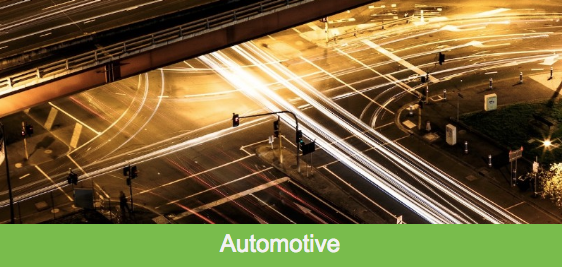 – The 4th quarter was rough on auto makers. General Motors lost $194 million in the fourth quarter, including a $2.6 billion hit from the UAW strike, resulting in a net profit of $6.7 billion in 2019. Adjusted earnings before interest and taxes in the quarter plummeted 96% from a year earlier to $105 million. Revenue declined 20% to $30.8 billion, and the company's profit margin declined 7 full points to 0.3%. Ford loses $1.7B in Q4 on pension charge; stock slumps. The automaker posted a small profit for the year. Ford's North American earnings fell mostly due to UAW costs, warranty expenses and problems with the launch of the redesigned Explorer and Aviator crossovers. Subaru profit falls 42% on higher warranty costs. Expenses to cover recalls took a big bite out of the automaker's quarterly results while foreign exchange rates delivered another blow. Mazda profit slumps 76% on currency hits. Falling wholesale shipments and a huge hit from the yen's appreciation against the dollar, euro and other currencies impacted Mazda's earnings in the last quarter. Nissan sales fell 30% in December. FCA sales were down 2% in Q4 of 2019 and down 1% for the year. But, the automaker's adjusted earnings before interest and taxes in North America rose 23% in the fourth quarter to $2.3 billion, and its profit margin in the region reached a record 10%. FCA's UAW workers will get profit-sharing payouts averaging $7,280 each.
– The estimated January SAAR is expected to be 16.5 million to 16.7 million, pointing to a slower 2020 for the auto industry.
– The coronavirus is providing a lesson in how much the world's car factories revolve around China. Hyundai, the world's fifth-largest automaker, said Tuesday that it was temporarily stopping production lines at its factories in South Korea because of shortages of Chinese parts. The Hyundai shutdowns — the first factory lines to be idled outside China — could portend much more serious disruptions in the complex networks that supply automakers with essential components and materials. The global economy remains highly interconnected and interdependent. Supply chains are finely tuned to deliver parts just as they are needed, so companies don't need to waste money on big warehouses.
The systems are efficient, but also vulnerable. The coronavirus is testing these supply chains. Everybody plans to be down for a week, but nobody plans to be down for a month. The manufacturers are concerned about depleting their inventory of parts, but the question is how long is it going to go on? If it becomes six weeks, eight weeks, 10 weeks, that's a real problem. In China, many auto plants have already shut down because of the virus, including factories run by Hyundai, Tesla, Ford and Nissan. Companies like Volkswagen, Daimler and Continental, a German supplier of electronics and other components, said they planned to reopen their factories in China next week if they received government authorization. But in the meantime, companies are paying workers to stay home and maintaining idle factories. The closings could last beyond next week if the virus spreads further and the death toll rises.
– The world's largest automaker is also the manufacturer most-exposed to the coronavirus outbreak in China, according to Standard & Poors. Volkswagen AG produces and sells almost 40% of its cars in China, and while its main plants are outside of the epicenter in Hubei province, they're likely to be closed for extended periods by government restrictions aimed at combating the disease, S&P said in the report issued Wednesday. At risk are about 3 billion euros ($3.3 billion) in dividends that Volkswagen's Chinese joint ventures pay to their German parent, according to the report from S&P analysts led by Vittoria Ferraris. The virus forced S&P to rip up its forecast for a recovery of the Chinese market after two down years. Sales in the world's biggest automotive market are no longer expected to meet the analysts' base case for 1-2% growth in 2020. Supply chains are also at risk, S&P said, with Robert Bosch Gmbh, the largest automotive supplier, expected to be "hard hit." Most Bosch sites "are preparing to resume production in the next days," the German company said earlier this week. "We constantly evaluate the situation." Nissan Motor Co. was singled out for having relatively high risk "considering its high exposure and recently weak performance," S&P said. Honda Motor Co. has a production base in the outbreak city of Wuhan and relies on China for 30% of sales and output, the analysts said.
---