As the Covid virus debacle continues to hamstring national economies around the world, the US economy has endured better than others. The recent Dow Jones Industrials show we are doing as well as we did in January 2018, and better than we did in any years previous to 2018. There is a lot of repair needed to make our economy grow like it needs to, but we will succeed. As global supply chains are reinvented, I expect North America will have many opportunities to grow its manufacturing industries.
---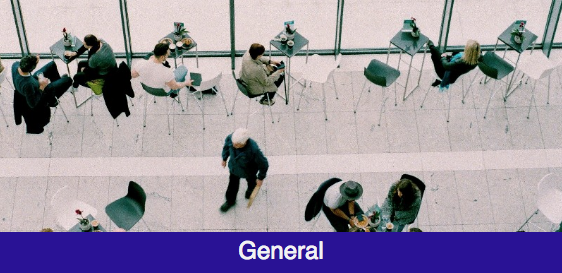 + The Consumer Price index (inflation) fell .8% in April.
+ After losing 37% of its value between Feb. 12 and March 23, the Dow Jones Industrial Average regained some ground and closed April at 24,345.72, up nearly 31% from its low point a few weeks earlier. The S&P 500 Index likewise partially recovered from a nearly 34% drop in the early weeks of the pandemic to end April at 2,912.43, 30% higher than its March 23 close. The dollar has remained strong and was trading at 0.91 euros, 0.79 pounds, 106.99 yen and 7.06 yuan on April 30.
+ "Pump prices are fluctuating throughout the country as demand increases and gasoline stocks decrease," said Jeanette Casselano, AAA spokesperson. "The boost in demand continues to push pump prices up around the country, as more states re-open businesses. Motorists in the Great Lakes, Central, South and Southeast states are seeing the most volatility at the pump." The Energy Information Administration's (EIA) latest data report showed demand for gasoline increased by 800,000 b/d to 6.7 million b/d last week, which is 3.2 million b/d less than last year at this time. Gas demand is expected to continue to grow, leading pump prices to continue their increase.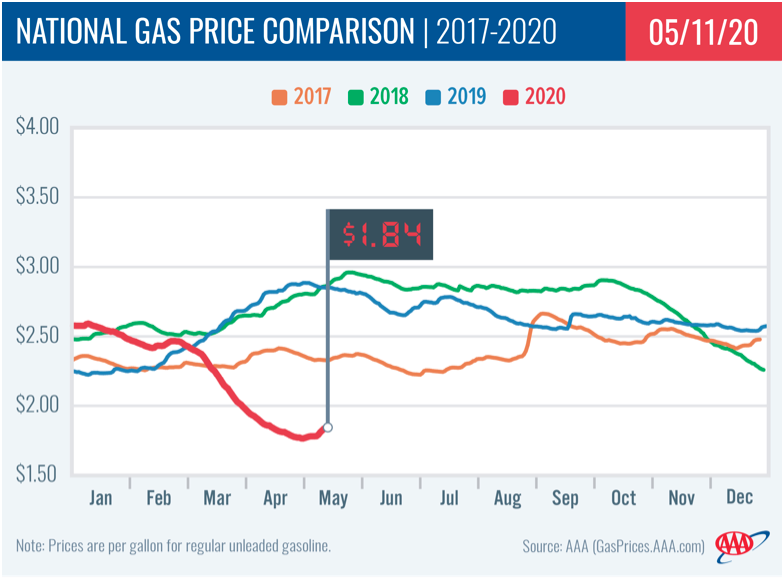 ---

– #1 heavy melt scrap rose to $202 per ton while #1 busheling scrap was steady at $310 per ton.
– American Iron and Steel Institute announced that in the week ending on May 9, 2020, US raw steel production was 1,204,000 net tons. The capability utilization rate was 53.7%.
– Iron ore is up to $87 per dry metric ton.
– Zinc is rising again.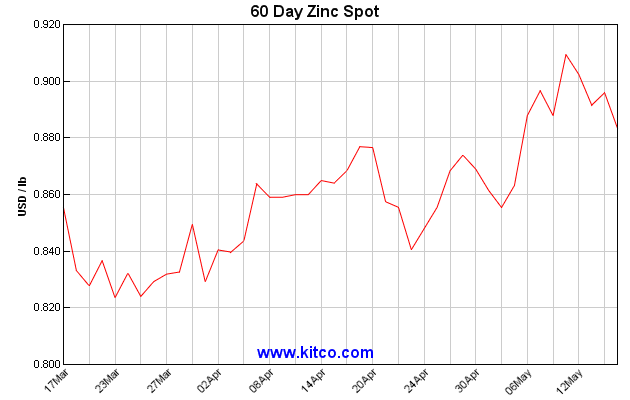 – Galvanized imports remain weak.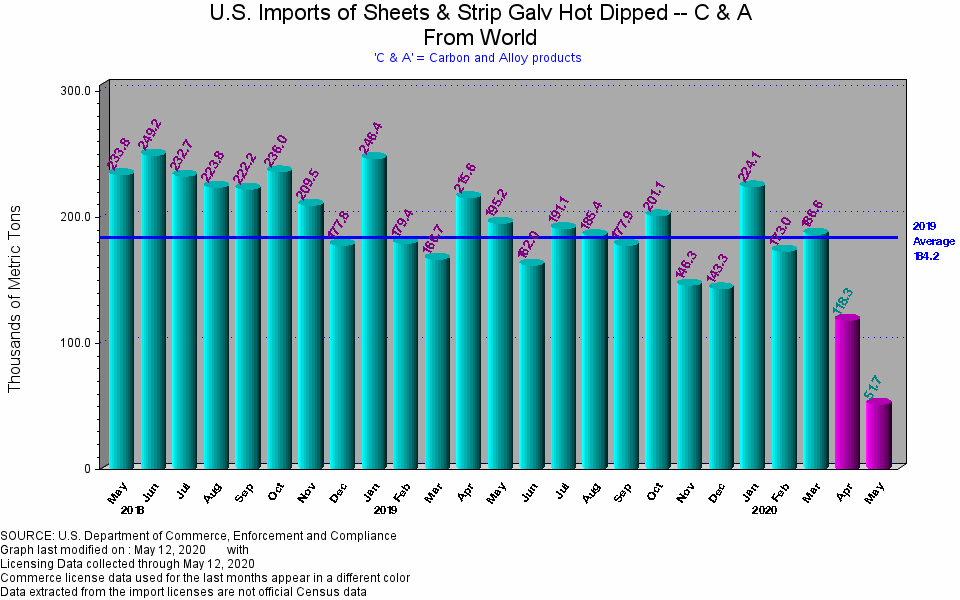 + Advocates for hydrogen steel have made a new breakthrough in their long-term plan to wean the steel industry off of fossil fuel furnaces. Following the first public demonstration of a hydrogen-powered blast furnace, commercial steelmakers in Sweden have replaced liquid natural gas with hydrogen in their existing production setup. Despite the changeup, they experienced no change in outcomes. While this demonstration is a big deal, it's just one small step in the bigger question of steel production. The World Steel Association (WSA) says the overall energy efficiency of steel has improved 60% since the 1960s: "Sophisticated energy management systems ensure efficient use and recovery of energy throughout the steelmaking process for use within the steelworks boundary or exported from the site," the organization explains. But energy still "constitutes a significant portion" of production costs at up to 40%. And the overwhelming majority of steel plants still use coal as the primary fuel for blast furnaces. In fact, the natural gas technology used in Swedish steelmaker Ovako's demonstration came about as an environmentally friendly alternative. The price of natural gas had continued to fall compared to coal in general, let alone the specific, lower-impurities form of coal used in blast furnaces. But having proof of concept of hydrogen steel processing could go a long way toward inducing more research, development, and subsidies of cleaner hydrogen in the future. The steel industry alone makes 9% of global fossil fuel emissions, according to the WSA. That means any chance to reduce is potentially huge, both financially and environmentally.
– The domestic steel industry is heading into "a perfect storm," according to Credit Suisse. An analyst with the bank noted in April that plummeting demand caused by the COVID-19 pandemic combined with more steel capacity coming online in 2021 will create significant hardships for steel producers. "In our view, the impact of COVID-19 and the collapse of US energy is a black swan event for domestic steel companies for which recovery will take time," the analyst wrote, according to SteelGuru.com. "However, time is running out on the shot clock as 8 million tons of new sheet capacity is set to enter the US over the next 12 months to 18 months. This is a perfect storm for steel companies, which have a high degree of operating leverage and rising financial leverage via major capital investment plans and or acquisitions." The analyst projected that demand for vehicles will drop by as much as 90% during the current quarter. The automotive sector accounts for more than one-fourth of steel consumption in the United States. The energy sector is responsible for about 8%.
– The European Union is considering additional restrictions on steel imports, in part because of the COVID-19 pandemic. In 2018, the European Union implemented "safeguard" tariffs, which are still in place, that are triggered when imports exceed a certain threshold. Now, EU officials are concerned that the steel being stockpiled while much of the world economy is shut down will flood the European market when conditions return to normal. "We are looking at the review of the [existing] steel safeguards in this context," the union's trade commissioner told the European Parliament in April, according to Reuters. He warned that, "Certain third-country exporters may well decide to sell their product at below cost or at all cost or at any cost, with a view to gaining larger stakes in a smaller EU market." Eurofer, the European steel association, asked officials in an April letter to reduce import quotas by 75% during the second and third quarters of this year. "The economy has changed fundamentally," Eurofer stated, according to Bloomberg. "This radically different situation means that urgent action is needed."
---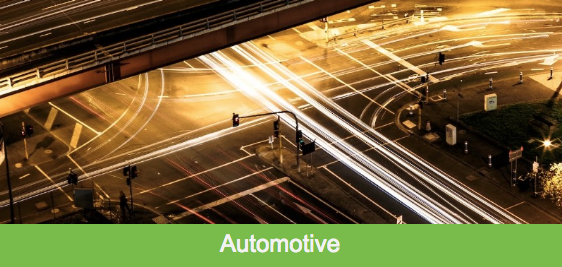 – Hertz canceled most new-car orders as pandemic shuts down travel. Hertz's biggest suppliers of fleet vehicles in 2019 were General Motors (21 percent), Fiat Chrysler (18 percent), Ford (12 percent), Kia (10 percent), Toyota (9 percent), Nissan (7 percent) and Hyundai (5 percent).
+ Commuters choose cars over public transport to avoid exposure to coronavirus. The car is making a comeback in cities such as Frankfurt as the socially distant transportation mode of choice for commuters who are afraid to use buses or trains to get to work.
– Tech companies once promised that fully functional, self-driving cars would be on the road by 2020 and on the path to remaking transportation and transforming the economy. But a decade after Google unveiled an autonomous car prototype with global fanfare, the technology is still far from ready, and many investors are wary of dumping more money into it. The companies that made these promises are now in a jam: To perfect their technology, they need to test it on roads. But they need at least two people in the cars to avoid accidents. Because of social distancing rules meant to keep people safe during the coronavirus pandemic, that is often not possible. So many cars are sitting in lots. "This is a difficult time for everyone," said Bryan Salesky, the chief executive of the start-up Argo AI, which is backed by $1 billion from Ford and another $1 billion in promised funding from Volkswagen. "We want to get back on the road as soon as it is safe to do so. There is no substitute for on-road testing." Many self-driving car companies have no revenue, and the operating costs are unusually high. Autonomous vehicle start-ups spend $1.6 million a month on average — four times the rate at financial tech or health care companies, according to PitchBook, which tracks financial activity across the industry. It's a sharp turn from 2016, when an investment bubble in self-driving technology started. General Motors acquired Cruise, a three-year-old, 40-person start-up, for roughly $1 billion including performance incentives. A few months later, Uber announced that it would pay around $680 million for Otto, a six-month-old autonomous trucking start-up. The start-up Zoox, which investors have valued at $2.7 billion, recently hired the investment bank Qatalyst Partners to explore a potential sale while it also tries to raise new funding, according to two people familiar with the effort. There have been layoffs at Zoox, at the autonomous trucking companies Ike and Kodiak Robotics, and at Velodyne Lidar, which makes the Lidar sensors that are an essential part of most autonomous driving. Lyft, which recently laid off or furloughed more than 1,000 employees, said its autonomous division was affected. "It was appropriate and necessary to be conservative about our cash burn," said Ike chief executive, Alden Woodrow. "That had to happen."
---