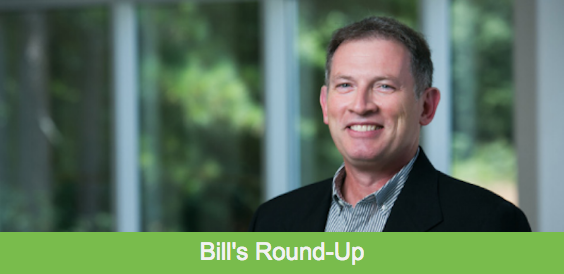 "Bill's recap:
The US economy recorded another good year as 2018 wrapped up. 2019 is looking good too. Inflation is down, and production, employment, and wages are up. Gasoline prices are down as well as freight rates. Steelmakers are still operating at healthy levels and imports are subdued. As the auto industry in North America fights to reinvent itself, the Chinese are planning to make a run at the US market." – Bill Feier, Manager of World Sourcing
---

+ #1 heavy melt scrap is down to $298 per ton as #1 busheling scrap remains at $375 per ton.
– Raw steel production dipped to 79.8% of capacity.
– Iron ore FOB Chinese ports is steady at $73 per dry metric ton.
– Zinc prices continue to bounce around.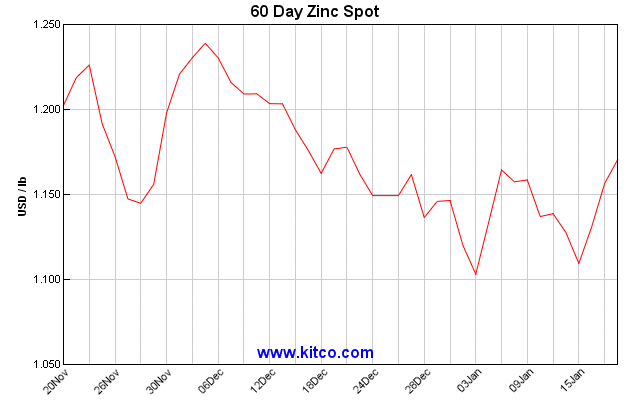 ---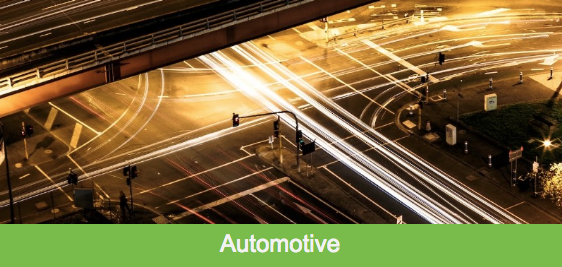 + Volkswagen Group is adding a second Chattanooga assembly plant in Tennessee to build electric vehicles for Volkswagen and potentially other brands, with an $800 million investment expected to create 1,000 jobs at the German automaker's only U.S. assembly operation. VW said Monday the new factory, which will be built next to the existing plant producing internal combustion vehicles, will begin producing EVs for North America in 2022. The EVs will be built on VW's modular electric toolkit chassis, known as MEB. When production begins, the Chattanooga site will be one of six VW Group assembly plants globally dedicated to producing battery-electric vehicles, and the only one in North America. The 3.4 million-square-foot Chattanooga plant employs about 3,500 workers.
+ VW did not reveal where it will source battery packs for EVs produced at the new Chattanooga plant, but South Korean lithium ion battery producer SK Innovation Co. said last year it will begin construction soon on a $1.67 billion battery plant in Commerce, Ga., about an hour northeast of Atlanta and 150 miles southeast of Chattanooga. SK plans to employ 2,000 workers producing an annual volume of lithium ion batteries equal to 9.8 gigawatt-hours by 2022.
+ GAC Motor, a division of China's Guangzhou Automobile Group, said Monday it has registered its North American sales operations in Irvine, Calif., near Los Angeles. The site will handle branding, marketing, product planning and financial affairs for the company, which also maintains design studios and R&D operations in the state. In addition to the expanded West Coast hub, GAC Motor has a growing presence around Detroit. Officials said Monday that a previously announced 50,000-square-foot R&D center in Farmington Hills, Mich. has opened. Engineers at the Michigan site will collaborate with those in California and China as GAC looks to develop a family of sedans, SUVs and minivans. GAC, which operates in 16 countries, introduced a concept SUV, the Entranze, at the show. The three-row vehicle features a voice-controlled user interface that replaces the traditional control panel, two-side mounted displays and a 3-2-2 seating arrangement that features "aisles" inspired by airliners.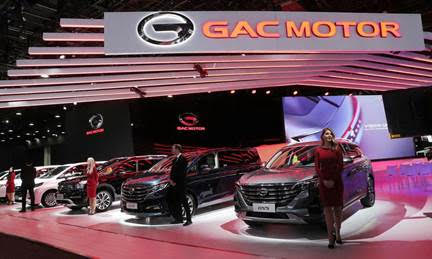 ---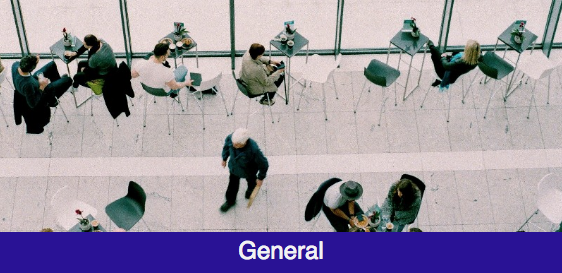 + The Producer Price Index fell .2% in December, led lower by declining energy costs.
+ Industrial Production Gained .3% in December, driven by a surge in vehicle production. Mining output also gained. Total capacity utilization in the USA averaged 78.7% in 2018 vs 77.3% and 75.7% the prior two years.
– Gasoline prices have leveled out. Refineries operated at 94.6% of capacity, and oil futures settled to $51.50 per barrel.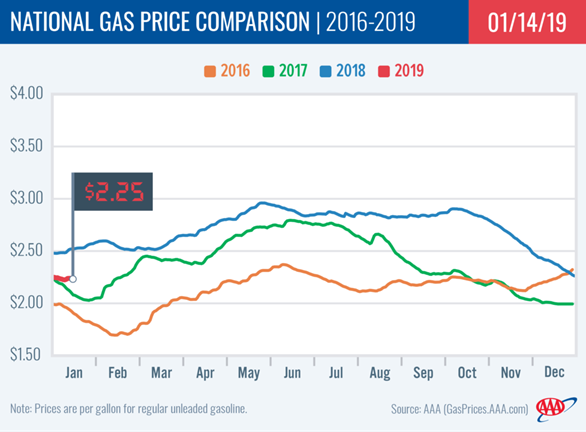 + Freight rates are coming down again.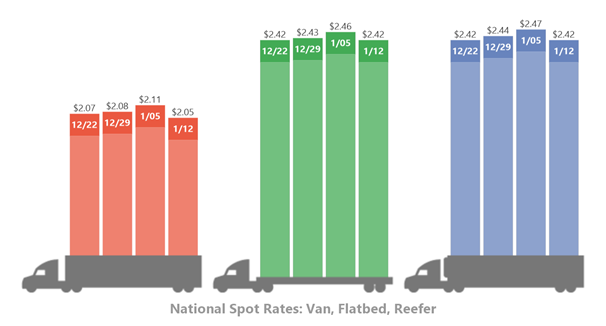 – Mining giant Rio Tinto RIO calls it the world's largest robot: mile-long driverless trains traversing the Australian Outback on roughly 1,000 miles of track. U.S. rail-freight operators say greater automation will make their networks safer and more productive. They point to railroads owned by Rio Tinto as a blueprint for the 140,000-mile private U.S. network that moves vast quantities of everything from cars to corn. A decade in the making, Rio Tinto's driverless train system called AutoHaul, now manages roughly 200 locomotives that move iron ore from inland mines to coastal ports in Western Australia. The trains are operated hundreds of miles away, in an office block in Perth. Rio Tinto's network, which began formally operating in driverless mode late last month, is the first fully autonomous, long-haul freight railroad. Rail-company executives from countries including the U.S. and Canada have visited to see the technology in action. American companies say automating tasks once handled by crew will create fluid networks more akin to a model train set. Around 5 million tons of goods are moved daily on the U.S. network, which freight operators share with passenger trains, generating more than $70 billion in revenue annually. Drivers have variable skills, so a generous distance is kept between trains. In doing so, companies sacrifice valuable rail capacity. Also, the different ways that drivers run locomotives lead to inconsistent wear-and-tear and fuel use, and human error accounts for more than one-third of accidents, according to the Association of American Railroads, an industry trade group. Labor unions and some lawmakers worry about risks to public safety, cyber threats and job cuts from increased automation. Rail-freight companies have typically offered some of the nation's best-paid jobs, with an average annual salary of more than $125,000, said the AAR, which represents most major railroads. The country's biggest Class I railroads employed roughly 147,000 people in 2017.
---