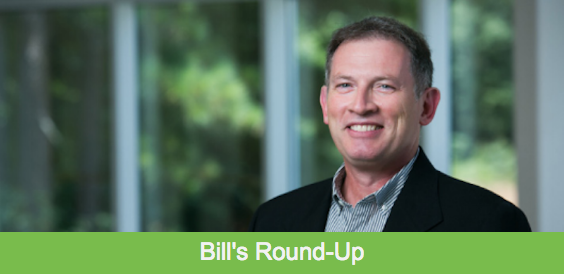 "Bill's recap:
Inflation remains in check even though gasoline prices continue to rise. Steel makers in the US continue to produce well. The prices of zinc and scrap are coming down. Galvanized imports came in stronger than expected in April. The automotive industry continues to evolve in diverging ways." – Bill Feier, Manager of World Sourcing
---
+ #1 heavy melt scrap is static at $295 per ton but #1 busheling scrap fell to $315 per ton.
+ Raw steel production rose to 82.3% of capacity.
– Iron ore FOB Chinese ports is up to $95 per dry metric ton.
+ Zinc prices took a tumble.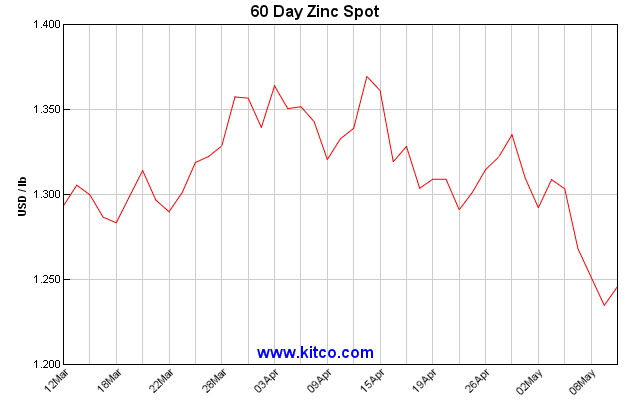 + Galvanized imports for April came in stronger than expected.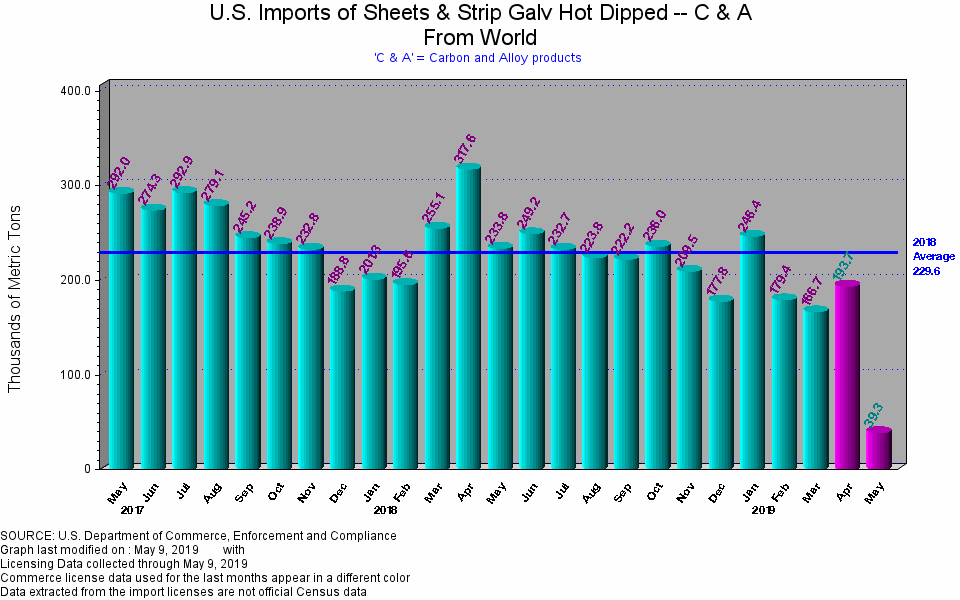 – ArcelorMittal's global first-quarter profit plunged to $414 million, down more than 65% from the $1.19 billion the company made during the same period a year ago. They produced $769 million in operating income in the first quarter of the year, down from $1.5 billion in the first quarter of 2018. Sales totaled $19.188 billion, up slightly from $19.186 billion during the first quarter of last year. ArcelorMittal shipped 21.8 million tons of steel during the first three months of the year, which was up 2.2% year-over-year.
---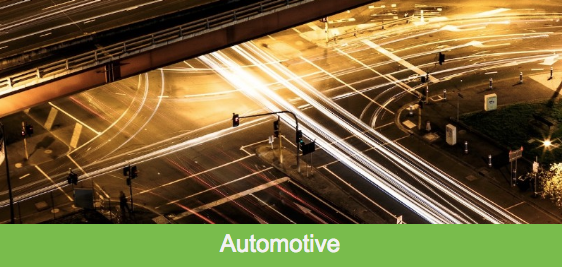 + General Motors Co. said it is in talks to sell its shuttered assembly plant in Lordstown, Ohio, to an electric-truck maker. GM said Wednesday it is in discussions with Workhorse Group Inc. to sell the factory, which was shuttered in March amid a falloff in sales of the small Chevrolet Cruze sedan that was built there.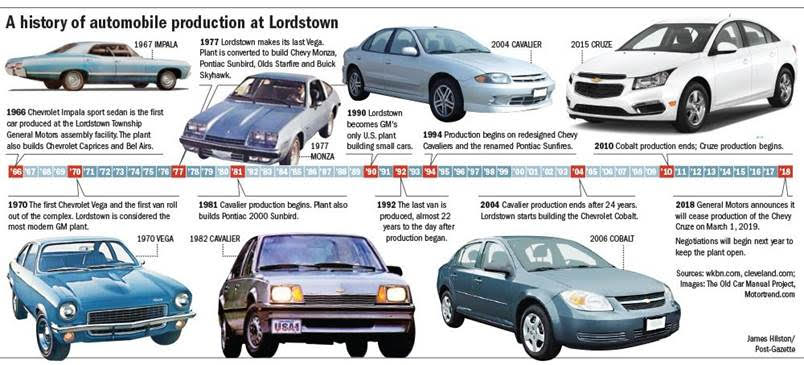 + More than 10,000 people paid 1,000 euros ($1,120) each to be the first to own a limited-edition version of Volkswagen AG's ID.3 electric hatchback. Customers who ordered one of Volkswagen's 30,000 special edition cars will also get a year's worth of free charging at stations connected to the company's WeCharge app. Deliveries will start in the middle of next year. The special version of the car, which VW hopes will be the electric-car successor to the iconic Beetle, is being sold for just below 40,000 euros and have a range of 420 kilometers (260 miles), with the base 30,000 euro version coming later with a lower range of 330 kilometers.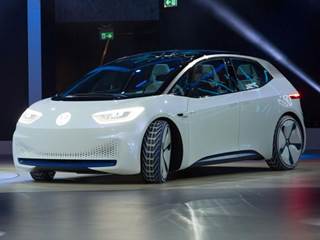 + Mercedes-Benz, the luxury automaker is booting its C Class sedan out of U.S. production soon. Mercedes spent nearly five years moving the C Class into production at its sole U.S. factory in Vance, Ala. It required considerable time and money to retool the U.S. assembly line and find local suppliers to launch the American C class in 2014. At the time, Mercedes estimated the move was creating 1,000 U.S. jobs. Five years later the sedan appears headed out of America due to shifting U.S. consumer trends. According to industry forecaster LMC Automotive, C-class sedan production in Vance will end in the fourth quarter of 2020. That scenario represents a new reality for a company that was long defined by luxury sedans and coupes and was once hesitant to sell a single light truck. The company expects SUVs and crossovers to represent about 60% of its sales in the U.S. next year. The 6 million-square-foot Alabama plant is operating at 93% capacity, and is preparing to introduce more SUV and crossover volume. Alabama is the global production source of Mercedes' flagship GLS SUV, and GLE and GLE Coupe crossovers. Global GLS sales have been forecasted to increase 30% over the next four years, while GLE crossover sales are expected to grow 28% during that time. Alabama factory is amid a $1 billion expansion as it preps to launch electric vehicles. Mercedes predicts its EQ sub-brand of EVs could account for 15% to 25% of its global sales by 2025. Local production of the EQGLE crossover is expected to begin in the second quarter of next year, followed by the EQGLS SUV in 2022. Crossovers and SUVs accounted for 64% of new luxury-vehicle sales in the U.S. last year, according to the Automotive News Data Center. That share is up 14 percentage points from 2015. LMC forecasts U.S. C Class deliveries to nosedive 47% this year from 2015. Sales will continue to slip 13% more until the C-class redesign in 2021. As sales slide, so has the C class' share of production in Alabama, down to 20% last year from 31% in 2015.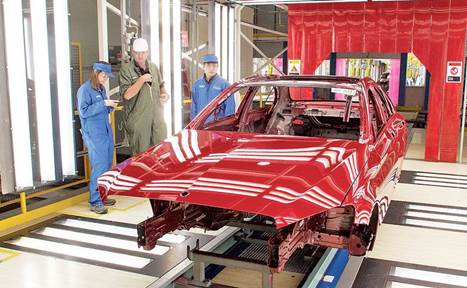 + The U.S. government on Friday increased its existing 10% additional duties on imports of automotive parts, engines and chassis from China to 25%, citing a lack of progress in ongoing trade talks. The tariff schedule for the new increased 25% duties includes combustion piston engines and related cast-iron parts, aluminum cylinder heads and electric generating sets. They also will be raised on a spread of China-made light-vehicle chassis with fitted engines, as well as vehicle bodies including cabs. Other China-made auto parts attracting these additional duties include air-conditioning equipment; camshafts and crankshafts for combustion piston and rotary engines; lead-acid batteries; and nickel-iron storage batteries. Also covered are oil, fuel and air filters for combustion engines, spark plugs, starter motors, defrosters and demisters, windshield wipers, bumpers, seatbelts, gearboxes, brakes, axles, wheels, suspension system parts, radiators, mufflers, exhaust pipes, clutches, steering wheels, and airbag parts. Also, the duties will be levied on a wide range of metal products that potentially could be used by U.S. automakers, such as copper wire and cables; aluminum plates, rods, profiles, tubes, tanks, wire and containers; and iron and steel sections, tubes, pipes and hollow profiles (and associated fittings such as flanges, sleeves, elbows and bends).
---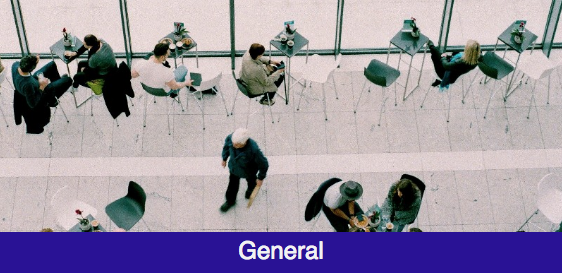 + The Consumer Price Index rose just .3% in April. High gasoline prices were the major driver.
+ The Producer Price Index rose .2% in April, driven mostly by trade services and fees.
– Gasoline prices continue to rise even though refineries operated at 88.9% of capacity. Oil futures were $62 per barrel.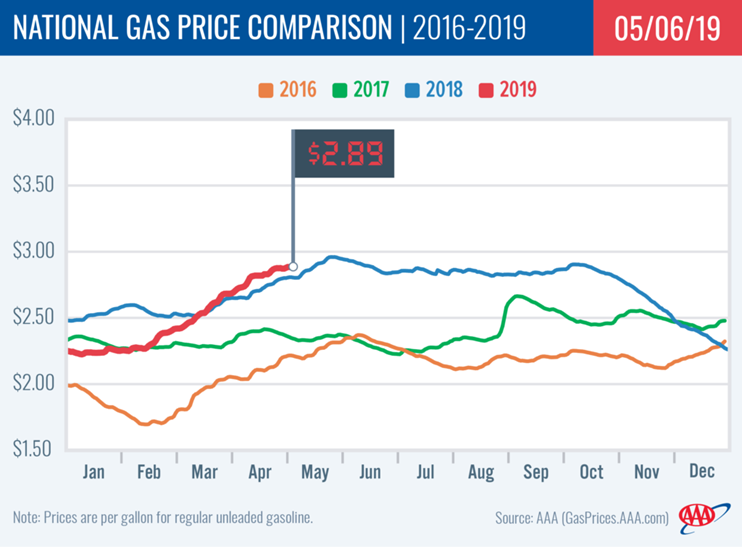 – Freight rates are bouncing around.

---