As more states allow openings of restaurants and public venues, the nation's economy gets more chances to heal. As more people start commuting to their work, demand (and price) for gasoline is rising. Domestic steel mills are still trying to find their footing. Steel output is still very weak. Vehicle output is weak as well. But the good news is, things are heading upwards. More people are going back to work. More people are driving. More service oriented business are getting back to normal.
---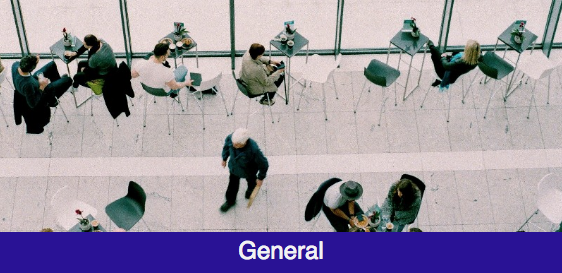 + The Fed kept interest rates low (zero to .25%) while they use all the tools available to them to support the U.S. economy and promote employment and price stability.
+ The Consumer Price Index fell .1% in May. Car insurance, energy, apparel, and gasoline costs all were down.
– The Producer Price Index rose .4% in May, led by a 40% jump in meat prices. Gasoline, LPG, and carbon steel prices rose too.
– Gasoline prices crossed the $2.00 mark. Capacity utilization at refineries rose to 73.1%. West Texas crude oil futures traded at $39 per barrel.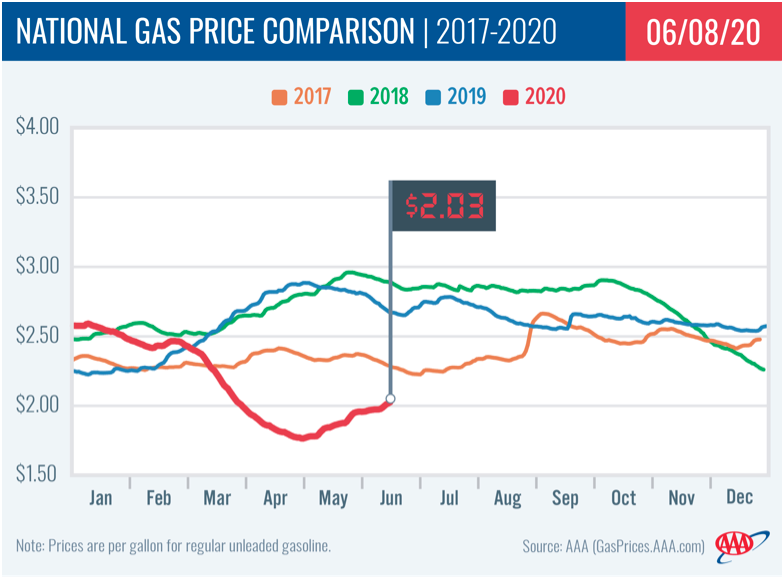 – BP will cut about 15% of its workforce in response to the coronavirus crisis and as part of Chief Executive Bernard Looney's plan to shift the oil and gas major to renewable energy, it said on Monday.
Looney told employees in a global online call that the London-based company will cut 10,000 jobs from the current 70,100. The affected roles will be mostly senior office-based positions and not front-line operational staff, the company said. About a fifth of the job cuts will take place in Britain, where BP employs 15,000 people, a company spokesman said. Like all the world's top energy companies, BP has cut its 2020 spending plans after the coronavirus pandemic brought an unprecedented drop in demand for oil. BP has flagged a 25% cut to $12 billion this year and said it would find $2.5 billion in cost savings by the end of 2021 through the digitalisation and integration of its businesses. On Monday, however, Looney said the company is likely to need to cut costs even further. BP is giving no pay rises to senior employees until March 2021 and said it is unlikely to pay any cash bonuses this year.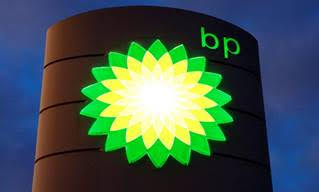 ---

– #1 heavy melt scrap is at $203 per ton and #1 busheling scrap is at $320 per ton.
– Crude steel production in the United States totaled 1,195,000 net tons for the week ended Saturday June 6, down by 0.9% from 1,206,000 tons the previous week, with mills operating at an average capacity utilization rate of 53.3%.
– Iron ore FOB Chinese ports jumped to $102 per dry metric ton.
– Zinc prices remain on an uphill trend.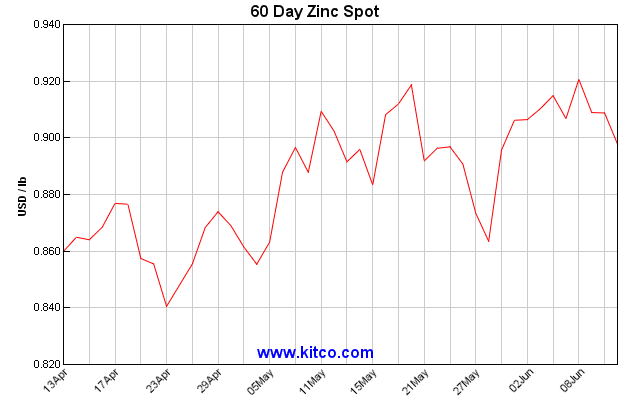 – Galvanized imports are starting June weak.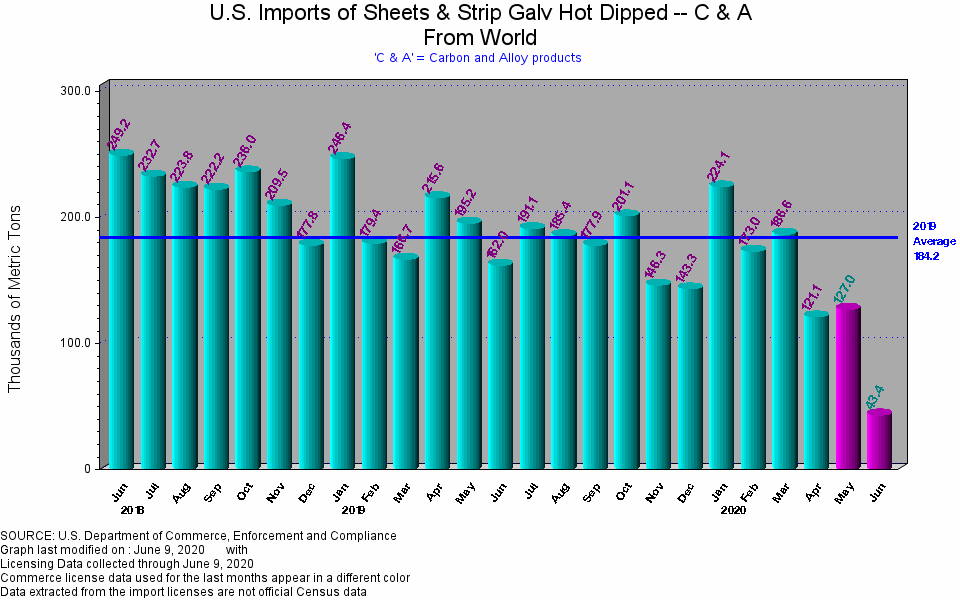 + Cleveland-Cliffs will resume construction of a hot-briquetted iron (HBI) plant in Toledo, Ohio, and speed up the restart of its Tilden mining operations in Michigan, the company announced on Tuesday June 9. Previously, Cliffs announced it would temporarily cease construction activities at the HBI plant due to the Covid-19 pandemic on March 19. Operations at the company's Tilden mine, previously idled on April 13, will restart later this month rather than in July, as previously expected. The mine is the primary supplier for the company's AK Steel facilities in Middletown, Ohio, and Dearborn, Michigan. The company credited the early restart to a quicker than anticipated recovery in steel demand from AK Steel's customers, especially in the automotive sector.
+ U.S. Steel confirmed that it has restarted production at its No1 blast furnace (BF) at Mon Valley Works in western Pennsylvania. Without providing specifics, a U.S. Steel spokesperson said the BF has resumed production "to provide for volume requirements." "As we continue to navigate business conditions during the worldwide Covid-19 pandemic, we are adjusting to changing market conditions by utilizing the flexibility afforded by our banked blast furnaces," the spokesperson said. "We may intermittently bring blast furnaces up or down to accommodate changes in our order book."
---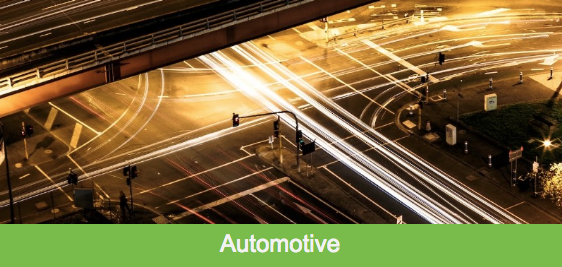 – Non-manufacturing salaried workers at the Detroit Three are not returning to their office jobs anytime soon. At Ford, the majority of U.S. non-manufacturing employees won't return to the office before September, a Ford spokesman told the Free Press Thursday. That's pushed back from Ford's previous plan to bring them back in July. In GM's case, there will be no single "set date" for a return to workplaces. GM is in no hurry to rush workers back to their offices given that working remotely is working well in most cases. GM said the timing and the number of salaried workers who return to workplaces will vary due to local guidelines, business needs and the implementation of GM's return-to-the-workplace safety protocols, a GM spokesman told the Free Press. At Fiat Chrysler Automobiles, most salaried workers who can work from home will continue to do so, but a small number of FCA employees in the testing area have returned to their work site. "Our cadence of welcoming employees back to their workspace will take place slowly and responsibly, as we bring people back in deliberate waves through the summer," said FCA spokeswoman Shawn Morgan.
+ General Motors' top executive expects it will take decades for electric vehicles to take over as the dominant form of transportation but sees driverless cars on the road within five years. CEO Mary Barra said American drivers will go electric, but it will take a long time for most of the 250 million vehicles on U.S. roads to be battery powered. When asked if all cars will be electric in 20 years, she said that may be too soon. "It will happen in a little bit longer period, but it will happen." That outlook underscores the tricky task Barra will have budgeting billions for new models and deciding which of them will run on battery power. GM currently sells just one EV in the U.S. but is developing more than 20 plug-in models, including a Cadillac crossover and a Hummer pickup that will both debut by the fall of 2021. In addition to funding its EV program, GM also is spending about $1 billion a year to fund Cruise, the self-driving car unit the Detroit-based automaker majority owns. A return on that investment will bear fruit before long, Barra said. Although Cruise canceled plans to launch a ride-hailing service last year and has not set a new date, it is developing a self-driving vehicle that will be dedicated to an autonomous taxi service.
---