Manufacturing, construction, service industries, and the stock market are all on an upswing. The US economy continues to power through the coronavirus debacle. The domestic steel industry continues to claw its way back to normal bookings. Maybe by year end we'll see them back to 70% of capacity. Galvanized imports remain weak. Germany is pushing the envelope in steelmaking by using hydrogen to cut emissions during the steel making process. The auto industry was geared up for Labor Day sales. Did they "move the needle"? We'll see when September sales performance is published.
---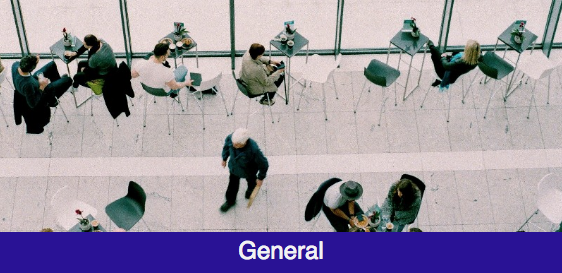 + The ISM Manufacturing Index rose to a reading of 56 in August, the 4th increase in a row. New orders, production, backlog, employment, and deliveries all registered increases for the month.
+ Construction Spending in total showed a slight increase in July of .1%. Residential construction was doing well, registering a 2.1% gain but public construction was down.
+ Factory orders are up 6.4% in July, the 3rd month in a row of gains. New orders, transportation equipment orders and shipments are all up.
+ The ISM Services Index fell to a reading of 56.9 for August. Any reading over 50 shows growth. Business activity, new orders, and deliveries are up, but employment is down.
+ Even amid the worst so called pandemic to hit the US in a century, the Dow Jones Industrial Average has nearly fully recovered from its record-high levels in February. For the first time since Feb. 20, the Dow Jones closed above 29,000 last Wednesday, finishing the day at 29,100. The Dow Jones has historically had a 7% growth rate a year, and it's possible the Dow could still finish the year on track.
– Gasoline prices are trending up as a result of Hurricane Laura and an increase in demand to one of the highest measurements of the year. The Energy Information Administration (EIA) report that gas demand increased from 8.63 million b/d to 9.16 million b/d. While higher than we've seen throughout the summer, this estimated rate is 739,000 b/d lower than the rate last year at this time. Refineries slowed to 76.7% capacity utilization. Oil futures are steady at $43 per barrel.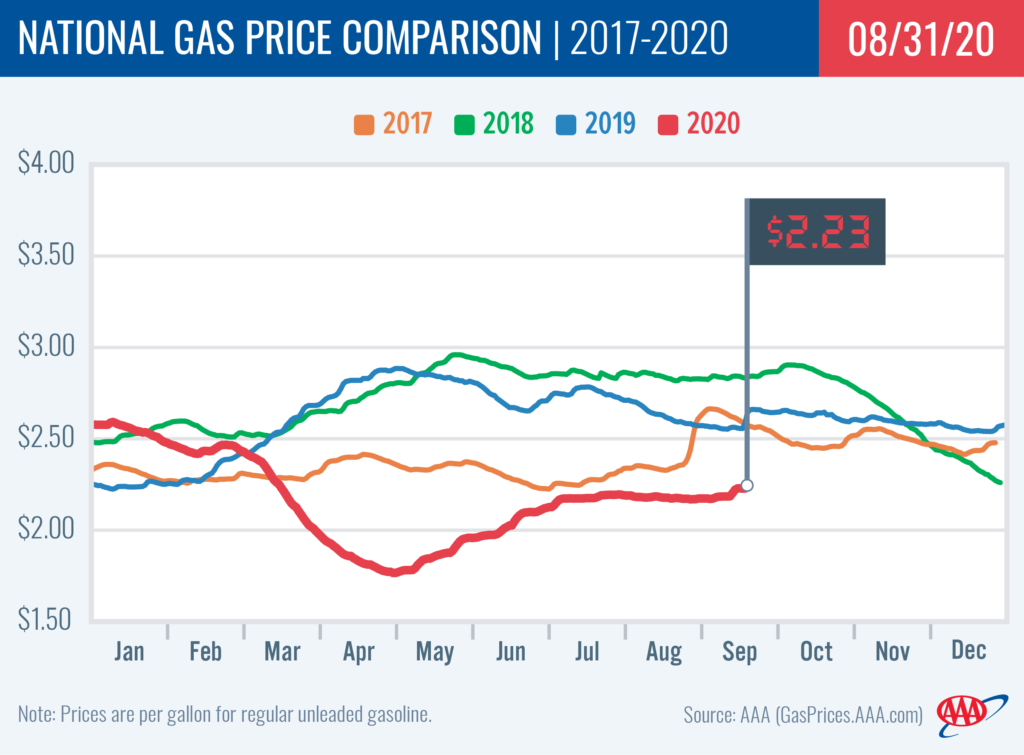 – Oil and gas companies plunged over $156 billion into corporate takeovers and land deals during the second U.S. shale boom, in a massive bet that good times would continue and crude prices would rise. Many of those deals have become financial albatrosses. The prospect for relief is limited: the industry is still working through the shock of a historic collapse in fuel demand in such a short period of time, prompted by the sudden impact of the coronavirus on global mobility. Oil companies are cutting their budgets to preserve cash and survive – not to spend it on buying more companies. That leaves few companies with the money or the appetite to buy distressed assets. Another 150 North American oil and gas producers could face bankruptcy by the end of 2022, according to Rystad Energy, if crude prices remain near current levels. The shale revolution turned the United States into the world's largest crude producer, pumping out more than 12 million barrels per day (bpd) at its peak. The industry beat forecasts again and again for production growth, but rarely for financial returns. Still, the promise of future returns lured investors, including a wave of acquisitions that happened after the first boom when prices pulled back sharply from 2014 to 2016. Now, many of the 2016 to 2019 shale deals are financially unworkable due to low oil prices. Of the 50 largest acreage purchases or M&A transactions between 2016 and 2019, at least 31 add value only if global benchmark Brent crude LOCc1 is above $50 a barrel, or $5 higher than current levels, according to energy research firm Wood MacKenzie. Bankruptcies are expected to pick up in the second half of the year. By July, 32 oil and gas producers filed for bankruptcy, according to law firm Haynes and Boone.
– Exxon is the latest oil major to embark on axing jobs spurred by a historic collapse in fuel demand because of the coronavirus pandemic. The company has slashed capital spending this year by 30% to around $23 billion and said in August it planned both capital and operating expense cuts to defend its dividend after reporting losses in the first and second quarters. "We have evaluations underway on a country-by-country basis to assess possible additional efficiencies to right-size our business and make it stronger for the future," spokesman Casey Norton, based at the company headquarters in Irving, Texas, said in emailed comments to Reuters.
---

– #1 heavy melt scrap is steady at $211 per ton as well as #1 busheling scrap at $260 per ton.
– Raw steel production fell to 61.7% of capacity, the first drop in 12 weeks.
– Iron ore has been on a roll, gaining nearly 34% year to date. Prices surged above $125 per ton for the first time since February 2014. This has primarily been fueled by strong demand from China's efforts to revive its pandemic-hit economy while the coronavirus situation in Brazil continues to stoke apprehensions of a supply crunch.
– Zinc prices might have peaked.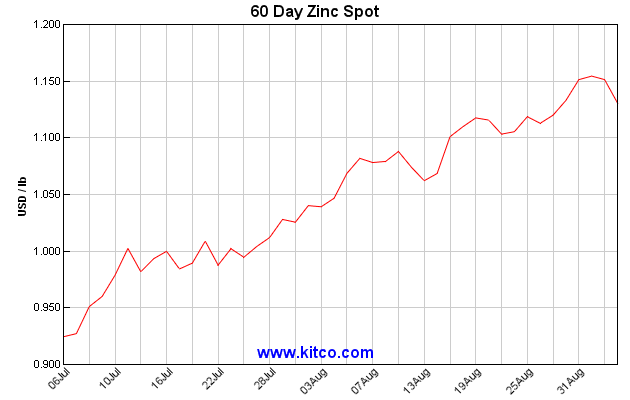 – Galvanized imports for August couldn't match July's performance.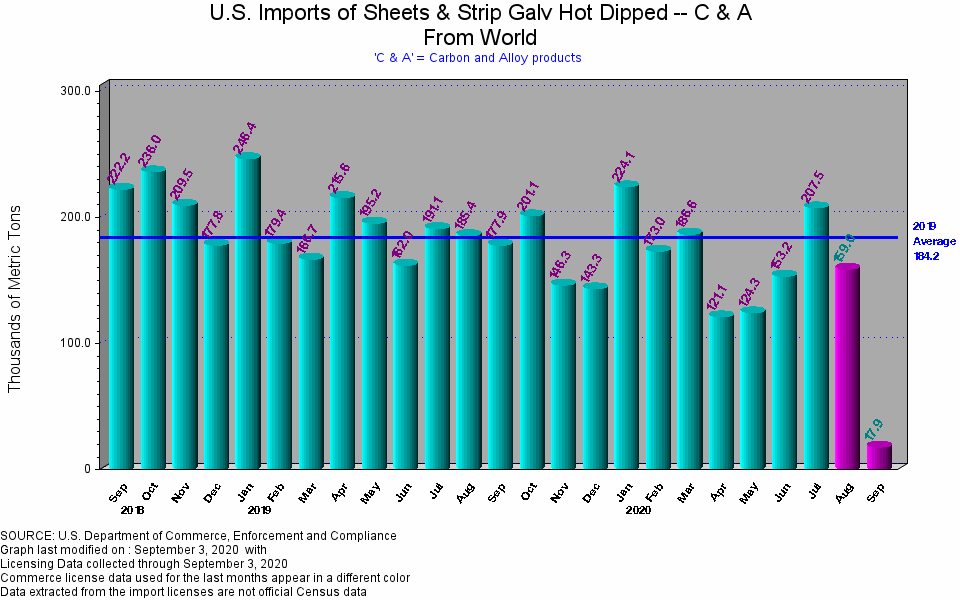 + Germany's first hydrogen-based steel production plant via the blast furnace route is beginning operation in Dillingen, Germany. With the EUR 14 million investments, Dillinger and Saarstahl are further cutting their carbon emissions. The new plant in Dillingen is the first in Germany that uses hydrogen as a reducing agent in the blast furnace in normal operation. This is accomplished by injecting hydrogen-rich coke gas. The use of hydrogen in steel production is a key factor in reducing carbon emissions. The coke gas injection system is an important step toward producing green steel and minimizing the use of resources. Carbon emissions from the blast furnace can be reduced by replacing the carbon in the blast furnace with hydrogen as a reducing agent and energy source.
– China's steel sector registered record high output in July 2020 on surging domestic demand due to a flurry of infrastructure projects, as the country introduced massive stimulus measures to help the economy recover from the COVID-19 outbreak. According to the China Iron and Steel Association, Chinese crude steel output rose by about 9.1% from the year before to reach 93.36 million tonnes in July, with a daily output of 3.01 million tonnes. Yet, the increasing supply has not been able to meet rising demand. China's imports of steel in July tripled to 2.61 million tonnes from a year ago.
– Global steel production fell in July. The following are the top steel producing countries and their performance (metric tons).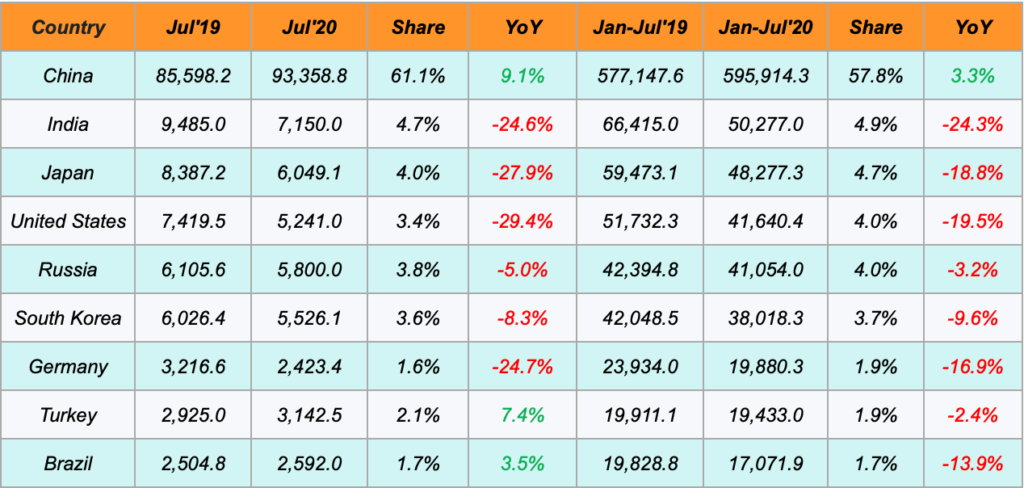 + Packaging manufacturer Ball Corporation plans to build a multi-line aluminum beverage can packaging plant in Pittston, Pennsylvania, the company announced on September 2. The facility will cost more than $300 million, and is scheduled to begin production of multiple can sizes in the middle of next year. The new plant will add approximately 230 jobs to the area, according to the statement. The company chose Pittston "because of the existing infrastructure, proximity to main distribution routes, regional labor base, the cooperation of state and local officials during the site selection process and Pennsylvania's focus on sustainable growth." "Our new Pittston plant is Ball's latest investment to serve accelerating demand for our portfolio of infinitely recyclable aluminum containers" chief operating officer Daniel Fisher said. Ball is currently constructing a plant in Glendale, Arizona, which is scheduled to begin production in the first quarter of 2021, and operates more than 20 facilities in North America.
---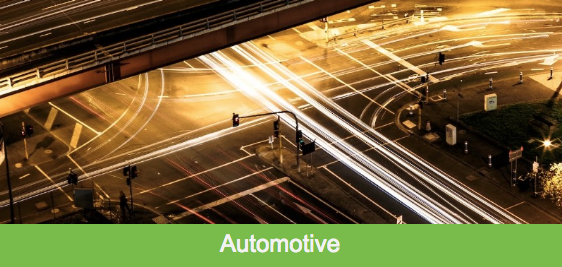 – Wards estimated light vehicle sales of 15.19 million SAAR in August 2020 (Seasonally Adjusted Annual Rate), up 4.6% from the July sales rate, and down 11% from August 2019.
+ The Labor Day weekend is a signal for a variety of sales, including the auto industry when they often fire up the "good deal" or "Labor Day deal" machine. For many dealers, it's a prime opportunity for them to push out 2020 models in favor of 2021 vehicles. This year is no different with cash back deals, rebates and lower interest rates all being thrown on the table to attract new buyers. This Labor Day the deals cover all types of vehicles in all segments as well as a slew of financing offerings. Some of the deals include:
A rare six-year 0% financing deal on the 2020 Volkswagen GTI
$6,000 cash back on the 2020 Kia Sorento
A $139 a month deal on the 2020 Kia Optima
2020 Hyundai Santa Fe: 0% financing for 72 months and 90 days until the first payment is due
2020 Honda CR-V: $310 per month for 36 months with zero due at signing and no first month's payment
2020 Acura TLX: $299 per month for 36 months with $2,999 due at signing
2020 Nissan Rogue: $189 per month for 36 months with $3,489 due at signing
2020 Nissan Titan: 0% financing for 72 months plus up to $3,000 bonus cash
2020 Volkswagen Passat: $199 per month for 39 months with $2,699 due at signing
2020 Hyundai Kona: $139 per month for 36 months with $3,339 due at signing
+ General Motors and medical equipment maker Ventec Life Systems have delivered 30,000 ventilators to the U.S. government during the COVID-19 pandemic, the automaker said on Tuesday. The deliveries were under a $489 million contract from the U.S. Health and Human Services Department. GM said it has handed over operational control of its Kokomo, Ind., facility to Ventec to make ventilators. On Monday, Ford Motor Co. said it is ceasing production of ventilators and returning the Michigan factory where they were built to full-time parts output after completing delivery of 50,000 breathing machines to the U.S. government. The automaker, which had been producing the devices in conjunction with General Electric Co., shipped its final unit Aug. 28 to help fight the coronavirus pandemic, according to Rachel McCleery, a company spokeswoman. Ford's Rawsonville Road plant already resumed auto-parts production in May as part of an industry-wide restart following a shutdown to contain the spread of the coronavirus. The ventilators were made in a separate part of the plant that didn't affect output of auto components, including transmission oil pumps, electric battery packs and fuel pumps. The company has said its factories returned to 95% of pre-virus production by the end of the second quarter after shutting down its U.S. plants in the spring in a bid to halt the spread of Covid-19.
– In a year in which everything seems to be going wrong it probably comes as no surprise that consumers are increasingly frustrated with the auto industry, a new study finding customer satisfaction has fallen to its lowest level since 1999. Only a handful of brands found a way to keep customers happy, according to the American Customer Satisfaction Index. If there's been any good news for the industry, it's that other owner surveys, such as the J.D. Power Initial Quality Study, have indicated that the latest crop of cars, trucks and crossovers suffer from fewer problems. The IQS contained a few surprises, notably including the fact that Fiat Chrysler, normally an industry laggard, had several of its brands finish at the top this year. Coincidentally, and perhaps surprising to some, that is mirrored by the ACSI which ranked Ram tied as its number one mainstream brand, outscoring traditional competitors such as Honda and Toyota. Ram scored 80 points out of a possible 100, just behind the study's overall winner, Lexus. And while the score for Ram was flat year-over-year, the Japanese luxury marque saw its own score slip by 2 points for 2020. Ram tied with Toyota which slipped a point in this year's study. Fiat Chrysler's pickup brand was a relatively rare exception. It was joined by only one other domestic marque, Cadillac, in the ACSI top 10. The Japanese had five brands in that list, the Germans three.
---