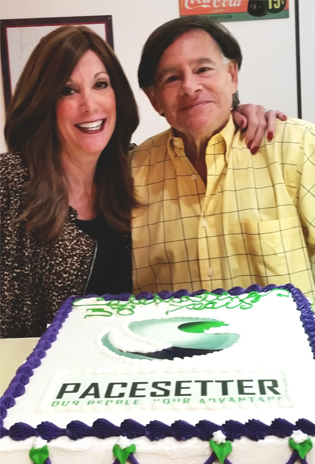 Another year has been written in Pacesetter's history. We are exceeding our goals and turning our dreams into reality. Our CEO, Aviva Leebow Wolmer, and our Associates have shinned new light on Pacesetter. Each day, we are driving our Vivid Vision, getting involved in the community, and displaying the true face of Pacesetter. The company rebrand has been installed, and our audience knows, the Pacesetter tagline: "Our People, Your Advantage."
Team's change the world, departments don't. We empower vision at every level of our company. Our "Can you Imagine Wall" is always filled with ideas and strategies to support each area of our business. There is an energy in our building, and it reeks of success.
Steve and Bobbi Leebow have inspired everyone who has been apart of this Pacesetter family for the last 38 years. The dedication and determination to making Pacesetter so successful falls on their vision of a company that is there for their people. From everyone who supports Pacesetter, and has been along for the ride, thank you for 38 wonderful years. We are all looking forward to what the future holds.