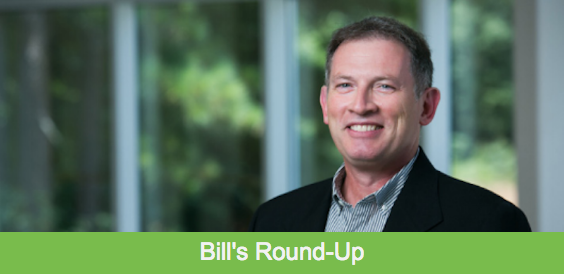 The bright spot in the US economy is the continued strength in home sales and automobiles. The Fed decided not to move interest rates. The Wuhan Coronavirus might soon take a bite out of China's economy not only due to worker absenteeism, but of decreased demand for goods made in China. No one wants to open boxes of products made in China that might carry the virus. Gasoline prices in the US are declining which is always good news for consumers. Our domestic steel mills are keeping production over 80% as steel imports remain subdued. President Trump is shifting his trade policy to focus on taxing finished goods imports instead of raw materials in an effort to stimulate manufacturing in the USA, and possibly allowing businesses to buy steel as they see fit without having to negotiate high import taxes. The automotive industry continues to try to push electric vehicles, and make money, but profit from electric vehicles seems to be elusive.
---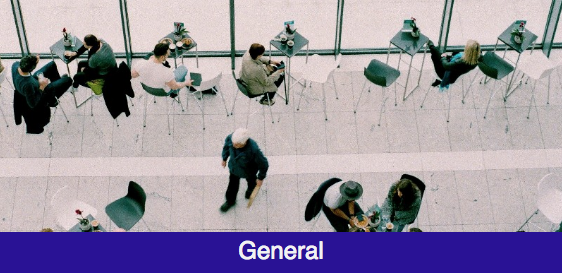 + The Fed met last week and decided to keep interest rates the same at 1.5% to 1.75%. The main reason for the interest rate decision, according to the FOMC statement, appears to be inflation. Specifically, the FOMC has set an objective to reach a 2% inflation rate, and the actual number has been running short of that. The statement said that the committee's policy is intended to produce "inflation returning to the Committee's symmetric 2 percent objective." Also, the FOMC now sees household spending rising at a "moderate" pace, where it previously saw "strong" spending growth. + New Home Sales rose .4% in December. The median price of a new home was $331,400 and the inventory of unsold new homes was 5.7 months' worth.  681,000 new homes were sold in the USA in 2019, up over 10% from 2018. – Trade disputes and geopolitical uncertainties had already made the prospects for global economic growth uncertain. A coronavirus has now added to the challenges facing financial markets. The epicenter of the virus is Wuhan, an important commercial hub in China that is home to 11.9 million people, including the country's largest student population. It is also a manufacturing hub, with around 500 factories that would usually make car parts, pharmaceutical products and steel. Wuhan is home to China's third largest car manufacturer, Dongfeng Motor, while German conglomerate Siemens has a transformer plant there. It is also the headquarters for Baowu Steel Group's Wuhan Iron and Steel Corp, or Wisco, which transports its raw materials – including iron ore – along the Yangtze River. Production at these plants and across China had already wound down for the Lunar New Year holiday, making it hard to distinguish between a seasonal business slump and any more serious disruptions the virus might be causing. Remember too that the Chinese economy has been slowing after a decade of exponential growth. + Durable Goods Orders jumped 2.4% in December, led by high demand in transportation equipment. + The ISM Manufacturing index crossed over the breakeven mark, registering 50.9 in January, led by furniture, wood products, food, electronics, and fabricated metals. – Construction Spending fell .2% in December even though residential spending gained 1.4%. Commercial and public construction spending pulled the index down. + Gasoline prices are relaxing. Refinery output settled to only 87.2% of capacity. Oil futures are down to $54 per barrel.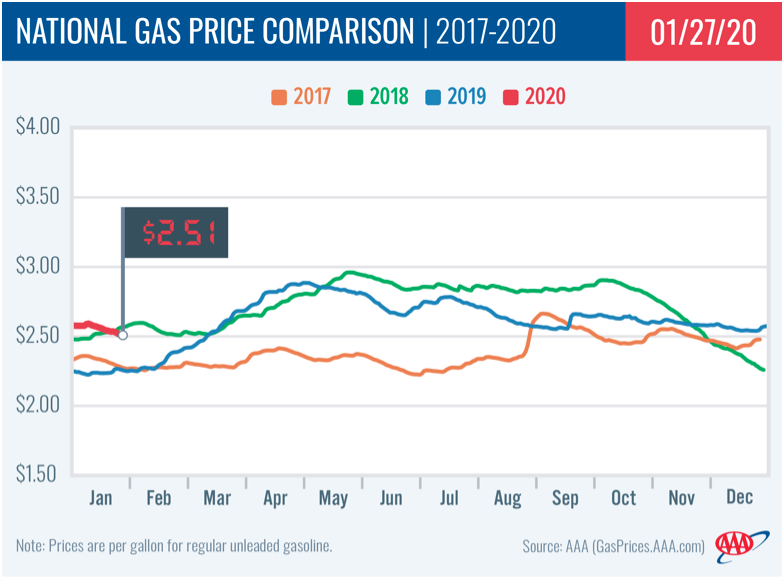 – Freight rates are mixed.

---
– #1 heavy melt scrap is steady at $259 per ton as well as #1 busheling scrap at $300 per ton. + Raw steel production was at 82.3% of capacity. – Iron ore FOB Chinese ports is above $93 per dry metric ton. + Zinc prices took a dip.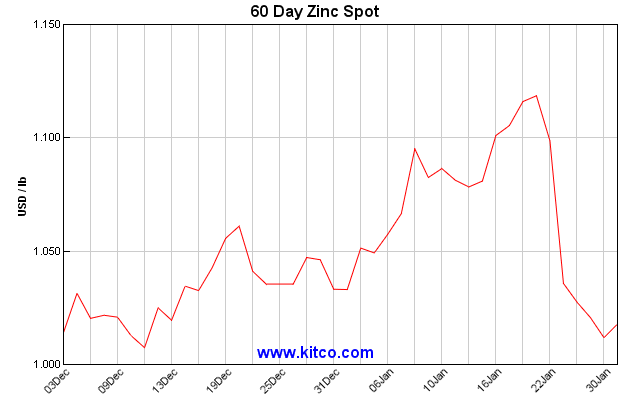 + January galvanized imports have a chance to surpass December volume.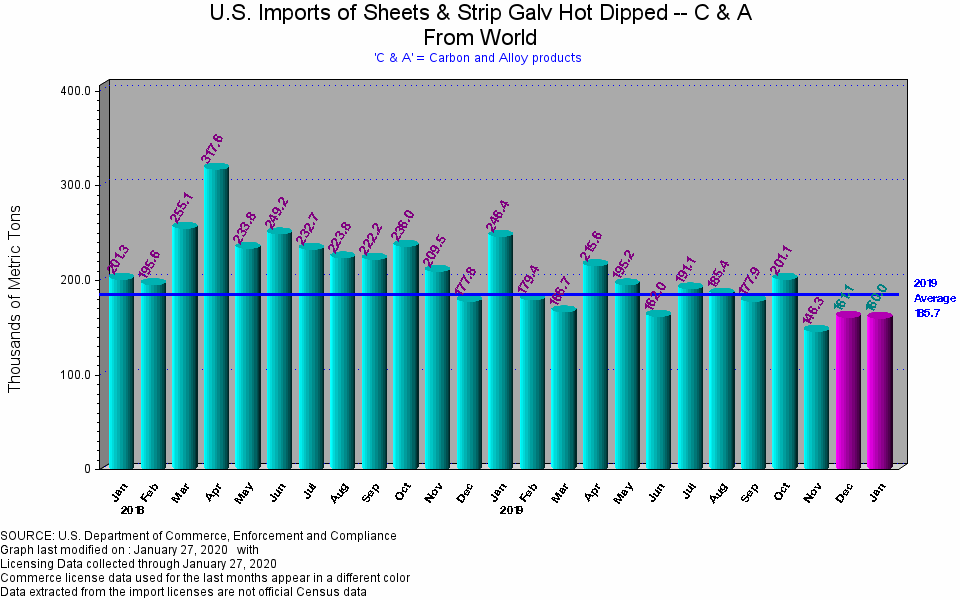 + Trump shifts steel tariffs from raw materials to products like nails, staples, and cables. "Imports of steel and aluminum into the United States have declined since the tariffs went into place, he said, but imports of products made with those metals had significantly increased." As a result, [President Trump] said, the United States will expand its tariffs to cover products made of steel and aluminum — like nails, tacks, staples, cables, certain types of wire, and bumpers and other parts for cars and tractors — as of Feb. 8.  The New York Times reports that the cost of foreign-made steel products like nails, staples, and cables will go up next month as President Donald Trump moves to reconfigure his efforts to protect these industries from foreign competition. Up until now, the tariffs have applied to raw materials imported from foreign countries, a situation that has negatively impacted the American manufacturers that rely on these raw materials to produce goods in the US to then sell globally. Moving forward, foreign-made goods will instead be taxed, allowing American manufacturers to resume importing raw materials for their manufactured goods at conventional costs. + Nucor Corporation announced consolidated net earnings of $107.8 million for the fourth quarter of 2019. Consolidated net earnings a year ago was $646.8 million. Nucor's consolidated net sales were $5.13 billion in the fourth quarter of 2019, down 18% compared with $6.30 billion in the fourth quarter of 2018. Overall operating rates at the Company's steel mills was at 83% in the fourth quarter of 2019 as compared to 88% in the fourth quarter of 2018. Steel shipments in Q4 of 2019 was 5.8 million tons, down 2% from the previous year. + Nucor expects to see better business performance in 2020 compared with 2019 after the inventory destocking that weighed down the steel market last year appeared to end during the fourth quarter, company executives said during an earnings call on Tuesday January 28. "We believe we will be more stabilized as we hit 2020," president and chief executive officer Leon Topalian said during the call. "I think [in] 2018, we saw customers overbuying demand, and [in] 2019 we saw them under buying. I think you will see that more balanced [in 2020]." – JSW's hot-rolled coil mill in Mingo Junction, Ohio reported an Ebitda loss of $25.19 million, including a $2.02-million inventory write-down, in its third quarter ended December 31. The mill produced 74,272 net tons of coil during the quarter, but sold only 58,611 net tons, JSW said in the earnings release. – US Steel reported a Q4 net loss of $680 million, compared to fourth quarter 2018 net earnings of $592 million. Net Sales in Q4 of 2019 was  $2.8 billion vs $3.7 billion in 2018. Total Steel Shipments 3.5 million tons vs 4 million tons in Q4 of 2018. Capacity utilization in Q4 was 60% in flat rolled, vs 78% a year ago. Their European operations ran at 61% in Q4 vs 96% a year ago. US Steel expects to keep all of its idled blast furnaces offline through the reminder of the year. They will complete the electric arc furnace at Fairfield this year. The electric arc furnace will be up and running in the second half of the year providing substrate to their seamless pipe mills. US Steel in late 2019 announced plans to indefinitely idle the hot-end operations at its Great Lakes Works in Michigan in April. The company also last year idled a blast furnace at its Gary Works in Indiana and a furnace at its European operation in Kosice, Slovakia. – Nippon Steel intends to freeze both blast furnaces at its plant in Kure in Hiroshima Prefecture in Japan, as part of a plan to reduce domestic production capacity by 10%. Sources said "With a global supply glut dragging on, Nippon Steel is also weighing the possibility of closing the plant altogether, including its steel plate production lines.'
---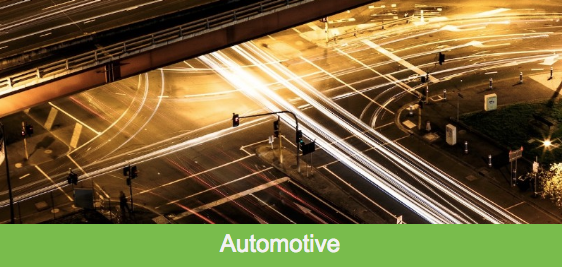 – Tesla Inc. lost $775 million in 2019, a 27% improvement from the year prior, after it sold a record number of vehicles. The electric-car maker delivered a record of about 112,000 vehicles in the fourth quarter and about 367,500 for the full year, meeting the low-end of the guidance it had established earlier in 2019 of 360,000 to 400,000 units worldwide. In an update to shareholders Wednesday, Tesla said it lost $4.92 per diluted share on $24.56 billion in revenue for the year, a 15% rise from 2018. The fourth quarter's $132 million in net income, despite a 37% year-over-year decrease, boosted annual results. Tesla posted in the third quarter a surprising profit, building expectations that the company could more consistently be profitable. The automaker has lost money in most quarters during its first decade as a publicly held company.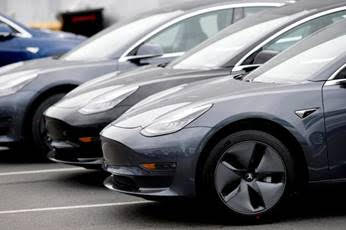 + Over the past few years, UPS has made some rather forward-thinking moves to modernize its delivery methods. Electric bikes, electric trucks and drones that launch from the roofs of vehicles are just a few of the ideas it has been exploring, with zero-emission transport a key consideration. The recent collaboration with Arrival initially included scope for 35 vehicles to be tested in limited trials in London and Paris. Its plans for the newly ordered 10,000 involve real-world deployment, with the trucks to be rolled out in the UK, Europe and North America between 2020 and 2024. The new agreement also includes an option to order another 10,000 during that timeframe. With UPS also making a further undisclosed investment in Arrival, this development is another shot in the arm for the startup, which recently received a $110 million investment from Hyundai and Kia. Arrival builds what it describes as "devices on wheels," with the electric trucks built to beat traditional fossil fuel vehicles on price, design and driving experience.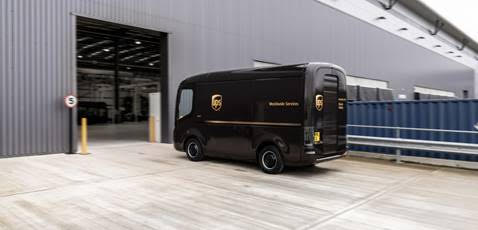 ---