Inflation in the US is virtually nonexistent, gasoline prices are low, and the Dow Jones index is rebounding. Steel mills are coping with their automotive and oil country business that has dried up temporarily. The country is poised to get the "all clear" message so everyone can get back to work and put the Covid-19 debacle behind us.
---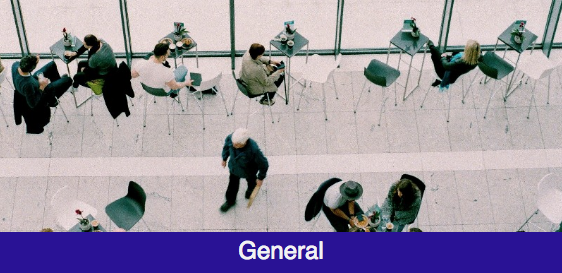 + The Producer Price Index fell .2% in March, mostly due to cheaper gasoline.
+ The following is the performance of the last 12 years of the Dow Jones Industrials. The global COVID debacle knocked the index back to 2016 levels, and it has started to rebound. Hopefully when business gets back to normal, so will the uphill climb of the index.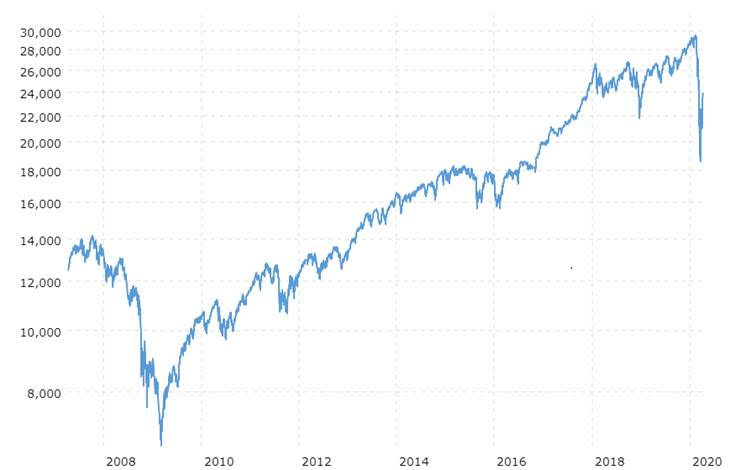 + Inside more than a thousand offshore drilling rigs and oil production platforms that dot the Gulf of Mexico, workers navigate narrow corridors, sleep in shared rooms and dine in crowded mess halls. It's an environment designed for efficiency — not for keeping a coronavirus at bay. "There's no way to do social distancing on a rig," said Tim Tarpley, vice president of the Petroleum Equipment and Services Association. That's led to worries about the safety of the sites, the biggest of which resemble mini-cities with as many as 200 workers, and the nation's dependence on their output. Oil wells in the U.S. Gulf of Mexico supply about 2 million barrels of crude a day. For now, the focus is on staying "fully operational," Interior Secretary David Bernhardt told industry representatives in a conference call Friday, according to two people familiar with the discussion. Bernhardt also said he was deploying Interior's top offshore drilling regulator, Scott Angelle, to Louisiana, in an effort to keep outer continental shelf oil operations running and ensure a nimble agency response. There have been at least 23 positive coronavirus cases tied to offshore oil and gas facilities, according to the National Ocean Industries Association. That may correspond with a rapid rise in cases in Louisiana, the home base for many Gulf oil operations and offshore workers. Some companies have extended work assignments to limit turnover, so that some employees are now doing 28-day shifts on board. And when workers develop symptoms, they are swiftly isolated and whisked away in helicopters. For now, industry leaders are lobbying against shutting down offshore drilling, pointing out that some refineries in Louisiana and Texas are reliant on special crudes piped from Gulf of Mexico oil wells.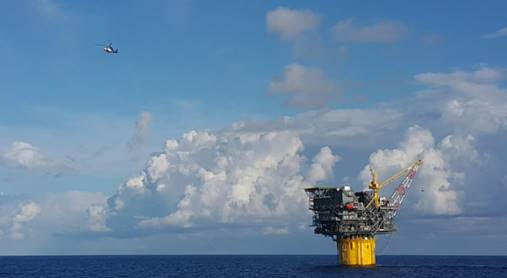 + Gasoline pricing has taken a big dive. Oil refineries are operating at only 75.6% of capacity. West Texas crude oil is selling at $28 per barrel.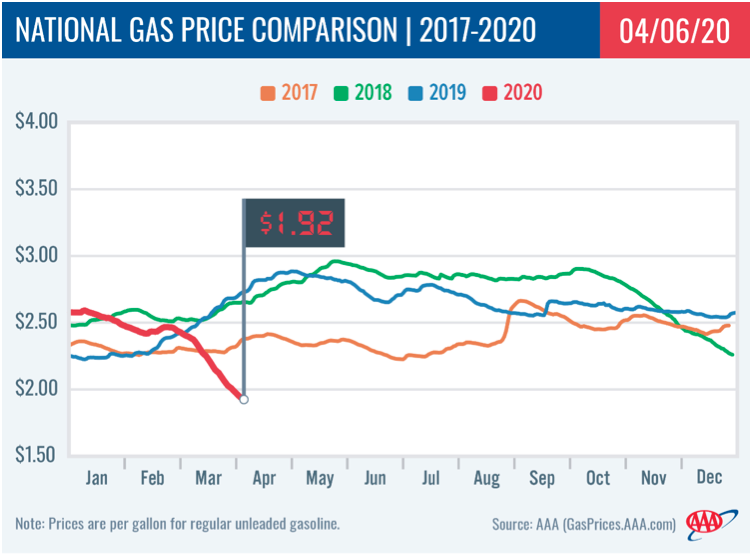 – We don't normally report drill rig count, but in light of the Russian/Saudi oil war, and the cheap prices they have established, drilling in North America has pulled back quite hard. Less drilling means less steel needed for pipe. The rig count for North America overall totaled 705 rigs, down by 35.5% from 1,093 rigs at this time last year.

+ Freight rates have all come down.

---

– #1 heavy melt scrap is steady at $232 per ton as well as #1 busheling scrap at $300 per ton.
– AISI announced that in the week ending on April 4, 2020, domestic raw steel production was 1,534,000 net tons while the capability utilization rate was 68.5%.  The current week production represents a 18.9% decrease from the same period in the previous year.
+ Iron ore FOB Chinese ports is down to $80 per dry metric ton.
+ Zinc prices are looking like they might stay low for a while.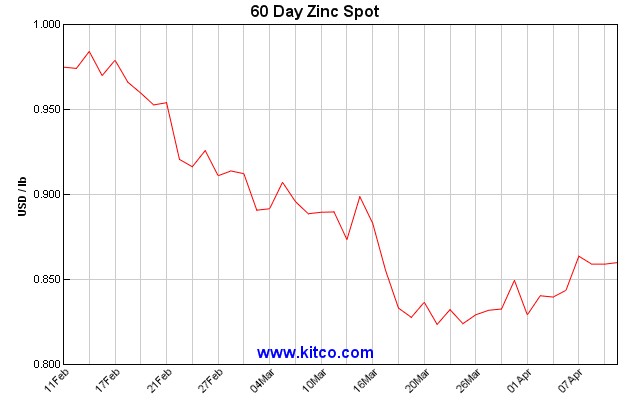 – Galvanized imports remain subdued.
---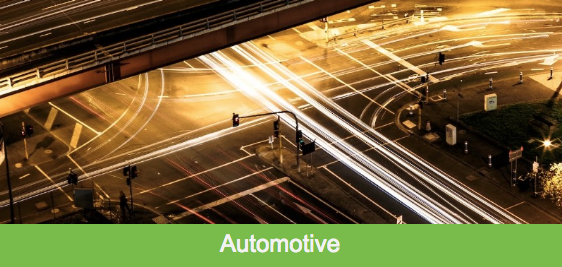 – Western Europe's new car registrations fell by a colossal 52.9% year-on-year in March and the regional annualized selling rate dropped to just 6.6 million units a year, according to data released by LMC Automotive. A fall of this proportion is unprecedented in what is seen as a mature and stable regional market. The spread of coronavirus COVID-19 now dominates regional woes, with widespread government-imposed lockdowns, and subsequent plant closures, having profound effects on both the demand and supply side of the automotive industry.
– No one knows whether the fall-off and recovery for global vehicle production is shaped like a short and sharp "V," a longer-lasting "U" or a more permanent "L," says Pete Kelly, managing director for LMC Automotive. Kelly describes LMC's baseline prediction as a "cautious V," with global production falling to 76.9 million units in 2020, down 13.8% from the firm's previous, pre-pandemic forecast of 89.2 million. Global production was 88.9 million units in 2019, Kelly says during a webinar. For 2021, LMC expects global production of 85.9 million units. "That's the biggest decline we've ever recorded," Kelly says of the slump from 2019 to 2020. "It's the speed of reduction in demand, and the fact that it's been happening everywhere at the same time, that results in a very large contraction this year."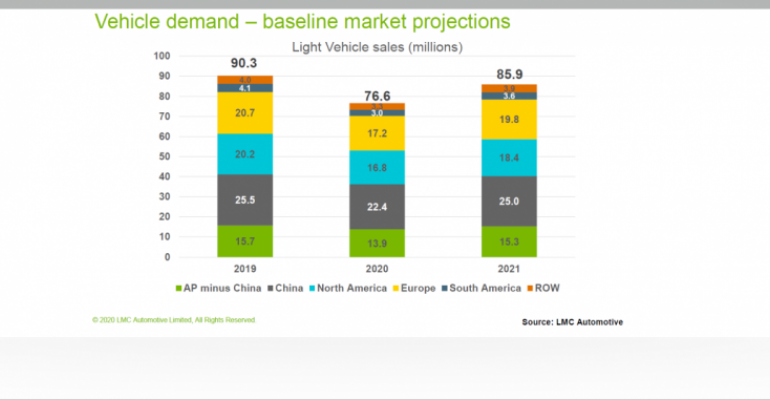 – Fiat Chrysler and Honda have announced tentative plans to resume U.S. production during the first week of May, though these dates will depend upon expectations that the coronavirus pandemic will be largely brought under control by then. Production across North America came to a screeching halt in mid-March as the outbreak spread across the country and workers at numerous auto plants were diagnosed with COVID-19, the disease caused by the novel coronavirus. Most manufacturers, including Ford, FCA, General Motors, Toyota and Honda originally had hoped to resume operations by the end of March but extended their shutdowns when the pandemic accelerated.
– CarMax to furlough 15,500. The furloughs are effective April 18, and CarMax CEO Bill Nash is forgoing 50% of his salary as the used-car retailer moves to preserve cash. About half of the company's 217 U.S. stores are ether closed or operating on a limited basis.
– Japan's three biggest automakers are poised to add almost 32,000 people to the ranks of North American workers seeking unemployment benefits. Toyota's North American unit announced furloughing roughly 5,000 workers in a cost-cutting move a day after Japanese peers Honda Motor Co. and Nissan Motor Co. said they would temporarily stop paying all staff at their idled U.S. plants and ask them to file for states' unemployment benefits. Honda's decision affects 16,900 employees, while Nissan said it will furlough roughly 10,000 workers.
---