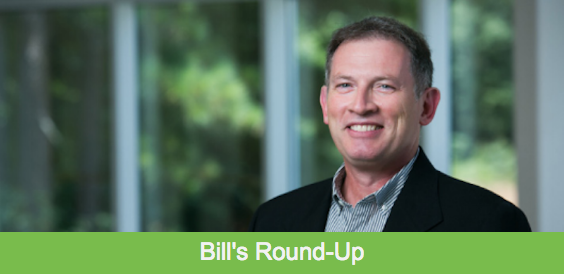 New Home sales made a big gain in August. Durable goods orders continue to show growth. The US has been able to renegotiate international postal rates for goods sent to US addresses to allow domestic venders to compete. Gasoline prices jumped recently. Domestic steel mills are falling back into a frustrating pattern of capacity utilization under 80% even though imports remain subdued. The World Steel association published interesting data on global production and consumption. In the automotive world, the GM strike is looking like it might drag on for a couple more weeks, endangering jobs all across the country.
---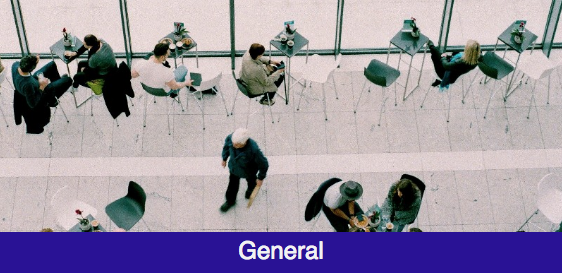 + New Home Sales jumped over 10% in August even though average prices rose to $328,400. The inventory of unsold new homes fell to 5.5 months' worth. + Durable Goods Orders rose .2% in August which was better than the forecast. Primary metals, fabricating, and machinery helped drive growth in August, counteracting a downturn in commercial aircraft orders. + The U.S. elected to remain in the Universal Postal Union after an agreement was reached last Wednesday, allowing our domestic companies to better compete with China and other developing countries who have been shipping products to the U.S. at low rates. The revised Universal Postal Union treaty agreement allows the U.S. to set new postal fees in July 2020. Chinese vendors have enjoyed a shipping advantage on small, high-valued items like electronics and clothing, U.S. manufacturers have said. President Donald Trump had ordered the State Department to start renegotiating the postal treaty a year ago and said the U.S. was prepared to withdraw from it next month if negotiations failed. About 60% of packages shipped into the USA are from Chinese companies, which often offer free shipping on small-item consumer orders. The shipping rates under the old treaty are based on weight, not value. It allowed shipments of packages up to 4.4 pounds for as little as $5. When Bishar Hussein, head of the Postal Union, said the new treaty passed, delegates from about 140 countries applauded. He cautioned last Tuesday that a withdrawal by the U.S. could have severely affect international mail service. – Gasoline prices jumped up even though refinery output fell under 90%. Oil futures are steady at $55 per barrel.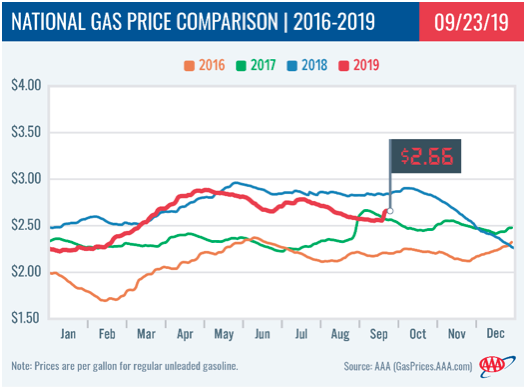 – Freight rates remain mixed.

---
+ #1 heavy melt scrap remains at $218 per ton as well as #1 busheling scrap at $260 per ton. – Raw steel production fell to 77.7% of capacity. – Iron ore FOB Chinese ports is at $92 per dry metric ton. – Zinc prices seem to have stabilized for now.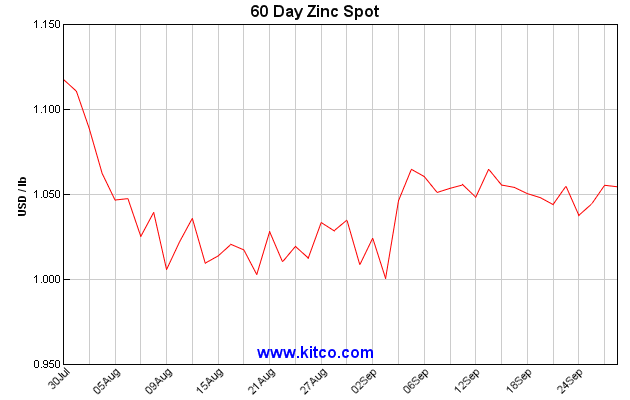 – Galvanized imports remain weak.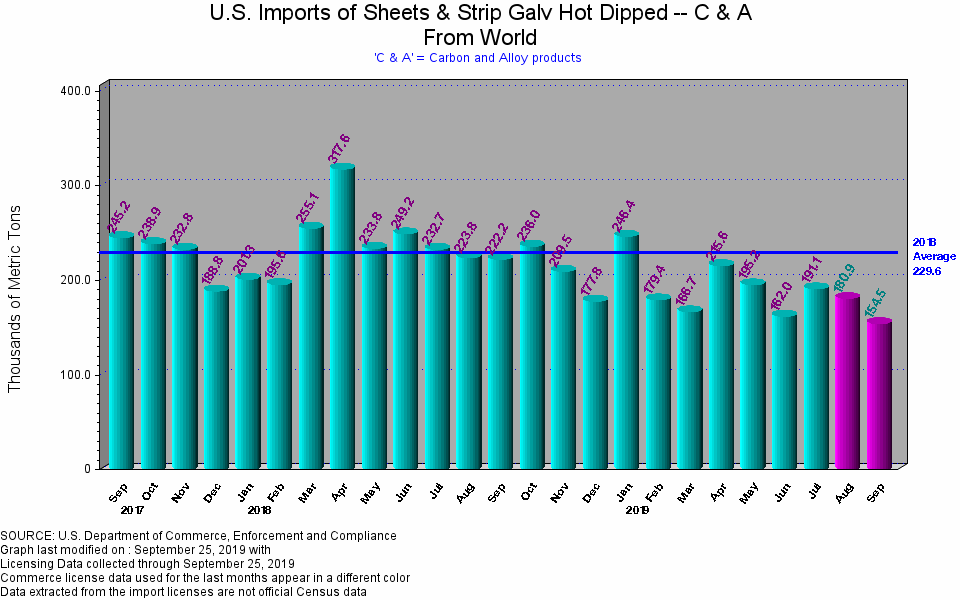 + The following is fresh global steel facts from the World Steel Association. Note that India has overtaken Japan to win the #2 spot in steel production.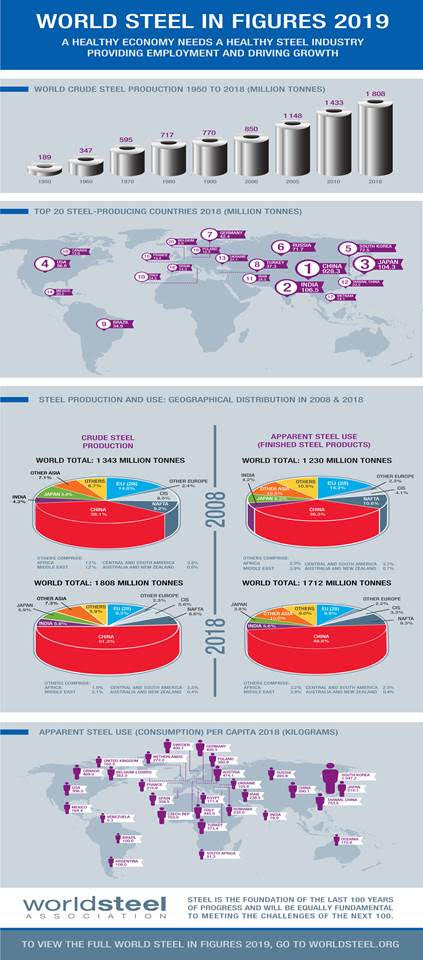 ---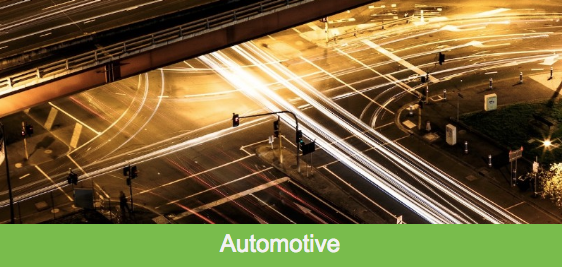 – The UAW strike is the longest against General Motors since 1970. Strikers will start to feel the financial impact of the impasse this week. Strike pay is $250 per week, but it won't be distributed until the 15th day of picketing. The starting wage for temporary production workers at GM is $15.78 per hour, which is about $630 per week. Wall Street analysts forecast it would cost General Motors $50 million or more per day. The strike has started to affect GM facilities in Ohio and Ontario not represented by the UAW. All told more than 3,200 GM workers represented by other unions have been laid off. The UAW and General Motors are far apart on several key issues that could take a week or more to resolve before a tentative agreement is reached, two people familiar with the talks told the Detroit Free Press. That also means the strike could last at least two weeks longer if the UAW acts on a plan it is considering to keep members on the picket lines until the GM rank and file votes to ratify the deal, as the Free Press has reported. GM's average hourly labor cost in the United States is $63 an hour — this is not the hourly wage or wages plus benefits paid to individual workers, but rather the sum of all labor costs divided by all hours worked. But Honda, Nissan and Toyota spend about $50 an hour on U.S. labor, according to Ann Arbor's Center for Automotive Research. The Japanese carmakers usually employ more temp workers than the Detroit Three. Former Fiat Chrysler Automobiles labor negotiator Colin Lightbody said GM could save up to a $500 million in future annual labor costs if it can get the UAW members to pay for a bigger chunk of their health care and bring in more temps.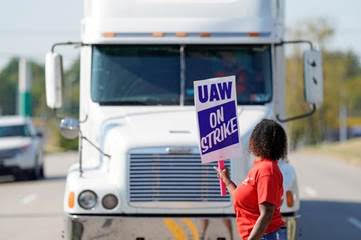 – A sign of the times in the automotive world? Officials with Continental announced in a news release that a supervisory board has approved the closure of one of their plants in Western North Carolina. According to a news release issued Wednesday, the plant, which currently employs approximately 650 employees in Henderson County, produces hydraulic brake systems. "The plant has been unable to acquire new customer projects in recent years," according to the company news release. Mary Arraf, with Continental Corporation, said in an email to 7 News that the plant would remain open and operational until the fourth quarter of 2022.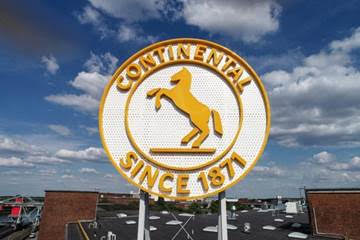 + The first gas station in the U.S. that has been completely transitioned from a petroleum station to exclusively charging EVs opened Thursday in Takoma Park, Maryland. RS Automotives, the local gas station, has been around since 1958. Depeswar Doley, owner of the station since 1997, said he was already unhappy with the way oil and gasoline companies structure contracts — such as limiting the use of multiple suppliers, including clauses that extend contracts when a certain volume of sales is not met and limiting maintenance support. These business factors already were pushing him to consider other options. Doley said he's not too worried about how the switch will change his business income. "You notice there are not too many electric vehicles on the road," he said. "So it's not something that I expect to become rich overnight or something like that, but it's a good cause and good for the environment." There are more than 20,700 registered EVs in Maryland, and the area also has an electric taxi service in need of more chargers for their business. The gas station conversion was jointly funded by the Electric Vehicle Institute and the Maryland Energy Administration, which provided a grant of $786,000.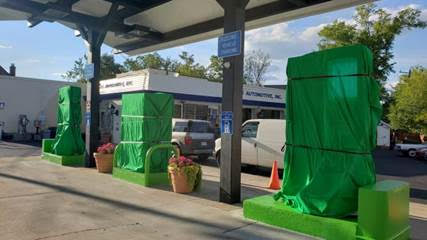 ---