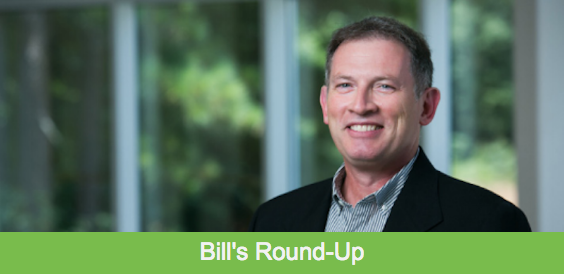 "Bill's recap:
The juggernaut that is the US economy continues to grow, but the housing industry is still trying to find its legs. Let's hope that with milder spring weather, construction will pick up. Gasoline prices are moving up. Freight rates are leveling off. The domestic steel industry is keeping up a good pace, running at almost 82% of capacity. Galvanized imports remain subdued. The auto industry is dealing with poor February sales volume." – Bill Feier, Manager of World Sourcing
---
– #1 heavy melt scrap is steady at $298 per ton as well as #1 busheling scrap at $355 per ton.
+ Raw steel production rose to 81.9% of capacity.
– Iron ore FOB Chinese ports is up to $86 per dry metric ton.
– Zinc prices are up. Zinc ingot inventory on the LME is very low.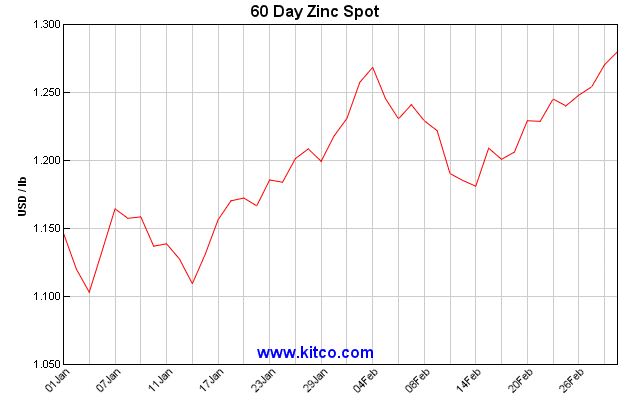 – February galvanized imports are coming in slow.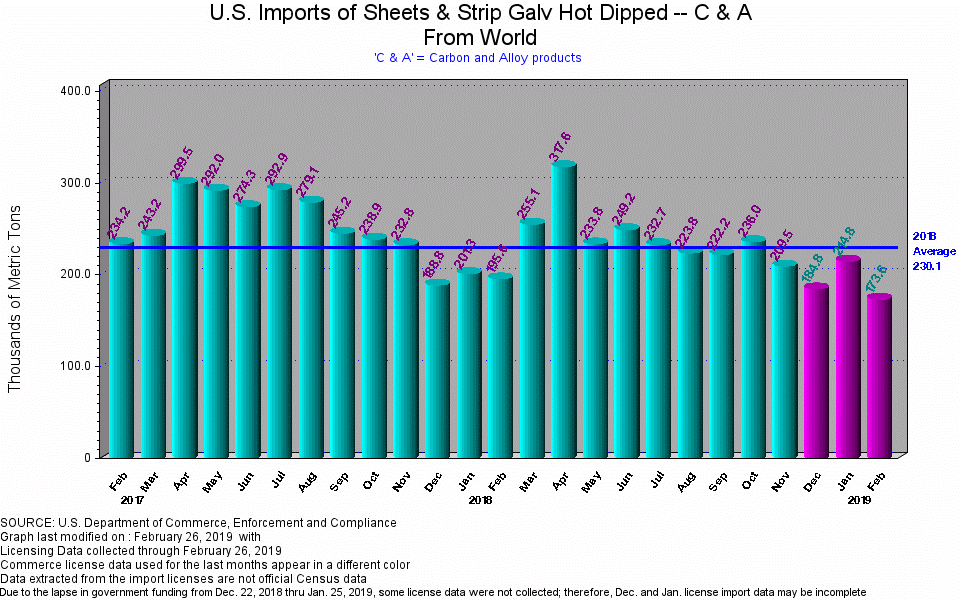 + Ternium announced a $40 per ton price increase.
– Reuters reported that China's steel mills may have taken a wrong turn by adding millions of tons of new high-end capacity just as the country's car sector undergoes its first contraction in decades, cutting metal demand. Hot-rolled coil steel was a steady profit driver for mills but orders are now slowing down. Sliding demand for hot-rolled coil is a further barometer of China's lagging industrial sector, which is struggling with lower profits amid a trade war with the United States. Weakening steel end-user demand will add to the government's concerns about job layoffs as Chinese economic growth was at its slowest in 28 years in 2018. Overall steel profit margins have dropped 60% in the past three months, threatening to push China's entire steel sector further into debt, forcing mills to cut costs and leaving them unable to upgrade products and processes. Profit margins for HRC shot to more than CNY 1,100n (USD 164.37) per ton in 2018. That prompted mills to expand their capacity, and 20 million tons per year of new HRC lines are set to start up this year. But that expansion now looks out of synch with China's sputtering economic engine. Annual automobile sales in China for 2018 contracted for the first time in more than 20 years. The sector uses almost 30% of the country's hot-rolled coil and products derived from it.
---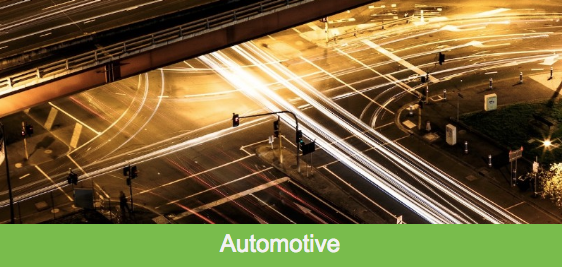 + The Ford F-150 is the only vehicle made by a Detroit manufacturer to rank top in its vehicle class in Consumer Reports' annual Top Picks list. Subaru was the No. 1 brand overall. Only one U.S. brand, Lincoln at No. 8, ranked in the Top 10. Japanese carmaker Toyota dominated the list with its models taking four of the 10 spots on the magazine's top-in-class list. Subaru took home honors in two classes. Consumer Reports took away the recommended-buy designation for the Tesla Model 3 due to declining reliability. The magazine said the F-150 earned top marks in the highly competitive full-size pickup category, beating out tough competition from the recently redesigned Chevrolet and Dodge Ram offerings. No other models from Detroit carmakers topped a class list. Other vehicles ranked tops in their category were the Subaru Ascent, Audi A4, Toyota Yaris, Toyota Camry hybrid, Hyundai Kona, Toyota Avalon hybrid, Toyota Prius, BMW X5 and Subaru Forester. Consumer Reports said Subaru's overall performance in the brand rankings was boosted by the Ascent (an all-new model), Crosstrek and Forester SUVs sitting atop their respective categories.
– A labor strike in Mexico forced Ford Motor Co. to build Mustang cars and Explorer SUVs with temporary steering wheels and hold thousands of the vehicles in nearby parking lots awaiting parts. While waiting, Ford sent approximately 3,200 factory workers home for two weeks of unplanned down time at the Flat Rock Assembly Plant south of Detroit, the company confirmed last Monday. In addition, workers at the Oakville Assembly Plant in Ontario were sent home for three days while waiting for parts to install in the Ford Flex and Lincoln Nautilus. The disruption follows a promise by Mexico's new president to dramatically increase pay, prompting strikes by workers until the promise was fulfilled.
– The United Auto Workers is suing General Motors Co. over the automaker's plans to stop production at three U.S. plants before the current labor contract expires later this year. The lawsuit filed by the UAW Tuesday in Ohio accuses GM of violating the terms of the 2015 UAW-GM national contract, specifically the Plant Closing and Sale Moratorium outlined in the agreement. The union is seeking to keep Lordstown Assembly, Warren Transmission and Baltimore Operations running at least until the existing agreement between the UAW and GM expires in September. All three plants are slated to stop production in the coming months, with Lordstown the first to close its doors on March 8.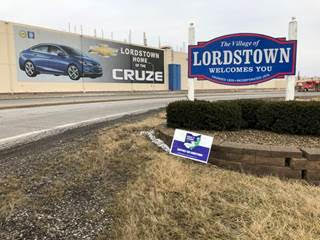 + Fiat Chrysler announced last Tuesday that Detroit will get a Jeep factory, the Motor City's first new auto assembly plant in a generation, as part of a $4.5 billion manufacturing expansion that will mean nearly 6,500 new jobs. FCA said it would convert the Mack Avenue Engine factory to an assembly plant for the next-generation Jeep Grand Cherokee and a new, large Jeep SUV. In all, the company said it will add production at five factories in metro Detroit.
– February vehicle sales fall on weak car, truck demand; SAAR cools to 16.61 million. U.S. light-vehicle sales fell 2.9% in February as severe winter weather, lingering effects of the temporary U.S. government shutdown and anxiety over federal tax refunds curtailed showroom traffic. And in the latest sign the market downturn may be gaining speed, the seasonally adjusted, annualized sales rate dropped below 17 million for the second straight month.
– February vehicle sales for the major brands were negative across the board. FCA sales fell 2%. GM and Ford no longer publish monthly sales, but industry estimates are GM down 5.8% and Ford fell 6.4%. Toyota sales fell 5.2%, Hondas fell .4%, and Nissan fell 12%.
---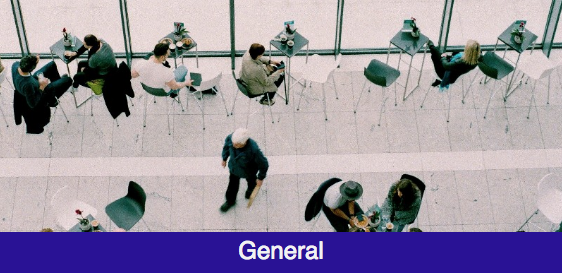 + Factory Orders rose slightly (.1%) in December, driven by a 1.2% jump in durable goods orders.
+ The ISM Manufacturing Index slid to a reading of 54.2 in February due to slowing new orders, employment, and production, but any reading over 50 shows growth. Manufacturing is growing, but just a little slower.
– Housing Starts fell 11.2% in December. Starts for single family homes (down 6.7%) were not as bad as for multi-family homes (down 20.4%).
+ The US GDP for Q4 was 2.6%, which was the high end of expectations. Consumer spending and business investment helped the GDP to grow.
– Gasoline prices are on an upward trend as oil companies get ready for the summer time fuel formulation switchover, and spring break road trips. Oil futures are up to $57 per barrel.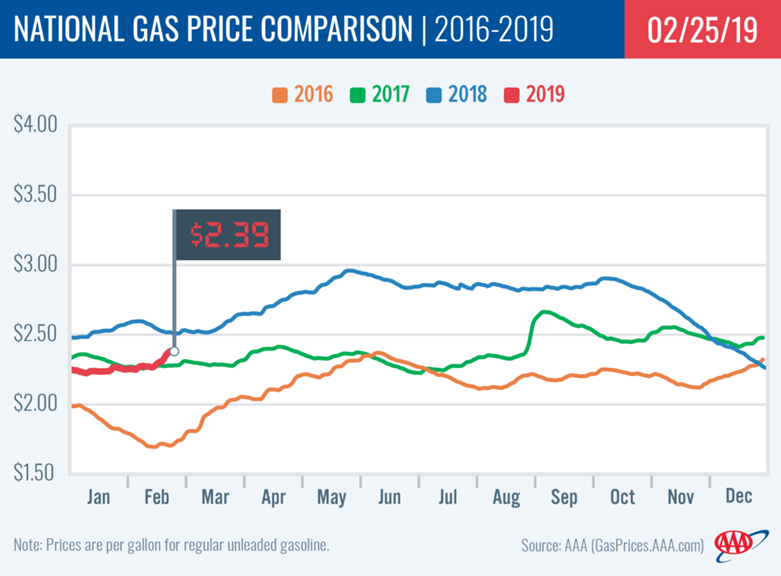 – Tankers holding 8.36 million barrels of Venezuelan crude worth upwards of a half-billion dollars are floating off the country's coast as the nation struggles to find buyers for its oil following new U.S. sanctions in January. An armada of 16 ships holds cargoes belonging to state oil company Petroleos de Venezuela SA, Chevron Corp., Valero Energy Corp. and Rosneft Oil Co PJSC, according to shipping reports and ship-tracking data compiled by Bloomberg. Oil ventures owned by PDVSA with Rosneft, Chevron, Total SA and Equinor ASA, whose upgraders convert tar-like Venezuelan crude into oil that refineries can process, reduced rates this week because they ran out of space to store crude, according to people with knowledge of the situation. With few buyers willing to take PDVSA's oil, the alternative was to put some of that oil onto tankers to clear space and continue to operate at lower rates.
– Freight rates for flatbeds leveled off.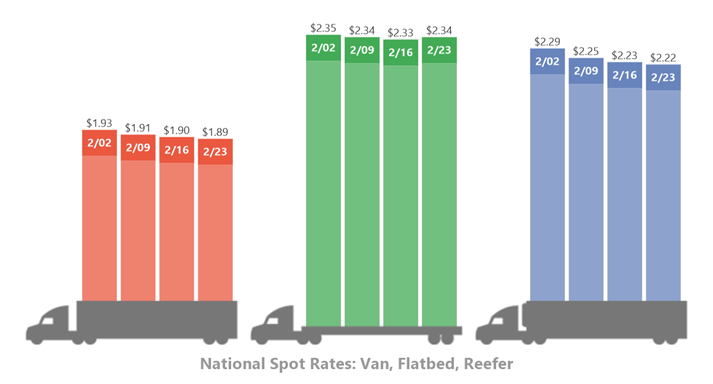 ---