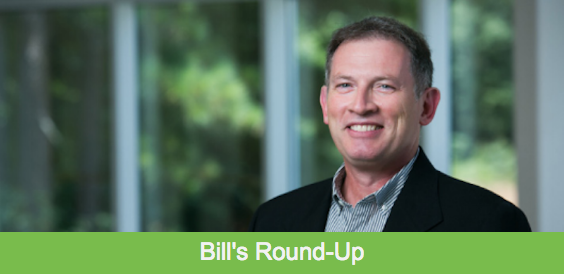 The construction industry and residential home sales in the USA is looking good. Manufacturing is growing (slowly) as the country and the world comes to grips with the coronavirus issue. China is having a horrible time with it as workers stay home, and China's export volume drops to customers around the world due to disease concerns. Gasoline prices in the USA are moving up. Steel mill output remains above 80% of capacity, and they recently announced a new round of price increases. Imports remain subdued. The auto industry is having a rough time with the coronavirus as well. Some assembly lines around the world are shut down and the annual Geneva Auto Show was cancelled due to the disease.
Tokyo Japan train station scene on Monday.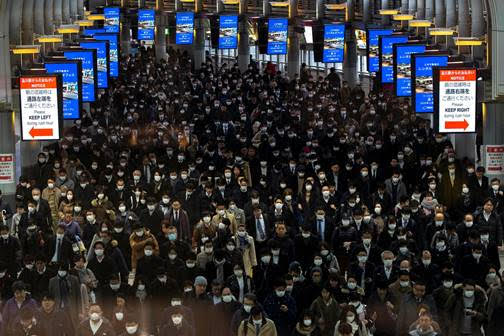 ---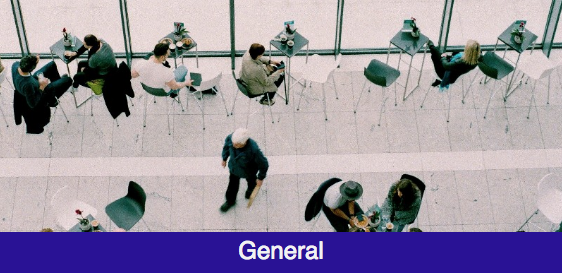 + Pending Home Sales jumped 5.2% in January, the highest jump in 2 years. + New Home Sales jumped 7.9% in January, the quickest pace since 2007. The average new home price was $348,200. The inventory of unsold new homes is at 5.1 months' worth. + Construction Spending rose 1.8% in January, led upwards by a 2% jump in residential construction. – Durable Goods Orders fell .2% in January, pulled down by a 2.2% drop in transportation equipment. This index has declined for 7 consecutive months. + The ISM Manufacturing Index fell to a rating of 50.1 in February. New orders and employment both contracted, pulling the index down. + The main street of Calhoun, Ga., a town of about 16,000 an hour's drive north of Atlanta, is dotted with pawnshops, liquor stores, and fast-food joints. Here, as in thousands of other communities across America, the local Walmart fulfills most everyday needs—groceries, car repairs, money transfers, even hair styling. But now visitors to the Calhoun Walmart can also get a $30 medical checkup or a $25 teeth cleaning, or talk about their anxieties with a counselor for $1 a minute. Prices for those services and more are clearly listed on bright digital billboards in a cozy waiting room inside a new Walmart Health center. Walk-ins are welcome, but most appointments are booked online beforehand. No insurance? No problem. Need a lab test on a Sunday? Sure thing. Welcome to healthcare, Wal-Mart style. The center in Calhoun, along with one about an hour south in Dallas, Ga., represents the retailer's first attempt to grab a bigger slice of the nation's $3.6 trillion in health spending by harnessing its greatest asset—the 150 million people coming through its 4,756 stores each week. Will it catch on?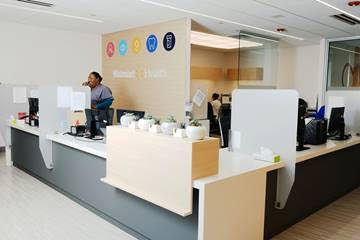 – Gas prices have started their upswing ahead of the spring break travelers. Part of the cost comes from the upcoming transition from winter blend to summer blend fuel. Refineries operated at $87.9% of capacity and oil futures rose to $53 per barrel.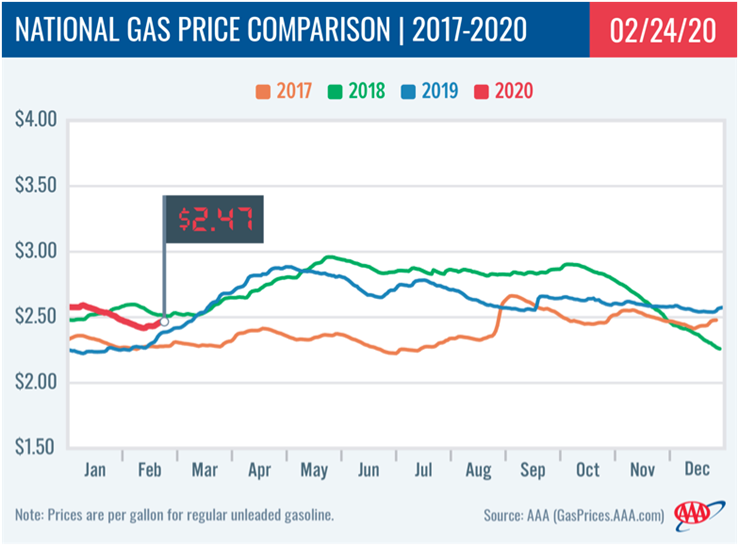 + Freight rates continue to fall.

– The official Chinese Manufacturing PMI in February was 35.7, worse than the lowest reached previously during the global financial crisis during 2008-2009 when the PMI was in the range of 38.8 – 45.3 and it is the worst in history since the data has been compiled. It is down from 50.0 in January 2020. Output (27.8 vs 51.3 in January) and new export orders (28.7 vs 48.7)  slumped. Also, buying levels plummeted (29.3 vs 51.6) and employment contracted much steeper (31.8 vs 47.5). On the price front, input price inflation slowed (51.4 vs 53.8), while selling price dropped much steeper (44.3 vs 49.0). Looking ahead, business sentiment deteriorated sharply (41.8 vs 57.9) less. The somber readings provide the first official snapshot of the state of the Chinese economy since the outbreak of the coronavirus epidemic which has killed almost 3,000 people in mainland China and infected about 80,000. A separate NBS survey showed that China's services sector activity, which accounts for about 60% of China's Gross Domestic Product, also posted the deepest contraction on record, with official non-manufacturing PMI dropping to 29.6, from 54.1 in January. Transportation, tourism, catering and entertainment sectors have been hard hit during the coronavirus outbreak as people avoid crowded areas. A sub-index of construction activity, a key driver of growth, stood at 26.6, down from 59.7 in January. Note – China Manufacturing Purchasing Managers Index provides an early indication each month of economic activities in the Chinese manufacturing sector. It is compiled by China Federation of Logistics & Purchasing and China Logistics Information Centre, based on data collected by the National Bureau of Statistics. Every month questionnaires are sent to over 700 manufacturing enterprises all over China. A reading below 50 indicates a contraction in sector activity. The farther the figure is below 50, the greater the contraction in activity. – The following is an air pollution map of China that NASA produced. It shows that their manufacturing centers are shut down or operating at very low levels.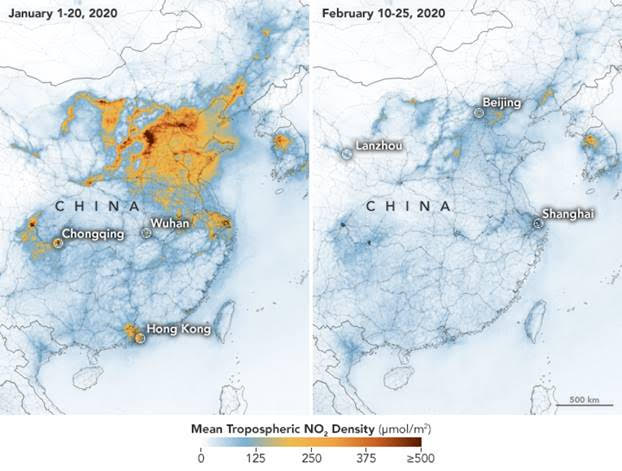 ---
– #1 heavy melt scrap is steady at $232 per ton as well as #1 busheling scrap at $290 per ton. + Raw steel production was at 81.5% of capacity. – Iron ore FOB Chinese ports is at $86 per dry metric ton. + Zinc prices have dropped nicely.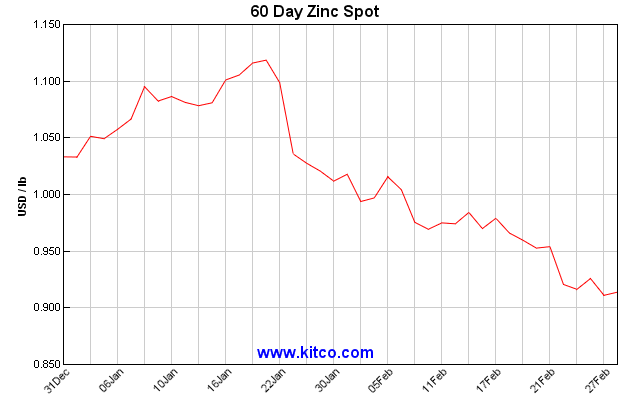 – Galvanized imports continue to come in slow.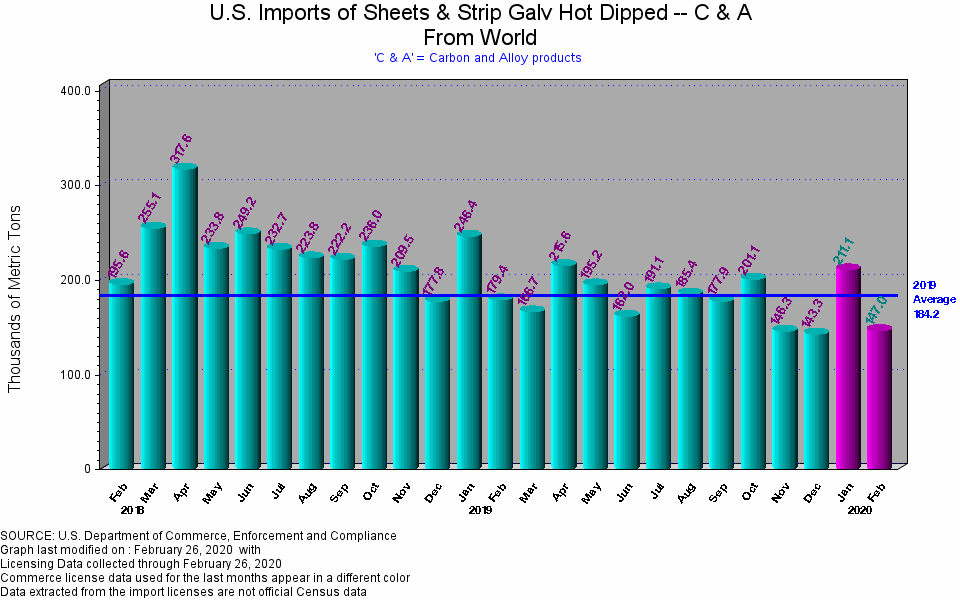 – The Coronavirus is no joke in Asia. Lack of business due to the many shutdowns in order to contain the virus is effecting steel demand so much that Posco (Korea) has already announced their first half 2020 financial performance will be negatively impacted. According to a report in Global Times, Coronavirus has further cooled China's already chilling steel exports. Industry analysts predicted China's steel exports to slump by around 8 percent in the first quarter, as overseas orders are cancelled and cut-off logistics delay shipments. China Iron and Steel Association deputy director Mr. Luo Tiejun said "Because of the epidemic, China's steel exports will see a significant decline in the first quarter, and February will see a relatively large fall in exports." SteelHome Founder & President Mr. Wu Wenzhang said that "China's steel exports could fall by 1.5 million tons or 8% in the first quarter, as the government's anti-coronavirus measures, including closing of ports and highways, made it hard for steel companies to ship products overseas."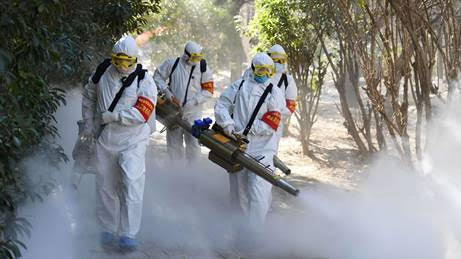 + NLMK announced a $40 per ton price increase. + Stelco announced a Canadian $50 per ton price increase. + ArcelorMittal announced new minimum base prices of $41.00 for galvanized and cold rolled and $31.00 base for hot roll. + USS-Posco announced a $40 per ton price increase. + US Steel announced a $40/ ton price increase. + Nucor announced a $40 per ton price increase.
---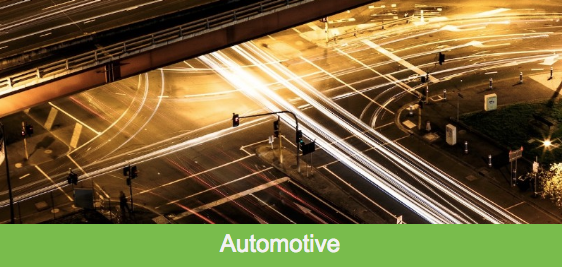 – PSA, Renault extend China shutdown. The automakers will not restart production until later in March in line with advice from Chinese authorities who are battling to control the coronavirus outbreak.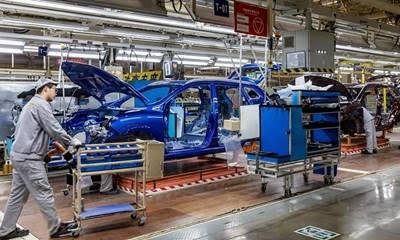 – The 2020 Geneva Motor Show is canceled after the Swiss government banned gatherings of 1,000 people or more on Friday due to concerns over the coronavirus. The ban is effective immediately and runs at least until March 15th. The 90th edition of GIMS was scheduled to start next week. "We regret this situation, but the health of all participants is our and our exhibitors' top priority. This is a case of force majeure and a tremendous loss for the manufacturers who have invested massively in their presence in Geneva. However, we are convinced that they will understand this decision," said motor show chairman Maurice Turrettini in a statement. Tickets already purchased for the event will be refunded.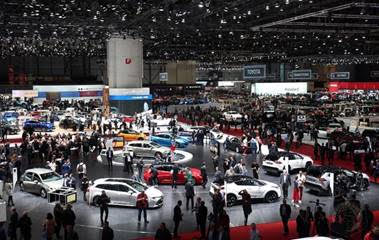 ---