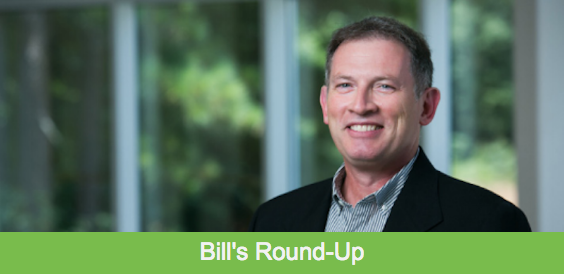 As the COVID-19 virus wreaks havoc around the world, global commerce is being impacted worse than anyone expected. Time will tell what an where the virus came from, and its severity compared to past virus outbreaks. Which countries will have the most robust economies and medical care to provide to their people? I'll bet the USA will. Until this virus ends it's run, the price of gasoline, airfare, and hotels will certainly be cheap. This would be a good time to review personal habits and make changes to spending patterns and health management. The next few weeks will likely be rocky ones for the economy, not only in the USA but around the world. Many countries use tourism as their major source of income. What will happen of that industry goes away for a few months?
---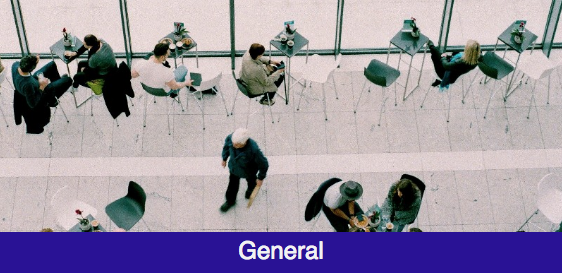 + The Producer Price Index fell .6% in February and goods and services costs declined. + The Consumer Price Index was almost flat (.1%) in February as declining energy costs balanced increasing food and shelter costs. – Airlines last Tuesday detailed the growing impact of the coronavirus by cutting more flights in domestic and international markets, parking planes, freezing hiring and reducing executive pay. American Airlines Group Inc. and Delta Air Lines Inc. both said they planned to reduce the number of flights across their networks and Southwest Airlines Co. CEO Gary Kelly told employees that he will take a 10% pay cut as the airline faces the most severe downturn in decades because of the spread of the coronavirus. The moves come as bookings have dropped off amid growing passenger fears about traveling, and concerns that recovery could take months, rather than the quick bounce back many had initially anticipated when the virus first started to affect travel early this year. American said it plans to cut domestic flying by 7.5% by decreasing frequencies in markets where it operates many flights. It will reduce international flying by 10% for the summer peak travel season. Delta said that it will park some planes and reduce capacity across its network, cutting international capacity as much as 25%, and domestic capacity as much as 15%. Delta also said it would freeze hiring and offer voluntary leave options, in addition to deferring $500 million in capital expenditures and suspending share buybacks. The carrier said it would consider retiring some planes early. Delta CEO Ed Bastian said: "We have made the difficult but necessary decision to immediately reduce capacity and are implementing cost reductions and cash-flow initiatives across the organization." Overseas, the European Commission is close to approving a suspension of airport-slot rules that will allow airlines to cut back capacity. – In an emergency move on Sunday, US Federal Reserve announced that it is dropping its benchmark interest rate to zero and launching a new round of quantitative easing entailing USD 700 billion worth of asset purchases of Treasury's and mortgage-backed securities. The new fed funds rate, used as a benchmark both for short-term lending for financial institutions and as a peg to many consumer rates, will now be targeted at 0% to 0.25% down from a previous target range of 1% to 1.25%. The Fed also cut reserve requirements for thousands of banks to zero. The Federal Reserve said "The coronavirus outbreak has harmed communities and disrupted economic activity in many countries, including the United States. We will maintain the rate at this level until we're confident that the economy has weathered recent events and is on track to achieve our maximum employment and price stability goals." + Gasoline prices are coming down fast. West Texas Intermediate (WTI) crude oil prices dipped below $30/barrel for the first time since 2016. The market plunge is in response to a lack of agreement between Organization of the Petroleum Exporting Countries (OPEC) and non-OPEC countries to cut production. The trend of pump prices facing downward pressure is likely to continue through the end of the winter driving season if crude remains cheap, especially amid concerns about the coronavirus. Refineries in the US operated at 86% of capacity.
– Freight rates are rising.

– Perspective: The swine flu infected nearly 61 million people in the U.S. from spring 2009 through early 2010. And it claimed as many as 18,000 lives, according to a Centers for Disease Control study published in 2011. In total, the disease is now believed to have caused more than 200,000 deaths worldwide. So far, confirmed cases of coronavirus in the U.S. are a little over 1,700, with 40 deaths attributed to the virus. Worldwide, confirmed cases number fewer than 130,000 and just over 4,700 people have died. So far, the numbers are suggesting the swine flu was much worse. And like the other flu's, the swine flu came and went. Hopefully, this COVID-19 will be gone soon.
---
– #1 heavy melt scrap is steady at $232 per ton as well as #1 busheling scrap at $300 per ton. + Raw steel production was 81.6% of capacity. – Iron ore FOB Chinese ports has dropped to $87 per dry metric ton, but that is still too high. – Zinc prices continue to fall.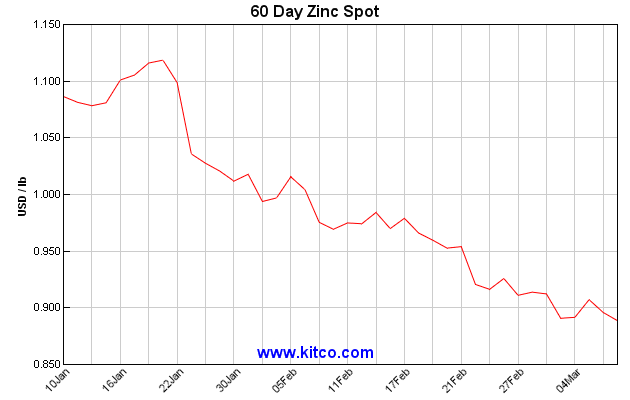 – Galvanized imports remain weak.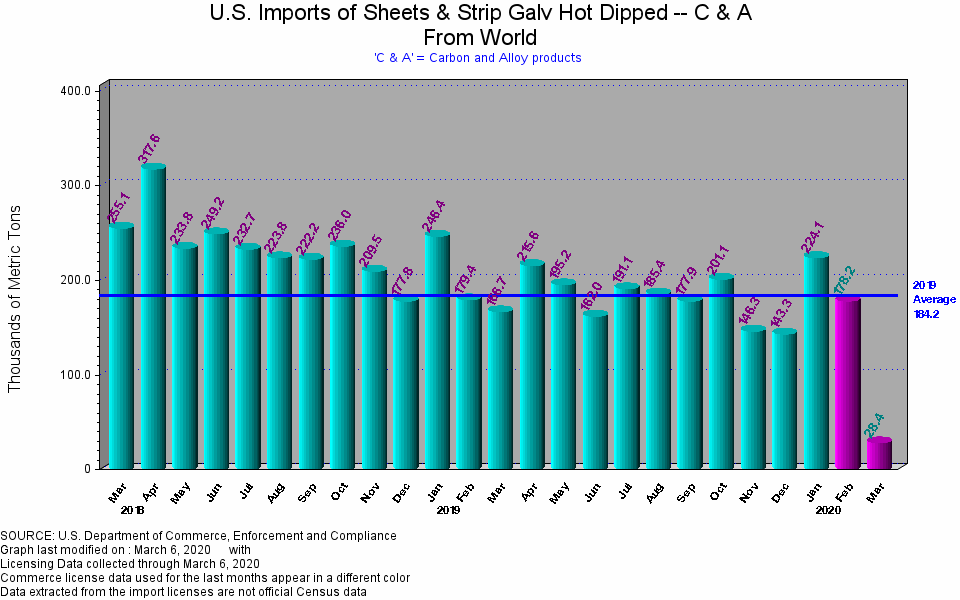 ---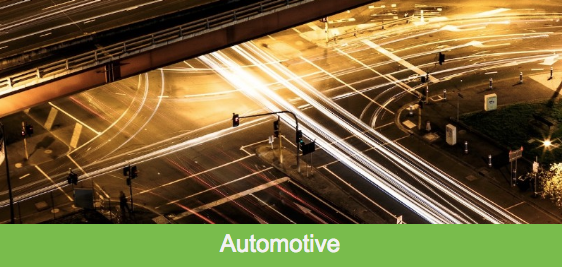 + Automakers and suppliers say they have so far avoided any U.S. shutdowns thanks to parts already being en route to plants and to suppliers using air shipments or shifting supplies to different plants. Last week GM boss Mary Barra said its production was secure from parts shortages "quite far into this month." Reuters says suppliers and industry consultants echoed there should be no issues for a few more weeks. Not having production issues doesn't necessarily mean steady sales, however, and indeed analysts are reducing their 2020 sales forecasts. Morgan Stanley analyst Adam Jonas told Reuters he expects U.S. sales to be down 9 percent this year, after previously expecting about a 1-2 percent decline before the outbreak. For the most part dealers say they're experiencing strong showroom traffic so far this month, though that outlook is a bit inconsistent in places where coronavirus has hit hardest. In Seattle, for example, sales are down around 20 percent, but in another affected area, New York, sales haven't yet been hurt. – Fiat Chrysler Automobiles is stopping almost all production in Europe for the next two weeks and Volkswagen AG has shut factories in Italy and Spain, as global manufacturers try to protect workers from the spread of the new coronavirus outbreak and as supply lines start to break down. Meanwhile, some of Italy's biggest companies—suddenly on the front lines of the outbreak—are rethinking their assembly lines and other manufacturing processes to stay open. Similar re-evaluations are just now getting under way in the U.S., as the outbreak spreads rapidly there now, too. – In Chattanooga, Tenn., Volkswagen is closing down its factory on Monday to allow workers to make arrangements amid closed schools. "We will also take time to augment the already increased sanitary and deep-cleaning measures undertaken at our facility," a spokesman said. Production will resume Tuesday. Ford Motor Co. said Monday it would extend a previously planned three-day shut down this week at its Valencia, Spain plant to the entire week and then reassess the situation before resuming production. The company said that three cases of coronavirus infection have been confirmed within a 24-hour period. One of those confirmed affected a person who didn't enter the plant. "We are taking quick action to follow the established protocol, including the identification and self-isolation of all employees who had close contact with the affected workers. We will take all other appropriate steps to ensure that risk from this situation is minimized," Ford said in an email. – According to the China Association of Automobile Manufacturers, Chinese auto sales in February plunged 79.1% year on year to only 310,000 units. Last month, only 285,000 vehicles were produced countrywide, a significant year-on-year slide of 79.8%. For the first two months, auto sales in China tumbled 42% from the year-ago period.
---