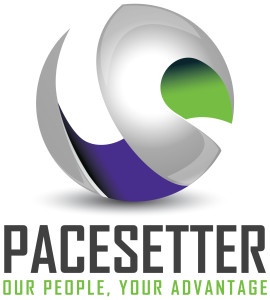 Pacesetter, the unprecedented leader in innovative solutions for the manufacturing industry, is excited to announce a new corporate branding.
The new logo is designed to reflect Pacesetter's ongoing commitment to technology, industry innovation, and creation of the Ultimate Customer Experience. The previous logo had been in place since 1996. The website will highlight the new graphic identity and showcase Pacesetter's products, services, and dedication to new and advanced technologies. The site will also reflect the company's "Vivid Vision," a 3-year company mission set forth by Pacesetter CEO Aviva Leebow Wolmer.
"Our new logo and website are a proud reflection of Pacesetter and the Vivid Vision we've put into place. The sphere in our logo represents our ongoing commitment to innovation. It's continuous motion that allows us to drive the future and distinguish ourselves by finding unique solutions that will impact our customers' bottom line. Our new tagline 'Our People, Your Advantage' exposes the real Pacesetter Family and our relentless enthusiasm. " said CEO Aviva Leebow Wolmer.
 Living the Vivid Vision
Pacesetter's Vivid Vision serves as the road map for the future of the organization, and the central rallying cry that Pacesetter will innovate. Pacesetter Associates are dedicated to driving the Vivid Vision by articulating new ideas via the company's "Can You Imagine Walls," located at each facility. Leebow Wolmer challenges all who interact with Pacesetter to bring ideas, to collaborate and to partner with them so that they can impact their customers, suppliers and larger community as a whole.