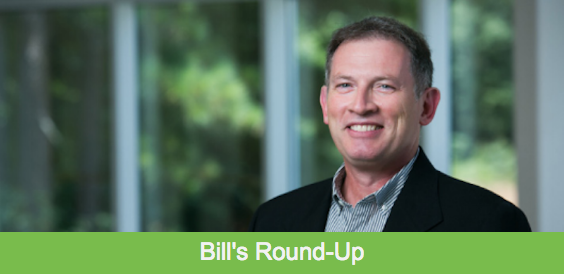 It's been a bumpy recovery from the springtime coronavirus debacle, but more people are working, and driving, and going places. Gasoline prices are up. Steel mill bookings are up although still too weak, and the auto industry continues to offer new models in hopes of stimulating sales.
---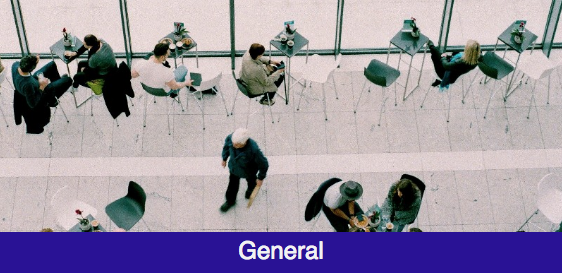 – The Consumer Price Index for All Urban Consumers (CPI-U) increased 0.6 percent in June. The energy index increased 5.1% in June as the gasoline index rose 12.3%. The food index also rose in June, increasing 0.6% as the index for food at home continued to rise. – Gasoline prices are creeping up. Refineries operated at 78.1% of capacity and oil futures are hovering around $40 per barrel.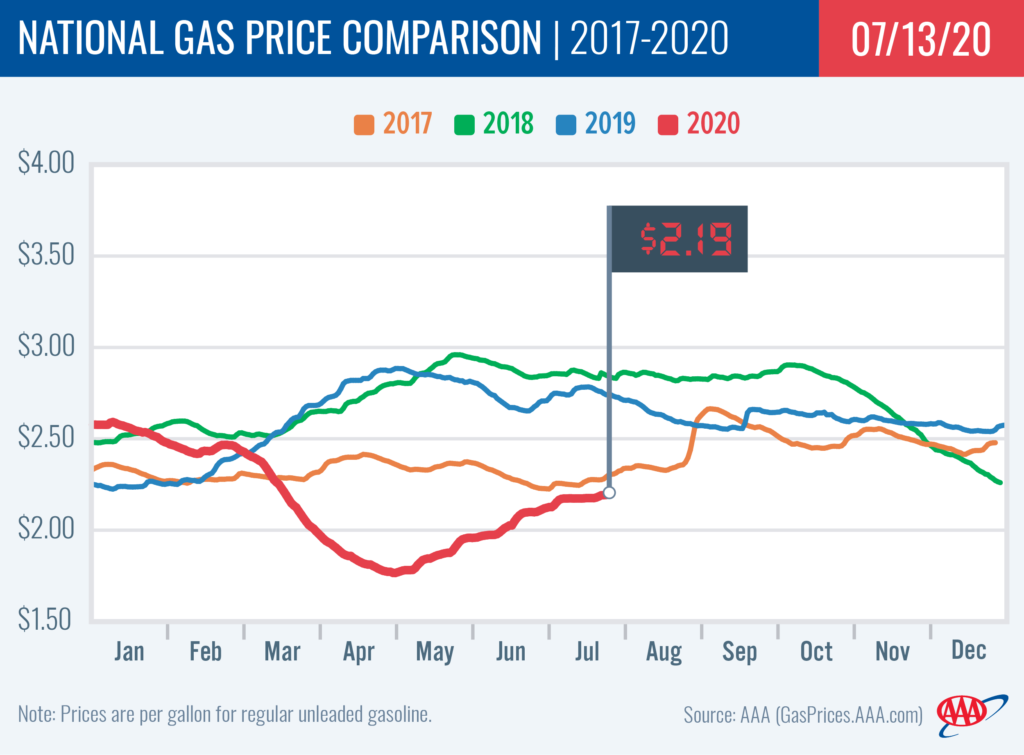 ---
+ #1 heavy melt scrap is at $193 per ton, and #1 busheling scrap fell to $280 per ton. – Crude steel production in the United States totaled 1,289,000 net tons for the week ended Saturday July 11, up by 1.7% from 1,268,000 tons the previous week, with mills operating at an average capacity utilization rate of 57.5%. – Iron ore FOB Chinese ports is up to $105 per dry metric ton. – Zinc prices remain in an uptrend.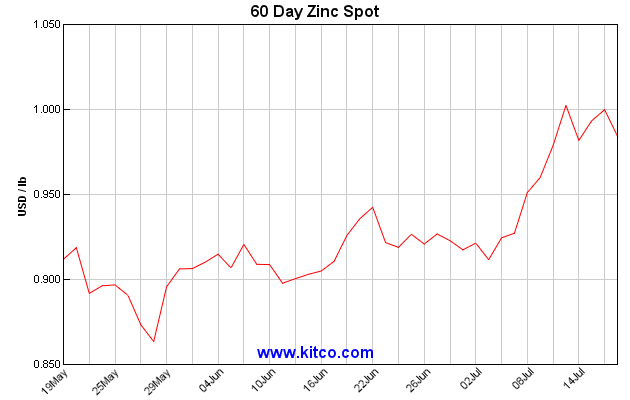 – July galvanized imports are looking very weak.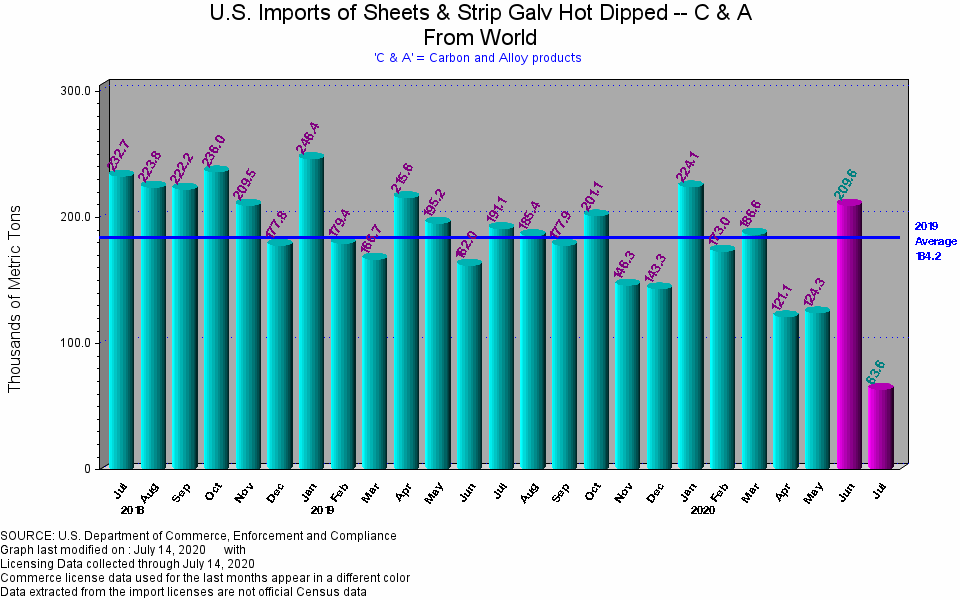 – JSW Steel USA plans to idle its Mingo Junction facility in Ohio due to weak market conditions as a result of the Covid-19 pandemic, the company announced on Friday July 10. "Unfortunately, market conditions in carbon flat-rolled steel-consuming sectors have deteriorated further since we restarted operations at Mingo Junction in June after a two-month outage," JSW Steel USA chief operating officer Mike Panzeri said in a statement. "Due to the current market conditions, JSW has decided to temporarily idle its Mingo Junction, Ohio, steel plant and focus on completion of the ongoing capital investment project for the complete modernization of its Tenova Consteel electric-arc furnace. JSW expects to bring the plant back up when market conditions improve."
---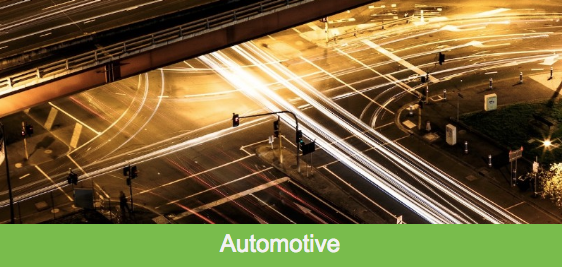 – With the worsening global pandemic again taking a toll on automotive sales, there are growing indications manufacturers are preparing to trim back production, Reuters today reporting Nissan Motor Co. will cut worldwide output 30% through December due to declining demand. General Motors confirmed a report in TheDetroitBureau.com earlier this week that it is temporarily dropping a third shift at a light truck plant in Missouri due to weakening demand, and a senior Toyota official told us on Monday that the automaker is also considering production plans in the face of weakening U.S. sales. Nissan will turn out just 2.6 million vehicles worldwide between April and December, down from the 3.7 million it produced during the same period last year, according to the Reuters report. – Be careful out there y'all. Almost a third of drivers getting back on the road feel overwhelmed, according to a new study by Reviews.com. Much of that third is old people, but maybe we're all a little rusty. Like anything, if you don't do it for a few months, you get out of practice. Even going from driving every day to a couple times a week can diminish your skills. We're luckier than most in that our job is to drive cars, and tell you about them, so leaving the house after the kids go to bed for a cruise to nowhere is a pretty common occurrence. But most people don't take that cruise. Reviews.com surveyed 1,207 U.S. respondents and found that 28% say they felt overwhelmed and overstimulated while returning to their regular driving habits following quarantine. All age brackets were surveyed with 13%-19% in each bracket. Female respondents made up 48.1% while male respondents represented the rest. + Ford Motor Co. was confident the 2021 Bronco would be a hit. But within just a few days of the debut of the all-new off-road SUV, Ford executives and franchise dealers say demand has been "overwhelming." The reservation page crashed soon after the 8 p.m. debut because so many people were attempting to log on at once, Ford says. A First Edition model with a limited run of 3,500 was spoken for by the end of the night. One Phoenix-area dealer said he had more than 500 deposits by Friday morning.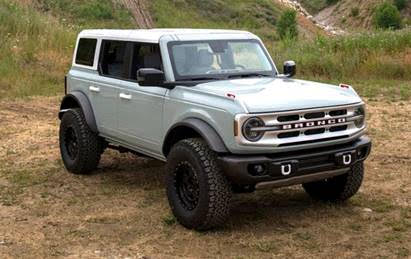 ---