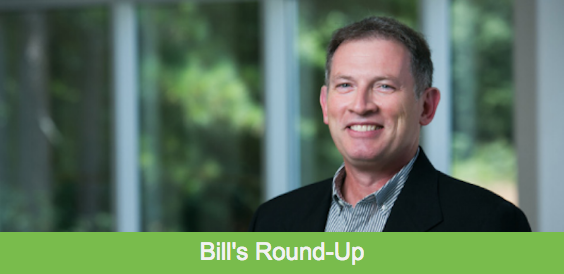 The US economy continues in a winning streak even though there are weak spots here and there. The Fed reduced interest rates to stimulate the economy. Manufacturing is going through a slow spot. The GM strike didn't help. Gasoline prices are declining which is good for consumers. Freight rates have declined too. Steel makers pushed capacity utilization over 80% and galvanized imports arrived in higher volumes than we have seen in 6 months. China's steel makers might hit the billion ton mark before year end. That is as much steel as the entire planet made previous to 2004. October car sales in the US looked pretty good as car makers discounted deep. Apple co-founder says truly autonomous cars will not be produced in his lifetime. It looks like Peugeot is going to merge with Fiat/Chrysler to create the 4th largest car company on earth.

---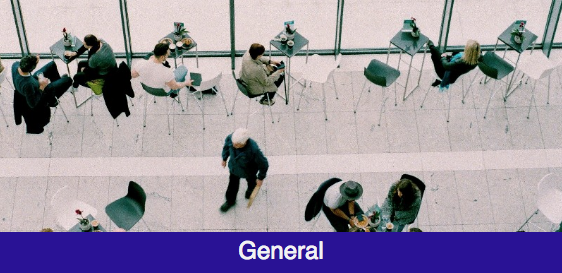 + The U.S. GDP for Q3 was 1.9%, beating the forecast by .2%. Consumer spending and residential investment drove the index.
+ The Fed chose to reduce interest rates to 1.5% to 1.75% to stimulate the economy.
– The ISM Manufacturing Index rose to a reading of 48.3 in October. The reading is showing upward movement, but the index has to be above 50 to show growth. Exports and employment are gaining, but production and backlogs are down.
+ Construction Spending was up .5% in September, the 3rd straight monthly gain.
+ Gasoline prices fell slightly as refineries operated at 87.7% of capacity and oil futures fell slightly to $54 per barrel.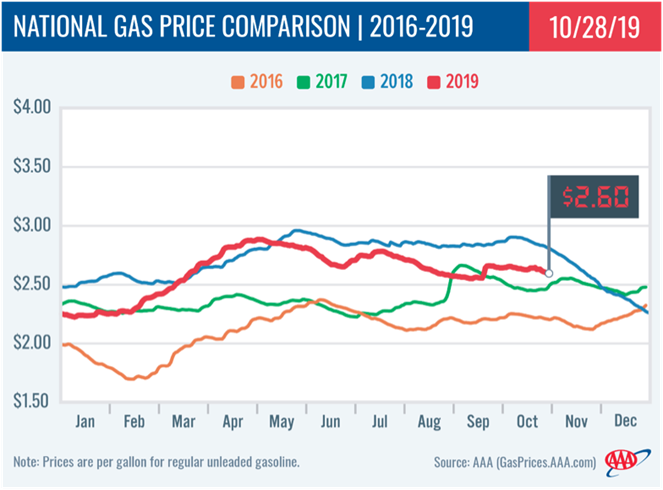 + Freight rates have all declined.

---

– #1 heavy melt scrap is steady at $183 per ton and #1 busheling scrap is the same at $220 per ton.
+ Raw steel production rose to 80.7% of capacity.
– Iron ore FOB Chinese ports is at $90 per dry metric ton.
– Zinc prices continue to escalate.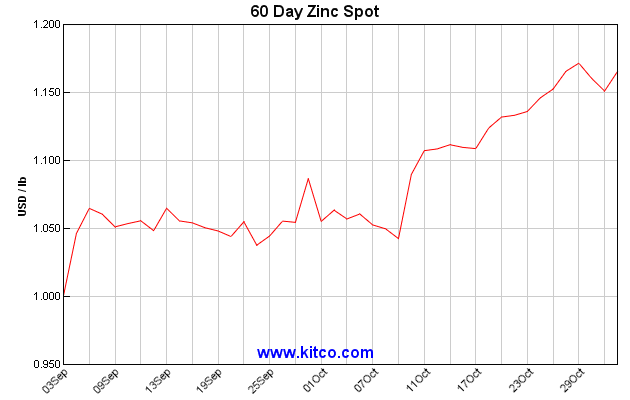 + Galvanized imports in October were the best showing in the past 6 months.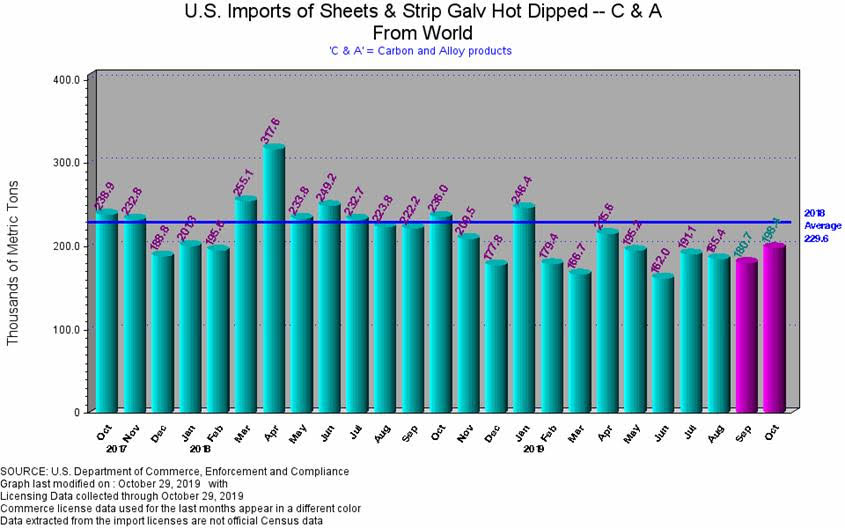 – AK Steel posted their Q3 performance. The steelmaker reported net income of $2.8 million in the third quarter of 2019, down by 95.8% from $67.2 million in the same period last year, on sales that fell by 11.5% to $1.54 billion.  AK Steel shipped 1.3 million tons of flat-rolled steel in the third quarter, down by 8.5% from 1.42 million tons in the same period last year.  The company blamed the sharp decline in profitability and sales volumes on the labor strike at GM, which it said would result in flat-rolled steel shipments falling to approximately 5.3-5.4 million tons for this year. The company sold nearly 5.7 million tons of flat-rolled steel in 2018.
– If you have been following Chinese steelmaking over the last decade, one of the recurring statements from Beijing was that China had enough capacity, and was going to cut back output. I don't think that is what happened. The China Iron and Steel Association has increased its crude steel output forecast for 2019 to 994 million metric tons. During January-September 2019, Chinese steelmakers boosted output by 8.4% Year on Year to 748 million tonnes giving an annual rate of 997.3 million tonnes. That is roughly 1.1 billion short tons. To put it in perspective, it took until 2004 before the combined steel making of the entire planet totaled over 1 billion tons of steel in one year. Now China is on track to do it single handedly.
– United States Steel Corporation reported a third quarter 2019 net loss of $84 million. This compares to third quarter 2018 net earnings of $291 million. Net Q3 sales were $3.07 billion vs. $3.73 billion last year. Q3 steel shipments were 3.6 million tons vs. 3.9 million tons a year ago. Capacity utilization was 65% vs. 68% last year.
---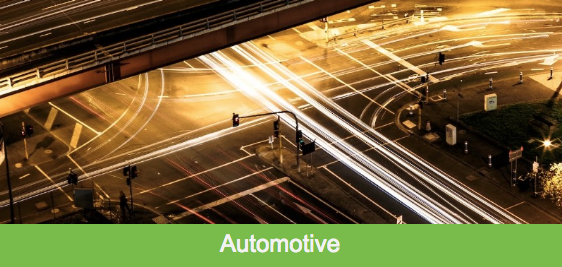 – There was a time when Apple co-founder Steve Wozniak was a believer in fully autonomous vehicles. These robotic cruisers would read and react to the road like humans, and wouldn't need a steering wheel. Wozniak hoped Apple, which had been rumored over the years to be working on a self-driving car project, would be the one to build it. But he has since tempered his expectations. There is simply too much unpredictability on roads, he said, for a self-driving car to manage. For now, he believes the burgeoning technology is better used to give drivers a safety net for certain situations. "I stepped way back [on] this idea of Level 5. I've really given up," Wozniak said during the J.D. Power Auto Revolution conference in Las Vegas last week. "I don't even know if that will happen in my lifetime."
– Roughly 57% of UAW members voted to ratify the new labor contract with GM. Unionized GM workers are expected to receive an $11,000 ratification bonus as part of the deal. Temporary workers will receive $4,500. The agreement calls for 3% wage increases or 4% lump-sum payments in the first four years of the contract, as well as profit-sharing and a pathway for temporary workers to become full-time employees. GM also affirmed plans to invest more than $7 billion in its U.S. operations. GM's Lordstown, Warren and Baltimore plants would go unallocated, per GM's original plan, while the Detroit-Hamtramck plant in Michigan, which was also going to be idled, would stay open and make electric trucks. The strike cost GM roughly $1.5 billion in lost profits, and employees won't see more than $835 million in direct wage losses, according to Michigan-based consulting firm Anderson Economic Group. Their calculations extrapolate to Oct. 20. Roughly 49,000 UAW members walked off General Motors factory floors when the strike began. The union says it's going to negotiate with Ford next. "We can confirm the UAW today notified Ford it plans to negotiate with us next," Ford said in a statement. "As America's No. 1 producer of vehicles and largest employer of UAW-represented autoworkers, we look forward to reaching a fair agreement that helps Ford enhance its competitiveness and preserve and protect good-paying manufacturing jobs."
– The first two weeks of the strike by the United Auto Workers cost General Motors Co. $1 billion in lost earnings, and overall losses from the six-week walkout will rise to nearly $3 billion for the year, the automaker said last Tuesday. GM production resumed this week after the longest strike against the automaker since 1970 ended.
– The United Auto Workers will use the agreement at GM as a template that is expected to reach similar terms on wages and benefits in separate contract talks with Ford Motor Co. and Fiat Chrysler Automobiles NV, under the union's traditional pattern of bargaining. GM workers won considerable gains in this latest contract, including across-the-board wage increases, an accelerated timetable for new hires to reach top hourly pay and a path to full-time status for temporary workers. The labor agreement approved by union members Friday after the UAW called a nationwide strike that lasted six weeks also held steady employees' out-of-pocket contribution for health benefits at about 3%, a fraction of what private-sector workers pay. The new contract, covering more than 46,000 UAW-represented workers at GM, is likely to add roughly $350 million in annual labor costs to the company's finances by the end of its four-year term, Barclays analyst Brian Johnson wrote in an investor note. That is equivalent to about 3% of the annual operating profit GM has posted in recent years. Ford has the second-highest labor costs of the three Detroit car makers, spending an average of $61 an hour on wages, benefits and other expenses for the company's unionized workforce, according to the Center for Automotive Research. Fiat Chrysler spends $55 an hour, and GM, $63. Ford shares came under pressure last week after the company cut its profit forecast for the year, citing higher warranty costs, weakness in China and growing pressures in the U.S. market. Its profit margin in North America slipped to 7.1%, from 7.4% a year earlier. Chief Executive Jim Hackett is trying to boost free cash flow to ease investors' concerns about how the company would fare as the U.S. auto industry prepares for an expected downturn in car-market sales. Ford executives are concerned about rising health-care costs for its 56,000 UAW-represented workers, which is a larger number than at GM. Ford's health-care tab is expected to top $1 billion next year for the first time, according to people close to the talks.
– Fiat Chrysler and PSA of France announced on Thursday that they plan to merge, a combination that would create Europe's largest carmaker and the fourth largest in the world. With combined annual sales of 8.7 million vehicles and 170 billion euros, or $190 billion, the new entity would be slightly larger than General Motors in terms of cars produced, and well ahead of Ford Motor Co. The merger will be accomplished by exchanging shares, with each company contributing 50% of the new entity. Shareholders of Fiat Chrysler will receive a special dividend of 5.5 billion euros. News of that dividend was reflected in how investors in the two companies reacted to Thursday's news. Fiat Chrysler shares jumped by about 10%, while PSA's fell by more than 9%. French unions had been wary that Fiat's previous effort to merge with Renault could result in plant closures, and had pressured the government to press Fiat to preserve jobs. The government, which will remain a shareholder, is likely to take an active role in trying to prevent any layoffs in France from the new deal.
+ Honda and Hyundai posted U.S. sales increases in October while Nissan and Toyota fell as the industry – aided by richer incentives — kicked off the fourth quarter with a shot at hitting 17 million total deliveries for a fifth straight year. Overall, U.S. light-vehicle volume fell an estimated 1.8% in October, even with an extra selling day. Fiat Chrysler, Ford and General Motors no longer publicly release monthly U.S. sales. They release U.S. results quarterly and are excluded from this month's sales report.
---