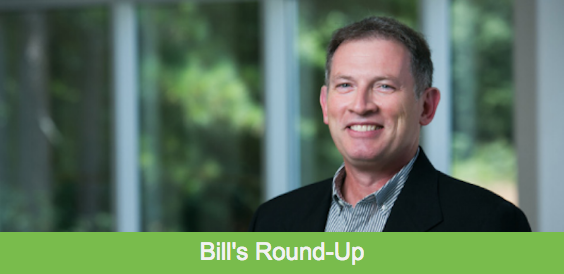 As we start a new decade, let's keep an eye on the high road, work for progress, and pay less attention to the talking heads who would like us to take our eyes off of the prize. The US economy wrapped up the year on a high note. Steel mill output remained over 80%. The auto industry ended up with a good year, shipping over 17 million vehicles (Est).

---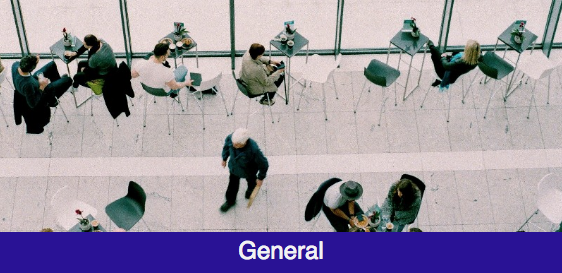 – An annual report tracking internet freedom across the world has found global declines for the ninth consecutive year. Underpinned by domestic election interference and social media surveillance, the report identified internet freedom deterioration in more than half of the 65 countries assessed. Titled Freedom on the Net, this annual report is published by Freedom House, a non-governmental organization promoting democracy and civil rights. Freedom House is primarily US Government funded, however, since its founding in 1941, it has attempted to track the ebb and flow of global freedoms from an apolitical standpoint. The report surveys internet freedom in countries from three perspectives: Obstacles to access – evaluating social and economic factors limiting internet access, as well as governmental efforts to block access; Limits on content – evaluating governmental control of content, from diversity of news media to specific content censorship; and Violations of user rights – measuring how many protections citizens have against surveillance, and what kinds of legal repercussions users can suffer from online activity. Each country surveyed receives a score out of 100 based on evaluations of those three categories. For the ninth consecutive year a majority of countries surveyed demonstrated declines in internet freedom scores, with 33 out of 65 countries displaying drops in overall scores. China recorded the lowest rate of internet freedom with a score of 10. Other low scoring countries rated "Not Free" included Iran (15), Vietnam (24), Egypt (26), Russia (31), and Turkey (37). Brazil (64), Bangladesh (44), and Zimbabwe (42) all reported some of the biggest declines in internet freedom over the past year. Even the United States (77) saw a decline of one point, based on expanded law enforcement surveillance of social media platforms and electronic devices, and an exacerbation of disinformation spread by government officials. The two biggest global factors identified in the report as responsible for driving the majority of internet freedom declines have been an increase in social media surveillance, and election interference through digital media. "Many governments are finding that on social media, propaganda works better than censorship," says Mike Abramowitz, president of Freedom House. "Authoritarians and populists around the globe are exploiting both human nature and computer algorithms to conquer the ballot box, running roughshod over rules designed to ensure free and fair elections." The report disturbingly identified sophisticated social media surveillance programs in 40 of the 65 countries surveyed, and citizens were arrested for political, social, or religious speech posted online in 47 countries. Total internet shutdowns occurred at some point in 17 different countries over the past year, with the report noting these shut-downs primarily took place either during elections or times of civil protest. Freedom House explicitly says, "the future of internet freedom rests on our ability to fix social media."
– Gasoline prices ended the year higher than the last three years.
– Freight rates are still climbing.

---

– #1 heavy melt scrap is steady at $229 per ton as well as #1 busheling scrap at $270 per ton.
+ Raw steel output hit 81.1% of capacity to close out the last week of 2019.
– Iron ore FOB Chinese ports is up to $93 per dry metric ton.
+ Zinc prices remain steady.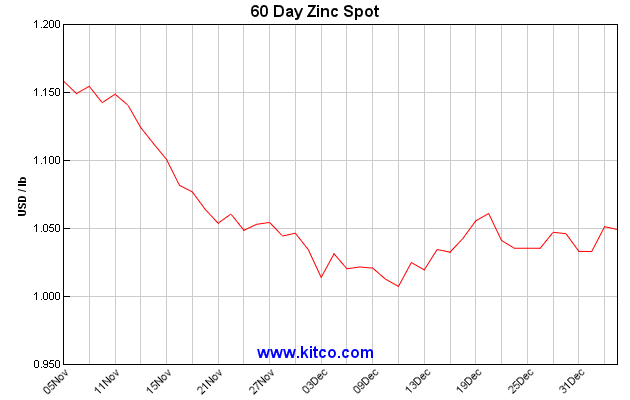 – Galvanized imports ended the year weak.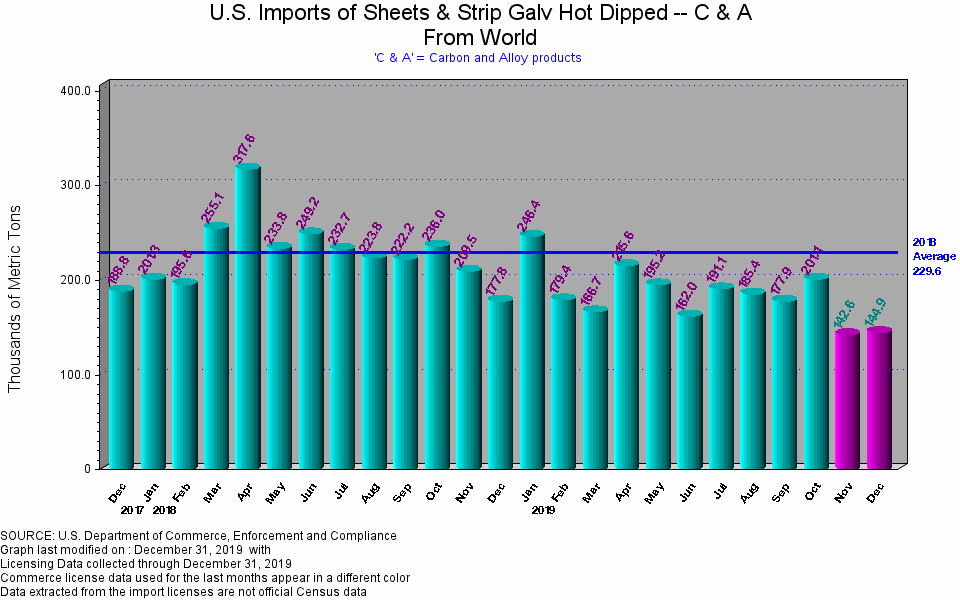 – China's Baowu chairman Mr Chen Derong said that "China Baowu successfully reorganized Maanshan Iron and Steel Group in 2019 to achieve actual control over Chongqing Iron and Steel. The group company will achieve crude steel production of 96 million tonnes, and 100 million tonnes of Baowu is just around the corner." World's largest steel group ArcelorMittal had produced 92.5 million tonnes of crude steel in 2018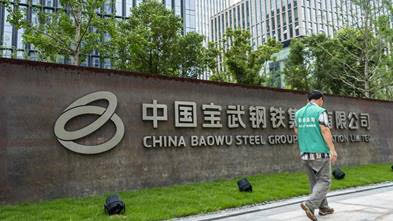 ---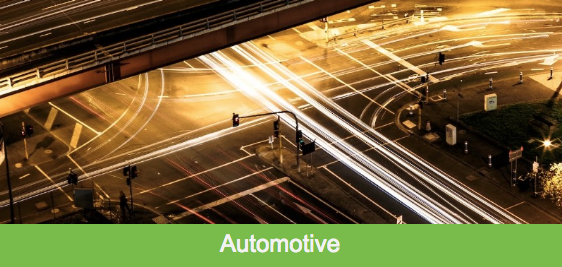 – The year of retrenchment? It's looking like many of the grand plans for mobility without ownership haven't resulted in enough customers or profits.
The following is a quick 2019 year in review.
Jan. 10: Ford Motor Co. says it will shut down its Chariot shuttle service, which it had acquired for $65 million in 2016 amid much fanfare.
May 10: Uber makes its initial public offering. The company would post a $1.2 billion loss in the 3rd quarter.
May 20: Citing a "shift in strategy," executives with GM's Maven brand announce plans to end operations in eight North American cities.
July 17: BMW abruptly shuts down its ReachNow short-term rental service in the U.S.
Sept. 12: Ford agrees to sell its Canvas vehicle subscription brand to Fair because of lackluster demand.
Sept. 27: Daimler's Car2Go short-term rental venture announces plans to end service in 5 North American cities by the end of the year.
Dec. 3: Ford acknowledges it will put GoRide, its medical shuttle service, on hiatus in the 5 cities in which it operates. The automaker intends to fold the service into its automated vehicle plans.
Dec. 18: BMW and Daimler say they will halt their joint short-term rental operations in North America.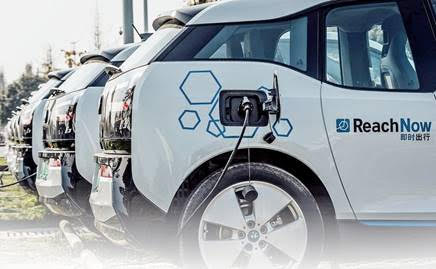 – Lebanon received an Interpol arrest warrant on Thursday for former Nissan boss Carlos Ghosn, while Turkey launched an investigation into his daring escape from Japan via Istanbul. Ghosn has become an international fugitive after he revealed on Tuesday he had fled to Lebanon to escape what he called a "rigged" justice system in Japan, where he faces charges relating to alleged financial crimes. Sources close to Ghosn said a delay to a trial and a strict ban on communicating with his wife motivated him to go ahead with a plan to use a private security company to smuggle him out of Japan via private jet. The Interpol red notice, which calls on authorities to arrest a wanted person, was received by Lebanon's internal security forces and has yet to be referred to the judiciary, a Lebanese judicial source told Reuters. Ghosn, who holds French, Lebanese and Brazilian citizenship, has deep ties to Lebanon, the country of his childhood, where his investments include a stake in a bank, real estate and a vineyard.
+ Ford started taking reservations for the electric Ford Mustang Mach-E near the end of November, and the First Edition models are already sold out. In just over a month of pre-orders, the Mustang Mach-E First Edition has filled all the available reservations.
Ford hasn't said how many reservations it allotted for the First Edition models, just that it's not taking any more. The company did say more than half of the First Edition reservations were all-wheel-drive models, and more than 80 percent opted for the extended range battery. Most popular color? Well, that'd be carbonized gray with 38 percent of customers opting for the color.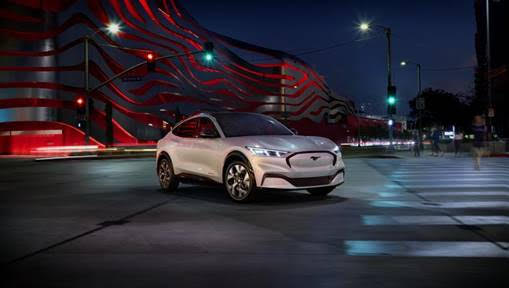 + For the fifth year in a row, U.S. auto sales are expected to top 17 million vehicles. Purchases of new vehicles in 2019 are expected to decline slightly from the previous year, but not to the extent analysts initially thought. A strong economy led to solid consumer confidence, and in turn, a robust year for automakers and dealers. They were able to beat sales forecasts during a tumultuous year marked by labor negotiations that led to a 40-day strike against General Motors Co., and by tough trade talks leading to uncertainty in the economy and the industry. Auto analysts expect sales to surpass their expectations at 17.1 million, down 1.3% from 2018's 17.3 million.
---