Wasn't this an odd week? We are living through history. Let's make the best of it, and stay productive. The US economy remains the most robust in the world. We are still larger than China, or anyone else. The countries that are getting hurt the worst are the ones that rely on tourism. They have to really be in for a rough ride as people are cancelling trips and staying home. China could end up being a big loser because the virus originated in Wuhan. Maybe this will be the event that motivates various non-Chinese companies to move their business out of China. There might be a change in demand for anything made in China. It will be interesting to see if global trade shifts away from China in the next few years.  Meanwhile, here at home, our auto industry has chosen to shut down for a couple weeks, but our steel mills are still producing. Gasoline prices have dropped dramatically which helps consumers. Let's all help each other get through the next week or two, and get back to normal as soon as we can.
---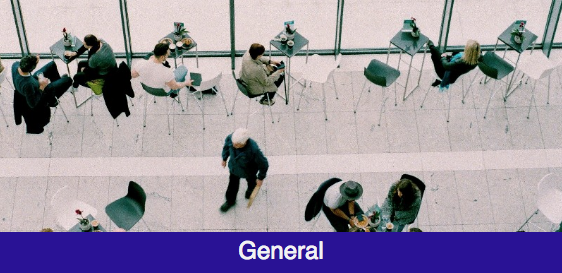 + The following is a history of stock market contractions, and rebounds since 1980. The stock market always bounces back.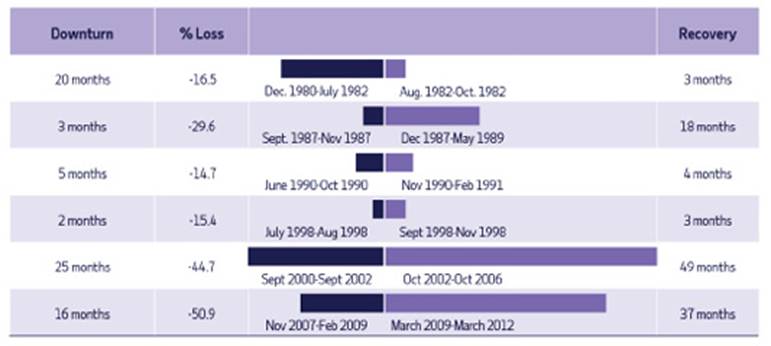 – Industrial production rose 0.6% in February after falling 0.5% in January. Manufacturing output edged up 0.1% in February; excluding a large gain for motor vehicles and parts and a large drop for civilian aircraft, factory output was unchanged. The index for mining declined 1.5%, but the index for utilities jumped 7.1%, as temperatures returned to more typical levels following an unseasonably warm January. At 109.6% of its 2012 average, the level of total industrial production in February was unchanged from a year earlier. Capacity utilization for the industrial sector increased 0.4 percentage point in February to 77%, a rate that is 2.8 percentage points below its long-run (1972–2019) average.
– Business Inventories fell .1% in January, but sales fell as well, bringing the inventory to sales ratio up to 1.4 to 1.
+ As crude oil prices trend close to $30/barrel, Americans are seeing pump prices plummet across the country. On the week, gas price averages in 35 states decreased by double-digits, pushing the national average to $2.25, the cheapest price point of the year. Refineries operated at 86.4% of capacity.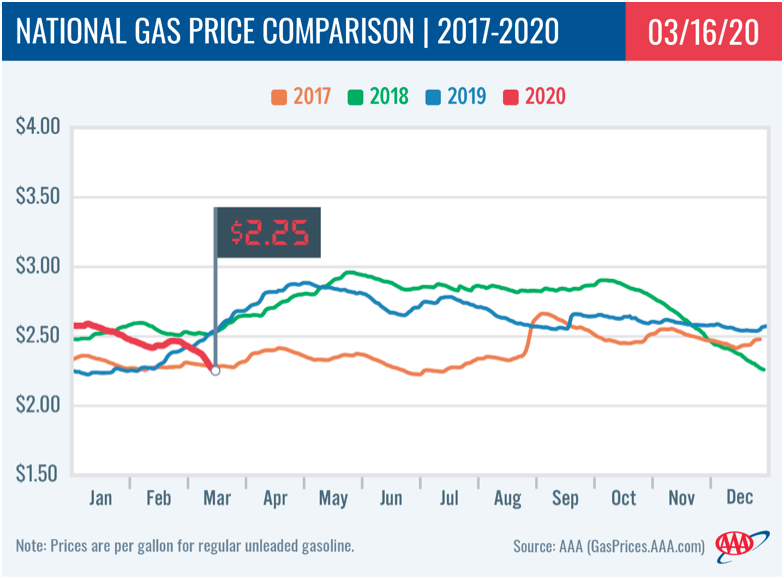 – Flatbed demand has increased, bringing the prices up.
---

– #1 heavy melt scrap is steady at $232 per ton as well as #1 busheling scrap at $300 per ton.
+ AISI reported that in the week ending on March 14, 2020, domestic raw steel production was 1,878,000 net tons while the capability utilization rate was 80.5%.
– Iron ore FOB Chinese ports is up to $89 per dry metric ton.
+ Zinc prices continue to correct.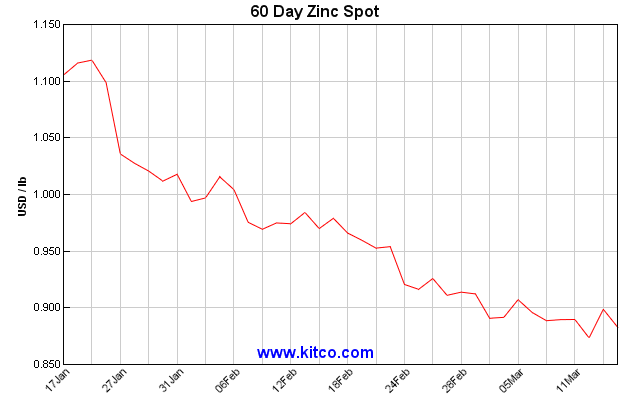 – Galvanized imports remain weak.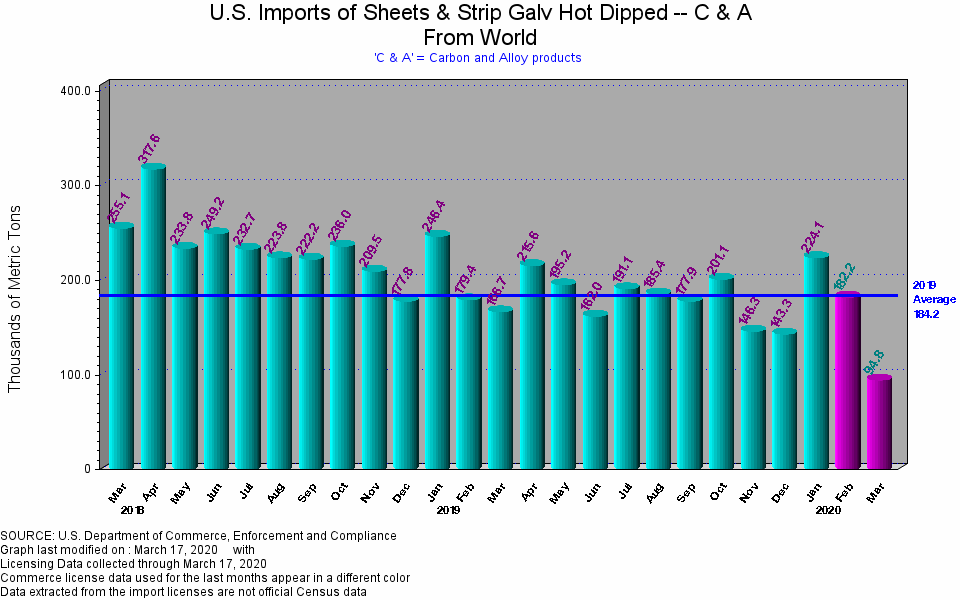 – The United States Commerce Department has issued final determinations in anti-dumping and countervailing cases involving imports of corrosion-resistant steel products from South Korea, in both instances assigning single-digit percentage duties. In the countervailing examination, Commerce settled on a subsidy rate of 7.16% for 20 companies. Only one provider – Hyundai Steel Co – received a de minimis rate of a 0.44%. The review period for the subsidy investigation was calendar year 2017.  In the anti-dumping probe, 13 companies were issued a dumping margin of 2.43%, Commerce said separately in the Federal Register. The agency determined that Dongkuk Steel Mill Co Ltd shipped items during the period. Hyundai did not ship and received a margin of zero, Tuesday's announcement said. The review period for the anti-dumping aspect was July 2017 through June 2018.
---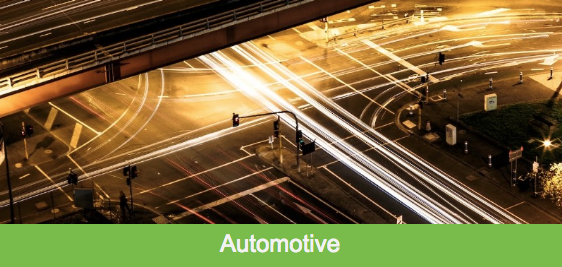 – The rapid spread of the novel coronavirus in the U.S. left automakers and suppliers scrambling to keep employees safe, dealerships open and factories running. As coronavirus spreads, dealers stay open for business. As price of oil plummets, Texas dealers are on alert. With lower parts inventories, cost worries rise. In Europe, sales and production forecasts cut. Automakers assess how to work amid travel ban. Hard-hit China industry asks government for incentives.
– U.K. Prime Minister Boris Johnson's office has called upon several automakers with a manufacturing presence in the country to produce ventilators for medical use. On March 16 the prime minister's office contacted Jaguar Land Rover, PSA, Ford, Honda and Rolls-Royce for the National Health Service. A ventilator or respirator in a hospital context is a machine that moves air in and out of the lungs when a patient is unable to breathe, with the patient wearing a face mask. While most ventilators in hospitals are electronic, there are also simpler bag valve mask, or BVM, versions that can be hand-operated. There are many different kinds of ventilators on the market today, including ones designed for military medicine and field use. 10 Downing Street's outreach to major automakers represents a significant step, indicating the U.K. expects a prolonged pandemic within the country that will strain NHS resources, echoing a wartime effort by numerous automakers to produce medical equipment and ambulances. Given the complexity of ventilator manufacture—it could take months to set up tooling and production for existing electronic ventilator machine designs—the outreach by the Prime Minister's Office also suggests the government expects the need for thousands of new ventilators months down the road. The U.K. government expects ventilators to play a key role in keeping large numbers of patients alive as they suffer through symptoms.
– Ford  and General Motors are suspending production at all North American plants until March 30 in an effort to help prevent the spread of the coronoavirus (COVID-19). The suspension of operations at Ford will begin after the evening shifts on Thursday, March 19, while GM said it will close its facilities in a cadence being determined by manufacturing leadership.
– Honda is shutting all of its North American plants for six days in response to the coronavirus (COVID-19) outbreak. The closures include eight manufacturing locations in the U.S. and will continue until March 31.
– Volkswagen AG is temporarily shutting operations at its manufacturing plant in Chattanooga, Tenn., in a move to help contain the spread of Covid-19 and protect employees against infection, the plant's management said last Thursday.
The Chattanooga facility, which manufactures several vehicles including the popular Atlas sport utility vehicle, will shut down on Saturday, March 21, and is expected to resume operations at 10 p.m. on Sunday, March 29.
– The Detroit Three automakers on Wednesday announced plans to shut down production until at least March 30, a move largely driven by the need to protect workers' health at their parts and assembly plants. But GM, in a statement, noted that it also needs to address current "market conditions." As the nation comes to grips with the worsening coronavirus pandemic, new car sales appear to be tumbling off a cliff, with a new report by J.D. Power warning that March retail demand could slip by as much as 41%, approaching levels that haven't been seen since the depths of the Great Recession a decade ago. "Both the virus and its effect on new vehicle sales are expected to grow in severity throughout March," wrote Tyson Jominy, a Power vice president in a report released Wednesday afternoon.
---