More good economic news as the construction industry added more jobs in July, business inventories fell, unemployment claims fell, gas prices are falling, and the reshoring of manufacturing in the USA continues. Our steel mills crossed the 60% line of capacity utilization as they continue to book more business. Steel imports remain weak. The auto industry continues to tempt consumers with new models for 2021 but the cost of a new vehicle might keep many buyers on the sidelines.
---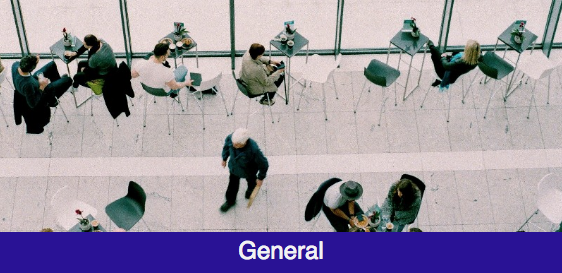 + The construction industry added 20,000 jobs on net in July, according to an Associated Builders and Contractors analysis of data released by the U.S. Bureau of Labor Statistics. During the last three months, the industry has added 639,000 jobs, recovering roughly 59% of the jobs lost since the start of the pandemic-induced recession.
– The Consumer Price Index rose .6% in July, led by increased cost for gasoline, energy, and car insurance.
– The Producer Price Index rose .6% in July, led by a 10% jump in gasoline costs. Wholesale equipment and parts, and long distance trucking rates increased as well.
+ Business Inventories fell 1.1% in June as sales rose. The total business inventories/sales ratio based on seasonally adjusted data at the end of June was 1.37 to 1.
+ Industrial Production rose 3% in July after increasing 5.7% in June. Motor vehicles, utilities, mining, and factory output all gained.
+ The number of new claims for unemployment benefits in the US dropped below one million last week, the first time it has done so since the start of the pandemic. There were 963,000 initial claims filed in the week ending 8 August, a drop of 228,000 from the previous week, US Labor Department figures showed. That was the lowest figure since mid-March, when lockdown restrictions to slow the spread of coronavirus came into effect.
+ Gasoline prices remain stable. Refineries operated at 81% of capacity. Oil futures are at $41 per barrel. World oil demand will fall more steeply in 2020 than previously forecast due to the coronavirus and there are doubts about next year's recovery, OPEC forecast. World oil demand will tumble by 9.06 million barrels per day (bpd) this year, the Organization of the Petroleum Exporting Countries said in a monthly report. Oil prices have dropped as the coronavirus curtailed travel and economic activity. While some countries have eased lockdowns, allowing demand to recover, fear of new outbreaks has kept a lid on prices and OPEC expects this to persist. Oil stocks have built up due to the demand collapse. OPEC said inventories in developed nations rose in June to stand 291.2 million barrels above the five-year average, a yardstick that OPEC before the pandemic saw as a desirable level.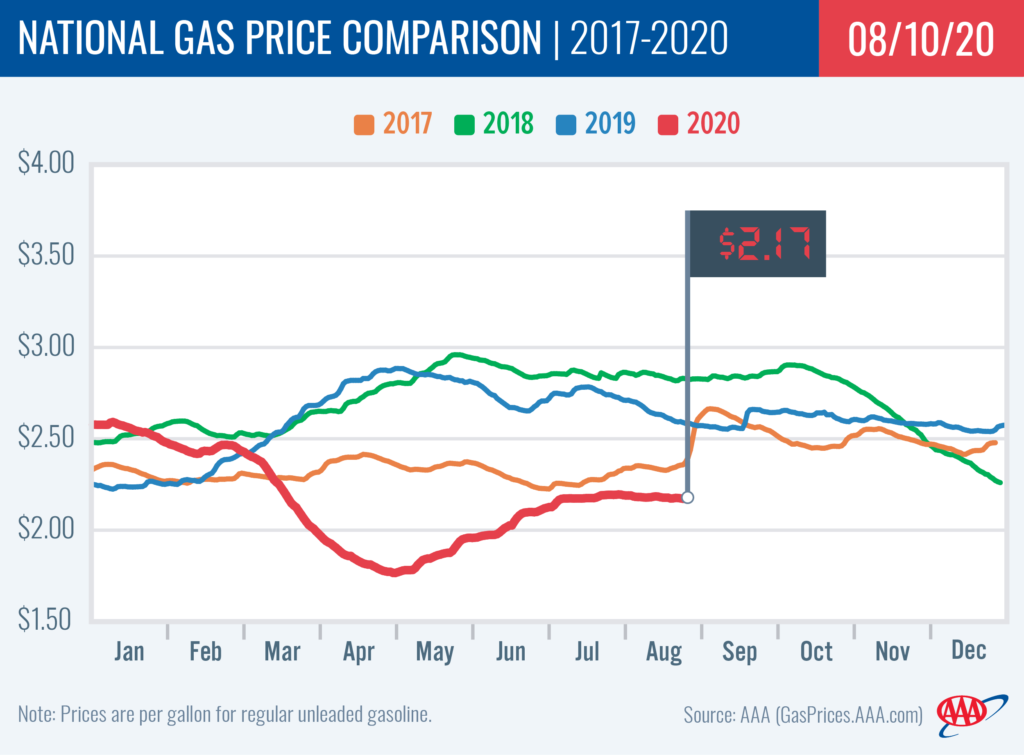 – Royal Caribbean Group reported a bigger-than-expected quarterly loss on Monday, as the cruise operator suffered from a coronavirus-driven halt to sailings that is now on course to last deep into the second half of 2020. Royal Caribbean, which dropped "Cruises" from its corporate name last month, expects to burn $250 million to $290 million of cash on average per month, while its operations are suspended during one of the industry's worst periods in history. Royal Caribbean said it had about $4.1 billion in cash and cash equivalents at the end of June. Net loss attributable to the company was $1.64 billion in the second quarter ended June 30,
+ The pace of reshoring, or bringing work from overseas back to the U.S., has slowed and the scope of the returns are smaller as manufacturers struggle with fallout from the COVID-19 pandemic. The U.S. ran a trade surplus with the rest of the world until 1979, says Harry Moser, a veteran of the machine-tool industry who now heads the Reshoring Initiative. COVID-19 has exposed the shortcomings of moving production overseas, Moser says. However, reshoring faces longstanding obstacles, including the value of the dollar, which has increased 300% percent in the past 40 years, and a focus on short-term profits that make management look good but miss the total cost of setting up production in places such as China, he says. Chinese labor costs five times as much as it did a decade ago, and concerns about rising transportation costs are forcing companies to re-evaluate global supply chains and prompting interest in reshoring, Moser says. "Reshoring is happening," he says. "The U.S. is relatively more competitive in manufacturing than it was 20 years ago." However, foreign companies such as Toyota are more aggressive in bringing work to the U.S. than traditional U.S.-based manufacturers are at bringing it back to the U.S. from overseas, Moser observes.
+ An escalation in tensions with the United States has stoked fears in China of a deepening financial war that could result in it being shut out of the global dollar system. Chinese officials and economists have in recent months been unusually public in discussing worst-case scenarios under which China is blocked from dollar settlements, or Washington freezes or confiscates a portion of China's huge U.S. debt holdings. Although a complete separation of the world's two largest economies is unlikely, the Trump administration has been pushing for a partial decoupling in key areas related to trade, technology and financial activity. Washington has unleashed a barrage of actions penalizing China, including proposals to bar U.S. listings of Chinese companies that fail to meet U.S. accounting standards and bans on the Chinese-owned TikTok and WeChat apps. Fang Xinghai, a senior securities regulator, said China is vulnerable to U.S. sanctions and should make "early" and "real" preparations. "Such things have already happened to many Russian businesses and financial institutions," Fang told a June forum organized by Chinese media outlet Caixin. Guan Tao, former director of the international payments department of China's State Administration of Foreign Exchange and now chief global economist at BOC International (China), also said Beijing should ready itself for decoupling. "We have to mentally prepare that the United States could expel China from the dollar settlement system," he told Reuters.
---

+ #1 heavy melt scrap is steady at $197 per ton as well as #1 busheling scrap at $260 per ton.
– Raw steel production hit 60.4% of capacity. At least, it crossed the line into the 60 percentile.
– Iron ore FOB Chinese ports remains high at $105 per dry metric ton.
– Zinc prices continue to climb.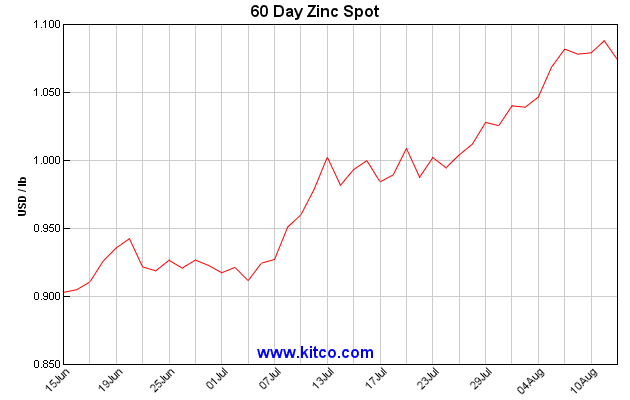 – Galvanized imports for August look slow.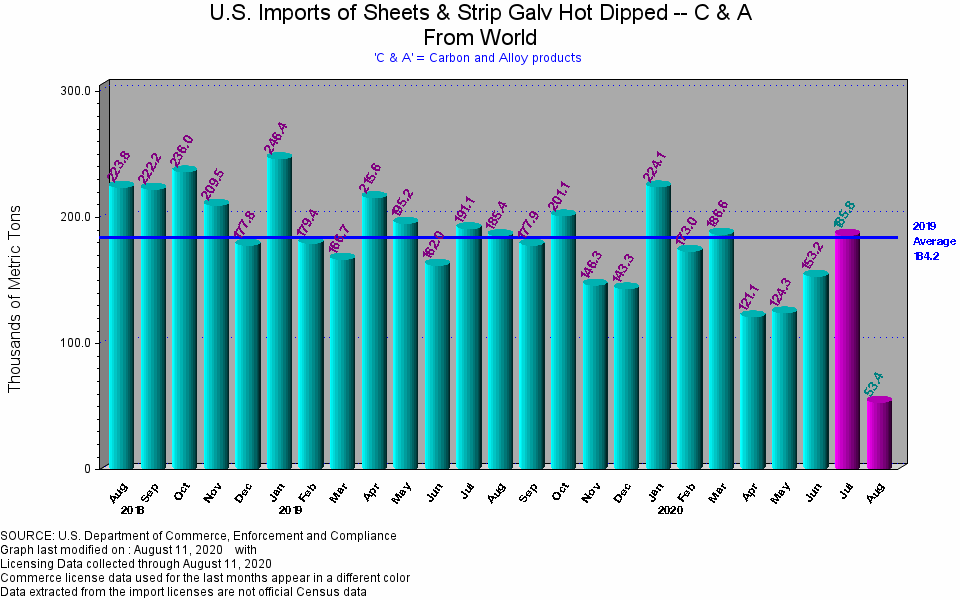 ---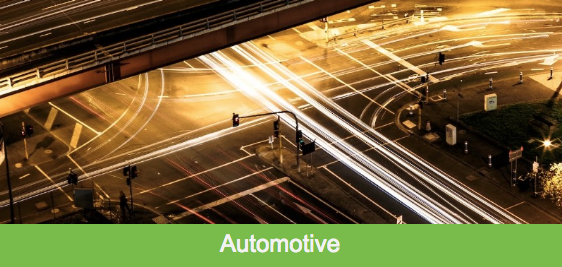 + This is a very interesting animation showing global automobile production around the world since 1950.  https://www.youtube.com/watch?time_continue=347&v=kZCeuTzc850&feature=emb_logo
– VW Group's financial-services unit, hampered by rising unemployment in the U.S., boosted provisions for credit and residual-value risks by about $590 million in the first six months and warned the fallout from the pandemic could worsen in the second half.
---