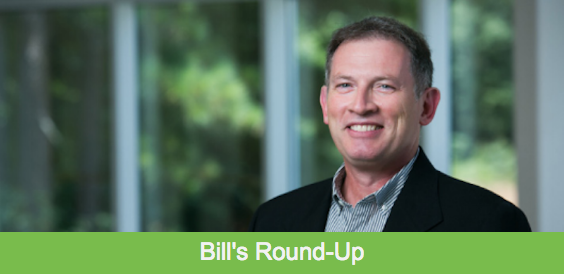 "Bill's recap: The US economy continues to show strength and the Fed has backed off of their schedule to raise interest rates due to the lack of inflation in the economy. Tax season will soon be on everyone's mind as we all find out just what the revised tax codes mean to our household tax burdens. Gasoline prices are creeping up slightly, but freight rates are still declining. Our domestic steel mills have kept production over the 80% mark. Raw materials like iron ore and zinc are seeing price hikes which could eventually translate into higher end user prices. Our domestic mills introduced a flurry of price increases at the same time they were posting (in some cases) record sales and profits during 2018. Galvanized imports are subdued. The extreme cold weather in the northern states may have contributed to slow vehicle sales in January." – Bill Feier, Manager of World Sourcing
---
– #1 heavy melt scrap was steady at $298 per ton as well as #1 busheling scrap at $375 per ton. + Raw steel production rose to 81.1% of capacity. – Iron ore FOB Chinese ports is up to $85 per dry metric ton. The tragedy in Brazil at a Vale iron ore facility has effected the global market. The death toll near where the dam broke is up to 60.
---
– Zinc prices are taking a big upswing.
– Galvanized imports wrapped up 2018 on a down trend.
---
+ US Steel announced a $40 per ton price increase, effective immediately. + ArcelorMittal announced a $40 per ton price increase. + NLMK announced a $40 per ton price increase. + AK Steel posted their best full year performance in a decade. Their net sales in 2018 totaled $6.82 billion, up 10.8% from 2017. Net income totaled $186 million, up 44% from the previous year. Tonnage shipped in 2018 was up 1.6% to 5.56 million tons. – AK Steel announced they will permanently close their Ashland Works by the end of this year. The blast furnace there has been idle since 2015. In 1923, the American Rolling Mill Company (ARMCO), established the Ashland, Kentucky Plant. ARMCO was known for having the first continuous rolling method for steel sheet production in the U.S. + Nucor Steel recorded a record net income of $2.36 billion in 2018, up 79% from 2017. Net 2018 sales was $25.07 billion, up 23.8% from the previous year. Tons shipped in 2018 totaled 24.9 million, up 5.4% from 2017. + US Steel posted full year 2018 net earnings of $1.12 billion, nearly triple the $387 million they made in 2017. 2018 net sales were $14.12 billion, up 13.6% from 2017. Total steel shipments worldwide was 15.75 million, up 3.7% from 2017. Capacity utilization at US Steel plants in N. America hit 70% in 2018 vs. 64% in 2017.
---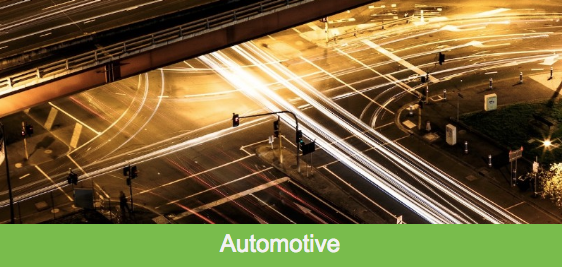 + Ford's new Ranger midsize pickup is proving wildly popular and is good news for the company. Bloomberg reported that the company will schedule "massive overtime" to meet demand for the truck, which went on sale this month. Kumar Galhotra, president of Ford's North American operations, said "The demand is going to be so strong, that starting in February, our Wayne Assembly Plant where this product is made will be going into massive overtime".
– Last week Michigan auto manufacturers canceled shifts to reduce natural gas use after Consumers Energy made a plea for help in the midst of a polar vortex that brought record-breaking low temperatures to Michigan. Consumers Energy sent an urgent text alert urging utility customers to lower thermostats and reduce energy usage or risk a dangerous gas shortage in the wake of record-breaking cold. According to the National Weather Service, a temperature of minus 13 degrees was recorded January 30, surpassing the record set on Jan. 31, 1920, at minus 7 degrees. The rest of the story was that Consumers Energy had an explosion at one of their facilities. Their customers did curtail natural gas usage, and when the supply got back to normal, the various industrial customers went back to work. – January vehicle sales confirmed the decline of automobile sales as the SAAR came in at a 16.9 million rate, down from a 17.72 million rate in December. GM sales fell 6.9% while Fiat/Chrysler gained 2.5%, and Ford jumped 7.1%. Honda led the way with the Asian Big Three with a 1.5% sales gain in January while Toyota fell 6.6% and Nissan dropped 18.5%. – General Motors confirmed that it is beginning elimination of 4,000 salaried jobs. A spokesman said the process will be concluded over the next two weeks. Some employees inside GM's Detroit headquarters received an email Monday morning from GM's CFO Dhivya Suryadevara also telling them "restructuring activities" were beginning. The cuts are part of GM's plan to save $2.5 billion in 2019 as CEO Mary Barra says the company seeks to restructure in relatively good times. The auto industry is changing, with high research and development costs for the anticipated need to capture big shares of the coming market for autonomous ride sharing and delivery of goods. The white-collar cuts are in addition to manufacturing reductions announced Nov. 26. That day, GM said it would idle five North American factories: Detroit-Hamtramck; Lordstown, Ohio; Oshawa, Ontario; Warren Transmission; and a transmission plant in the Baltimore area. In total, some 6,000 factory jobs are jeopardy.
---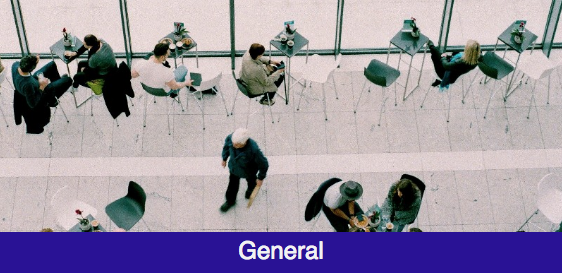 + The U.S. gains 304,000 jobs at the start of 2019 as firms continue to hire at a blistering pace. The average wage paid to American workers rose 3 cents to $27.56 an hour. Companies that provide leisure and hospitality (hotels, restaurants, gambling, recreation) added 74,000 jobs in a surprisingly strong gain. Construction firms took on 52,000 new workers, particularly in fields geared toward commercial building. Health-care providers hired 42,000 workers. Transportation and delivery companies beefed up payrolls by 27,000. Retailers increased staffing by 21,000. + The ISM Manufacturing Index rose to a reading of 56.6 in January, driven by a surge in new orders, and production output. + The Fed decided to keep interest rates the same at 2.25% to 2.5%. Inflation is well under control so the Fed is most likely going to put interest rate hikes on a slower schedule, and let the economy grow. –  The big tax question of the year: Will you get a super-sized refund or suddenly discover that you're going to end up writing one monster check? No one really knows for sure in light of sweeping changes that hit homeowners, two-paycheck couples and families who once had a string of itemized deductions but no longer can take some breaks under the Tax Cuts and Jobs Act of 2017. Taxpayers are getting their first look at how the new tax overhaul hits their pocketbooks when they file their 2018 federal income tax returns. The devil involving those deductions, such as those for property taxes and state income taxes, is in the details. + New Home Sales jumped 16.9% in November, as prices dropped over 11% to an average $302,400. The inventory of unsold new homes fell to 6 months' worth. + Construction Spending rose .8% in November, driven by an uptick in residential construction and public spending projects. – Gasoline prices are creeping up. Oil futures are up to $54 per barrel. Refineries slowed to 90.1% capacity utilization.
+ Freight rates are declining.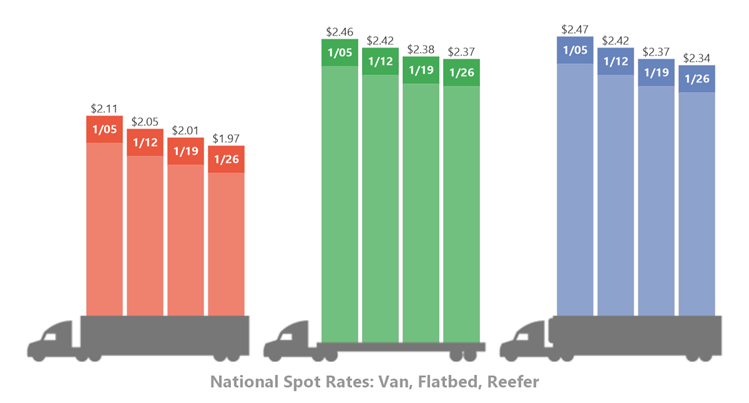 ---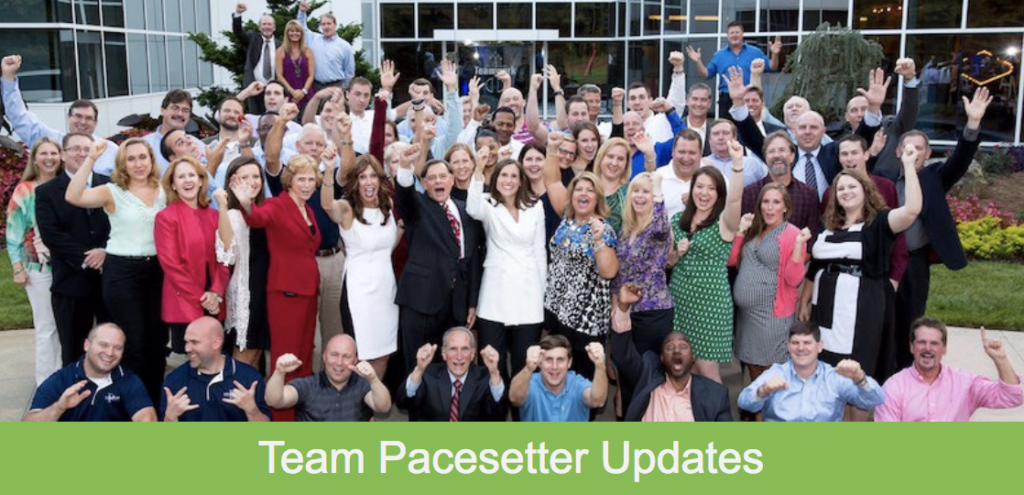 Congratulations!
On Friday, we had our annual award celebration, where these associates were honored with the following awards:
2018 P.A.C.E. (People Achieving Consistent Excellence) Award

Corporate Winner: Barb Graham
Service Center Winnter: Peewee Scott

2018 Claudia B. Waters Award Winner: Dawne Sheeman
2018 A.A.C.E. (Associates Achieving Community Enrichment) Award Winner: Corri Green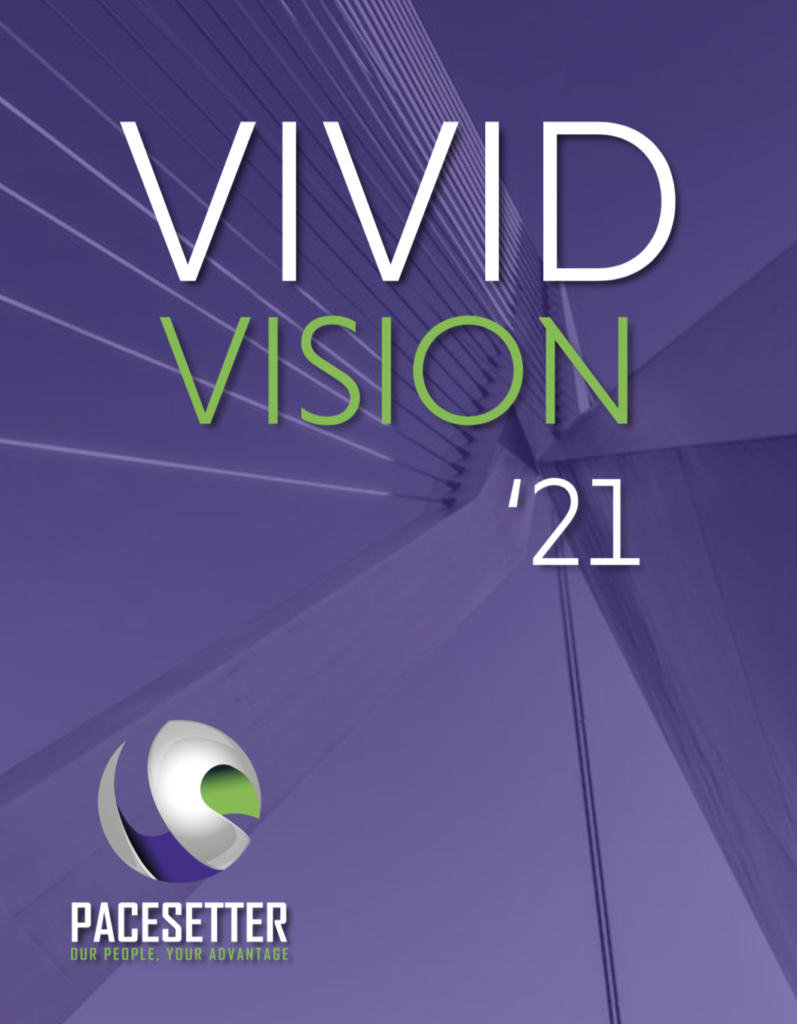 Vivid Vision 2021
Last Friday, our new Vivid Vision was shared to all associates. The Vivid Vision serves as the roadmap for the future of the organization, and the central rallying cry that Pacesetter will innovate. We will be the very best. We will empower one another at every level of our organization.
Take a look through the Vivid Vision 2021 here!
---