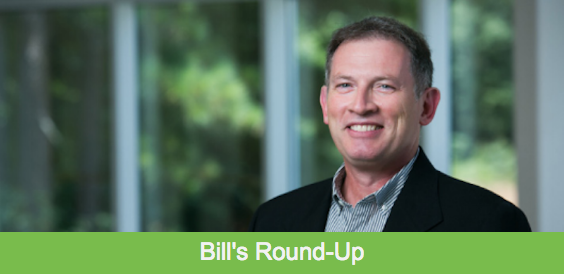 Wall street is ringing in the new year with record returns. The Dow hit 29,000 last week. The S&P is well over 3200 and Nasdaq is over 9000. The naysayers can cry all they want, but the numbers show a robust economy. Even the U.S. trade deficit is starting to turn in our favor. Gas prices and freight rates are a bit high. Domestic steel mills are running at 83% of capacity and steel imports are subdued. Domestic steel mills have announced 5 waves of price increases in the last 12 weeks. The auto industry ended 2019 with a surprising performance of over 17 million vehicles sold.
---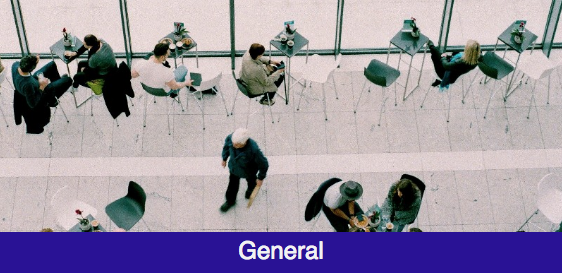 + The trade deficit fell sharply in November for the second month in a row and sank to the lowest level in three years, reflecting a decline in Chinese imports and the reemergence of the U.S. as an energy superpower. The trade gap dropped 8.2% to $43.1 billion in November, the government said Tuesday. It's the smallest deficit since October 2016. Most of the decline recently has been tied to a shrinking deficit with China, whose imports have fallen in the face of stiff U.S. tariffs. Surging U.S. oil exports were another contributor. If the gap remains around the same size in December, the U.S. could post the first annual decline in its trade deficit in 2019 in six years. Exports rose 0.7% to $208.6 billion in November. The U.S. exported more aircraft engines, autos and equipment for oil drilling and exploration. Imports slipped 1% to $251.7 billion. The U.S. imported fewer computers, cell phones, drugs and aircraft, offsetting a big increase in auto imports. – Factory Orders fell .7% in November. + The ISM Non-manufacturing Index rose to a reading of 55 in December. + Toyota wants to weave itself into the fabric of society – and it plans to do so quite literally by building an all-new city near Japan's Mount Fuji that will serve as a "living laboratory" to explore clean energy, alternative transportation and other "smart city" concepts. The giant automaker plans to break ground for what will be called Toyota Woven City in 2021, with a goal of initially having 2,000 people move into the 175-acre complex. The name of the project carries with it a subtle double meaning, Toyota having originally started out as a company making looms and other equipment for the fashion industry. "Building a complete city from the ground up, even on a small scale like this, is a unique opportunity to develop future technologies, including a digital operating system for the city's infrastructure," Akio Toyoda, the CEO of Toyota Motor Corp., and the grandson of its founder, said during a preview at the Consumer Electronics Show in Las Vegas. Groundbreaking for the new city – which could expand in later phases – will begin in 2021. The goal is to "have people living there within five years," said Bjarke Ingels, a Danish architect who specializes in futuristic housing projects, his Bjarke Ingels Group, or BIG, helping Toyota develop the Woven City project. Cities around the world are facing major challenges today, Ingels and Toyoda stressed during the Toyota presentation and a subsequent media roundtable. Not only are they watching populations grow but also they are struggling to adapt to issues like pollution, energy and water needs, traffic and the explosion of data-based services and functions. They are "set in stone and molded by the past," said Ingels, adding that the challenge is to find ways to help cities adapt to changing times. Historically, there have been many utopian communities established around the world, though few have succeeded or survived. Toyota Woven City isn't meant to be another utopian escape but a place where ideas can be tested out and, if they work, applied to existing cities. "It's not about technology for technologies sake," said James Kuffner, CEO of Toyota Research Institute – Advanced Development, one of the subsidiaries that will lead the project. The idea is to come up with useful ideas that, most importantly "put people at the center," Kuffner added. One possibility is the project's unusual road grid. There will be three different types of streets running parallel to each another: one for autonomous vehicles – the only motorized transportation allowed inside the community. Another will be a wide promenade, the third a weaving pathway through a long and narrow park-like setting. The automaker isn't ready to discuss the cost of the venture but those close to the project privately concede it will be substantial. Many of the details have yet to be worked out, including the cost of housing for those who move into Toyota Woven City. They are expected to be a mix of current Toyota employees and their families, retirees, scientists, social researchers and others. The plan also calls for a broad cross section of socioeconomic groups to reflect life in other cities. In something of a surprise, the project leaders have decided that the community's official language will be English, rather than Japanese, reflecting the goal of bringing in numerous partners. – Gasoline prices are starting the new year high.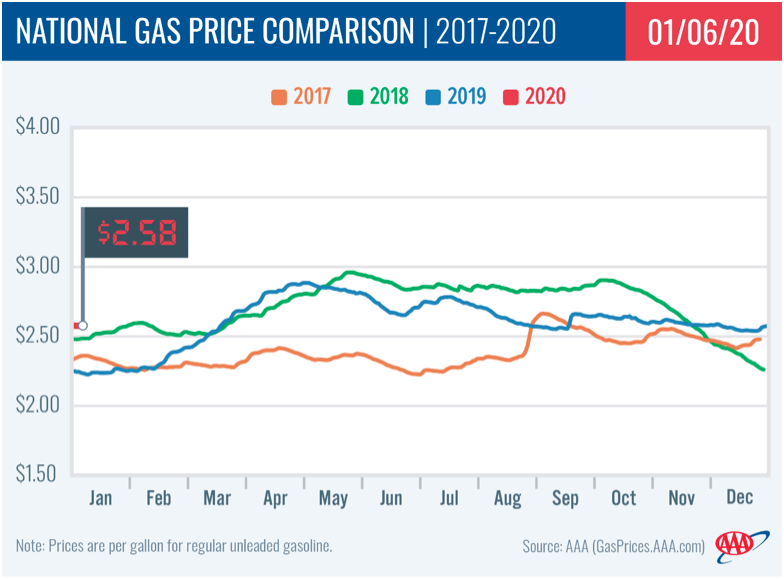 – Freight rates continue to climb.

---
– #1 heavy melt scrap is steady at $229 per ton while #1 busheling scrap rose to $300 per ton. + Raw steel production rose to 82% of capacity. – Iron ore FOB Chinese ports is up to $93 per dry metric ton. – Zinc prices are creeping up.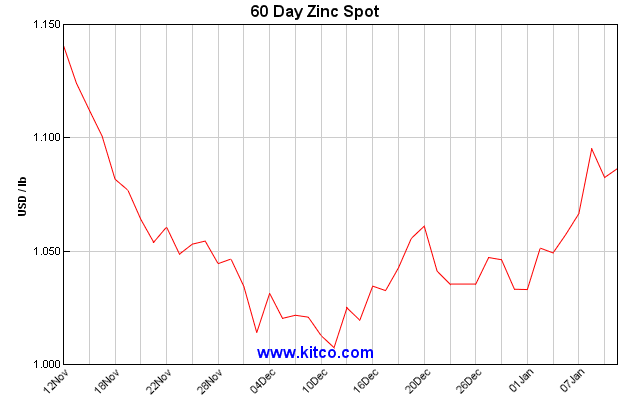 – January galvanized imports are starting out slow.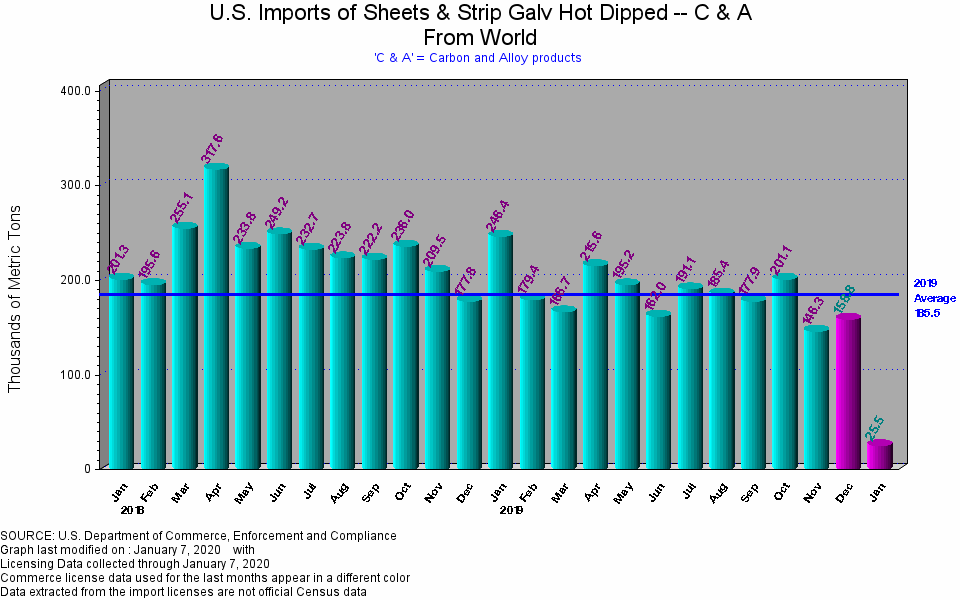 + Algoma in Canada raised prices by $40 per ton. + Stelco in Canada raised prices by 50 Canadian dollars per ton. + USS-Posco announced a $40 per ton price increase. + ArcelorMittal told their customers they were raising prices by a minimum of $40 per ton. + California Steel announced a $40 per ton price increase. + NLMK announced a $40 per ton price increase. + Nucor announced a $40 per ton price increase. + These mill price increases represent a 5
th
wave of mill increases since late October 2019.
---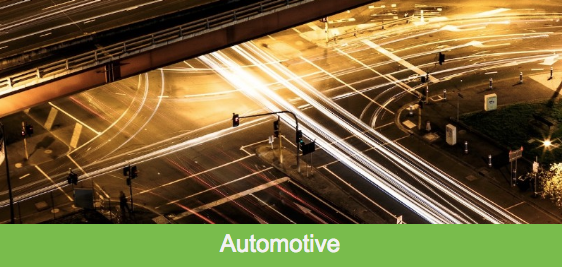 + Sales of new vehicles in the United States topped 17 million units for the fifth consecutive year despite a strike at General Motors and sales declines by big manufacturers such as Fiat Chrysler and Toyota. The factors working against topping the big number were offset by modest gains by Honda and Hyundai and record results by Tesla. Despite the lengthy strike, GM's deliveries took only a minor hit, falling just 2.3% for the year, with the company reporting it delivered 2,887,046 vehicles in 2019. Deliveries were hit hardest, not surprisingly, during the fourth quarter, where they fell 6.3%. Meanwhile, FCA said U.S. sales for the fourth quarter were 542,519 vehicles, down 2%, while sales for the year were down 1% at 2,203,663 vehicles. Retail sales were 419,273 vehicles during the quarter. Fleet accounted for 22.7% of total sales. The Ram brand led the way with record-setting sales of 190,655 for the quarter and 703,023 vehicles for the year – an 18% increase compared with 2018. Ford Motor Co.'s U.S. sales fell 3% in 2019, the automaker said Monday. The 2.4 million vehicles delivered by the automaker pushed industry-wide sales to 17.1 million in 2019. American Honda sales of cars and trucks rose 0.2% in 2019. Honda brand trucks set new annual record with gain of 3.4% for year. Acura SUVs remained strong, with ILX sales growing 30.3% for the year. Honda, however, suffered a setback in December as sales by the Honda brand dropped 12.9% and Acura sales dropped 2.8%. Toyota Motor North America sales were down, reporting December 2019 sales of 207,373 vehicles, a decrease of 6.1% on a volume basis and down 2.4% on a daily selling rate basis versus December 2018. For the year, TMNA reported sales of 2,383,349 vehicles, a 1.8% decrease. Nissan Group announced total U.S. sales for December 2019 of 104,781 units, a decrease of 29.5% versus the prior year. It also announced total calendar year 2019 U.S. sales of 1,345,681 units, a decrease of 9.9% compared with the prior year. + Sony says it wants to "reimagine mobility as we know it, opening up a new world of mobility using creativity and technology." Now the Tokyo-based entertainment conglomerate says it wants to inspire people and provide greater peace of mind through mobility. Sony says the car, roughly the same size as BMW's 5-Series, is designed to show what it and several suppliers can do. Sony teamed with Magna Steyr to develop the platform, and the car uses two 200-kW (268-hp) electric motors, good enough for a 4.8-second sprint to 62 mph and a 149-mph top speed.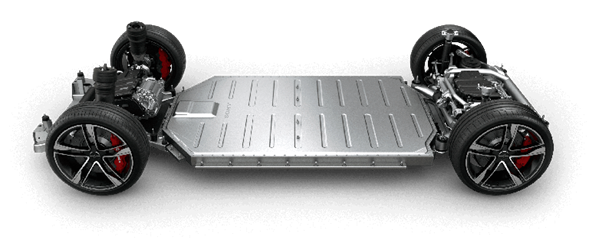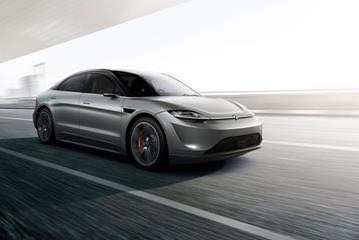 – Another 10 million airbag inflators made by now-defunct Takata Corp. must be repaired in what could be the last major wave of the auto industry's largest-ever safety recall crisis. This might be final phase in a series of scheduled recalls covering of tens of millions of the defective parts that the now-bankrupt auto supplier agreed to undertake in a 2015 settlement, according to the U.S. National Highway Traffic Safety Administration. The parts covered by the latest recall were installed in earlier repairs despite sharing the same basic flaw as the components they were replacing: explosive propellant that can become unstable in hot, humid climates and explode in a crash, spraying vehicle occupants with metal shards. At least 24 deaths and about 300 injuries worldwide have been linked to the lethal airbag defect. The parts recalled were supplied to 14 automakers for their U.S. vehicles, including Honda Motor Co., Fiat Chrysler Automobiles and BMW AG. Some automakers have already announced their share of the recalls. Subaru Corp.'s U.S. unit said it would recall roughly 500,000 vehicles in the county to replace the components. Fiat Chrysler began fixing the affected parts in its vehicles in 2015 and no additional recalls will stem from Takata's latest action, a spokesman for the automaker said. Takata was purchased in April 2018 by China's Ningbo Joyson Electronic Corp. and renamed Joyson Safety Systems. Some 34.6 million inflators have been repaired while 12.8 million defective parts remained on the road as of mid-November, NHTSA said. – Newly released data from the Federal Highway Administration shows the percentage of American teenagers with licenses to drive have more or less plateaued at levels much lower than those of a few decades ago. In 1984, 47.8% of 16-year-olds in this country could legally drive. In 2018, only 25.6% could. The simplest explanation for this trend, and especially the fact that it is more pronounced among 16-year-olds than 19-year-olds, is that it's a lot harder for a 16-year-old to get a license and go for a drive than it used to be. Since the mid-1990s, states have imposed a panoply of new restrictions on when and with whom those under 18 can drive, under the (seemingly correct) assumption that this would reduce accidents and driving deaths. Many states have also cut back sharply on funding for driver's education. Cars and car ownership aren't going away, at least not yet, and while transit ridership is higher than it was in the 1960s through 1990s, it has fallen since 2014 and remains very much a minority pursuit. Per-capita vehicle miles traveled in the U.S. are well below the levels of the mid-2000s, and have plateaued recently after bouncing back a bit from 2014 to 2017. We seem to have passed peak automobile in the U.S.
---