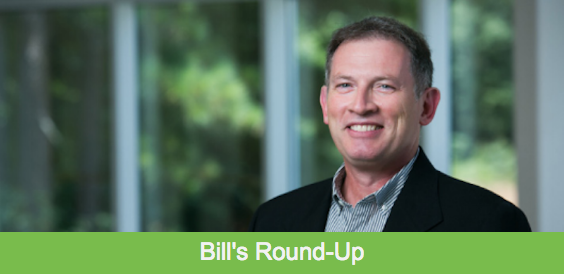 "Bill's recap:
As the US economy continues to expand, there is still trouble in housing construction, but hopefully with warmer weather, that sector will gain momentum. 2019 is shaping up to see more bricks and mortar stores close as internet shopping takes its toll. Gasoline prices continue on an uphill trend. Domestic steel mills are producing at rates not seen for 10 years but there are clouds on the horizon in the form of lower demand from the automotive sector as well as new capacity coming on stream over the next couple years. Galvanized imports continue to be weak. The automotive industry continues to evolve with opposing product offerings from a $200,000 Mercedes SUV to be built in Alabama to Toyota investing in its assembly plants in the US to build hybrid powered daily driver vehicles. The electric car debate continues. Are they actually cleaner than gas powered cars?" – Bill Feier, Manager of World Sourcing
---
– #1 heavy melt scrap is up to $318 per ton while #1 busheling scrap is steady at $375 per ton.
+ Raw steel production rose to 83.4% of capacity, setting another new high mark for domestic steel mills that we had not seen since 2008.
– Iron ore FOB Chinese ports is up to $85 per dry metric ton.
– Zinc prices continue an upward trend.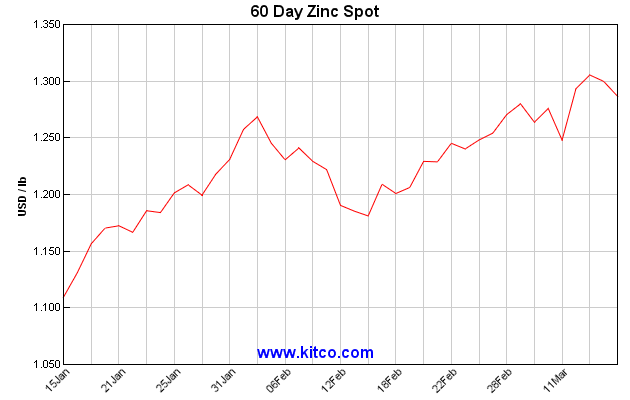 – March galvanized import volume looks weak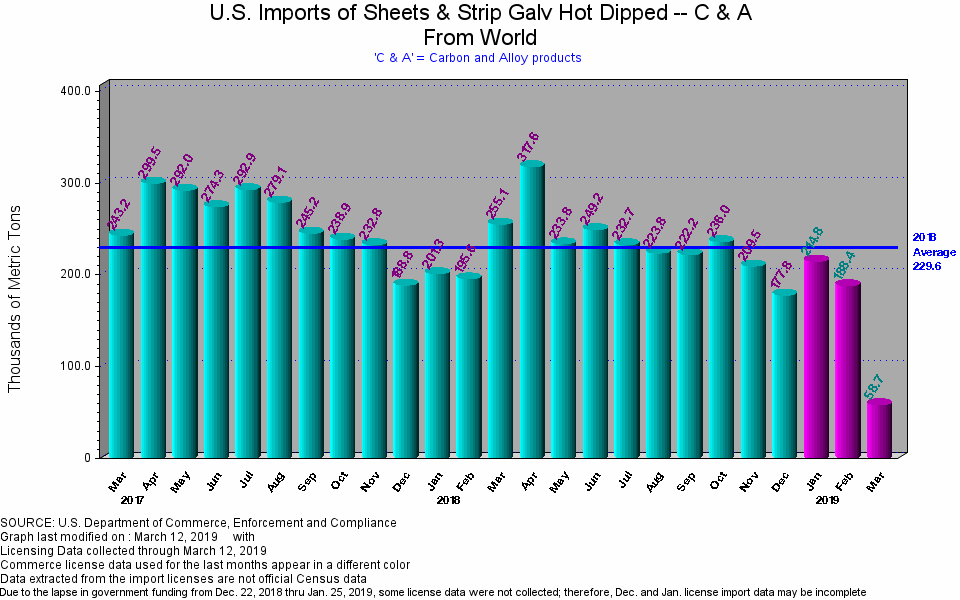 ---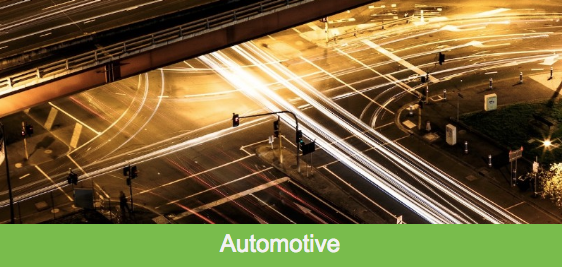 + Toyota Motor Corp. on Thursday announced it is investing an additional $750 million at five U.S. plants that will create nearly 600 new jobs, including the production of two hybrid vehicles for the first time at its Kentucky facility. It marks yet another expansion of the Japanese automaker's U.S. presence, bringing to nearly $13 billion the amount it will spend by 2021.
– Ford Motor Co. expects the cost of health insurance for its 56,000 hourly workers in the U.S. to top $1 billion for the first time next year, according to a person familiar with the situation, highlighting the growing expense for automakers. Nationwide, health expenditures are projected to grow by 5.5% annually from 2018 to 2027, according to a new study by the Centers for Medicare and Medicaid Services. But unionized auto workers enjoy some of the most generous medical coverage plans in the country and have been spared premium increases. The UAW sees that as a hard-won benefit that helps make up for concessions to automakers in other areas. But automakers view these gold-plated worker plans as a growing burden that puts them at a disadvantage against rivals with nonunionized factories.
– How clean is an electric car? In 2018 the U.S. produced 63.5% of its electricity from fossil fuels that are non-renewable. That's natural gas, coal, and petroleum. Nearly two-thirds of an electric car's battery is filled electricity from that. Nuclear power is also nonrenewable. That accounts for another 19.3% of our electricity here in America. So, if you're plugging in at home and don't have some sort of solar array, 82.8% of your car's battery is filled with nonrenewable fuels. An electric car's battery isn't easy on the environment either. The lithium and rare earth metals take a substantial toll. At the Jiangxi rare-earth mine in China, "Workers dig 8-foot holes and pour ammonium sulfate into them to dissolve the sandy clay. Then they haul out bags of muck and pass it through several acid baths; what's left is baked in a kiln, leaving behind the rare earths required by everything from our cell phones to our Teslas." That's from David Abraham's book "The Elements of Power." Rare earths amount to 0.2% of what gets pulled out of the ground at that mine. The other 99.8%, now contaminated with ammonium sulfate is dumped back onto the ground. What will people do when all the electric car batteries lose their ability to recharge? How will these "end of life" batteries be disposed? Electric cars apparently produce more greenhouse gasses than comparable gasoline powered cars, according to this chart from the South China Morning Post.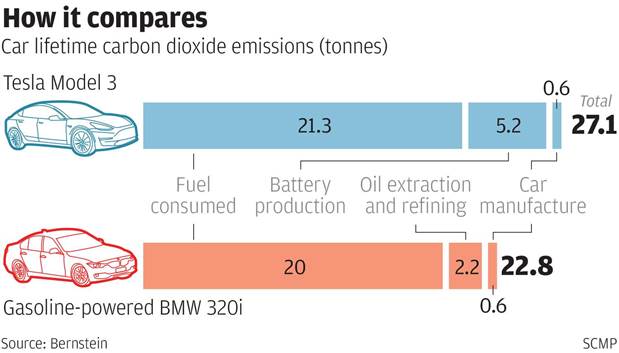 + The $200,000 Mercedes-Maybach GLS  will be built In Alabama. It will effectively become the most expensive new car built in the United States. Sources close to the matter cited by Automotive News have revealed the model in question will be built at the Tuscaloosa, Alabama factory where Mercedes currently makes the C-Class Sedan, GLE, GLE Coupe, and the outgoing GLS.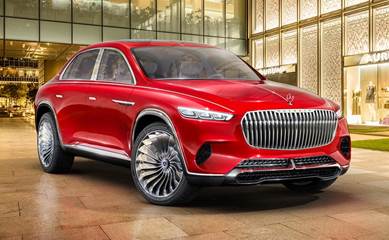 ---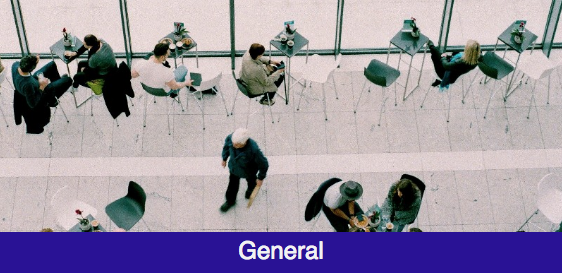 + The Consumer Price Index rose .2% in February. Inflation is under control.
+ The Producer Price Index rose .1% in February showing that inflation is well under control in manufacturing.
+ Durable Goods Orders rose .4% in January, driven by commercial aircraft orders (for the third straight month).
+ Industrial Production edged up .1% in February driven by a weather related boost to public utility output.
+ Happy birthday World Wide Web. WWW is 30 years old now. Sir Tim Berners-Lee invented the World Wide Web in 1989 while working at CERN. Tim wrote the three fundamental technologies that remain the foundation of today's web (and which you may have seen appear on parts of your web browser):
HTML: HyperText Markup Language. The markup (formatting) language for the web.
URI: Uniform Resource Identifier. A kind of "address" that is unique and used to identify to each resource on the web. It is also commonly called a URL.
HTTP: Hypertext Transfer Protocol. Allows for the retrieval of linked resources from across the web.
Tim also wrote the first web page editor/browser ("WorldWideWeb.app") and the first web server ("httpd"). By the end of 1990, the first web page was served on the open internet, and in 1991, people outside of CERN were invited to join this new web community. As the web began to grow, Tim realized that its true potential would only be unleashed if anyone, anywhere could use it without paying a fee or having to ask for permission. Tim moved from CERN to the Massachusetts Institute of Technology in 1994 to found the World Wide Web Consortium (W3C), an international community devoted to developing open web standards. He remains the Director of W3C.
– Gap, Victoria's Secret, J.C. Penney, Tesla, and Abercrombie & Fitch. What do these companies have in common? They're all closing stores this year. Already, 4,810 store closures have been announced by retailers in 2019, according to Coresight Research. And it's only March. Last year, Coresight tracked 5,524 store closures, down more than 30% from a record 8,139 closures announced in 2017. Amazon said this week it will shut down all 87 of its pop-up shops inside Whole Foods, Kohl's and malls across the country. But the company has vowed to invest more in its book stores and other bricks-and-mortar concepts, including its cashierless convenience store called Amazon Go.
+ Construction Spending rose 1.3% in January, driven by public, nonresidential spending and multi-family housing projects.
– New Home Sales fell 6.9% in January even though prices fell to an average $317,000. The inventory of unsold, new homes grew to 6.6 months' worth.
– Gasoline prices are increasing even though refineries slowed to 87.6% of capacity. Oil futures rose to $58 per barrel.
– Freight rates leveled off.

---