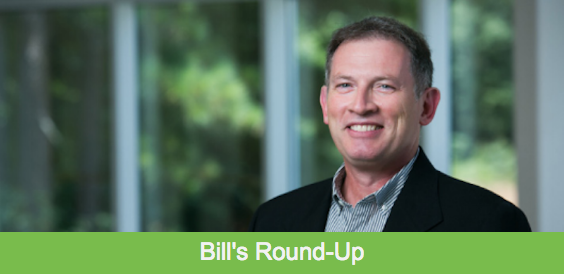 "Bill's recap: The Fed indicated our economy continues to grow, but at a slower pace. Housing construction is growing at the same time that existing home sales are increasing. Gasoline prices seem to be under control which is good for consumers, but truck freight rates are getting more expensive. Our steel mills continue to produce at capacity rates over 80% but there are clouds over the horizon and steelmaking capacity is being taken off line. Galvanized imports continue to slow. Used car dealers are enjoying brisk sales as the price of new vehicles seems to be steering consumers to take a good look at the used car option.
---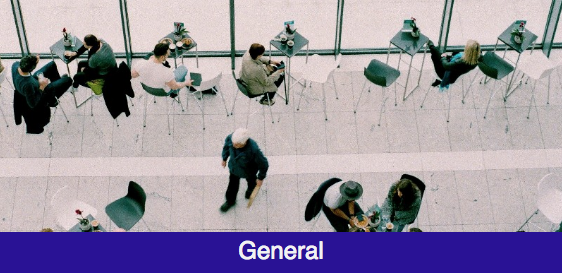 + Housing Starts rose 2.7% in May, driven by multi-family unit construction. Permits were down very slightly (well under 1%). + The Fed left interest rates the same at 2.25% to 2.5%. Although the labor market remains strong, economic activity has been downgraded from solid to moderate. Household spending is increasing but business spending is slowing. + Existing Home Sales rose 2.5% in May even though prices for used homes jumped to an average $277,700. + American motorists are headed toward new milestones this summer, according to the Energy Information Administration (EIA). For the week ending on June 14, EIA's data revealed that demand for gasoline hit its highest-recorded point, at 9.93 million barrels per day, since the federal agency began publishing the data in 1991. Typically, when demand hits levels like this in the run-up to summer, pump prices are much higher. However, with domestic crude prices hitting their lowest points of the year recently, closing at $53.76/bbl yesterday (over $12/bbl cheaper than spot prices last year at this time), gas prices around the country have dropped. The price of crude comprises approximately 60% of the costs motorists pay to fill-up at the pump. Since Monday, the national average for unleaded regular gasoline has decreased by two cents to $2.66. – Freight rates are increasing.

---
+ #1 heavy melt scrap fell to $235 per ton while #1 busheling scrap was steady at $285 per ton. + Raw steel production hit 81.1% of capacity. – Iron ore FOB Chinese mills is $107 per dry metric ton. + Zinc prices are coming down nicely.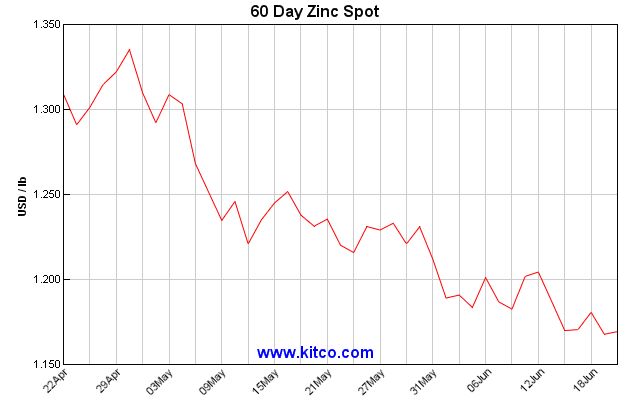 – Galvanized imports continue to be slow.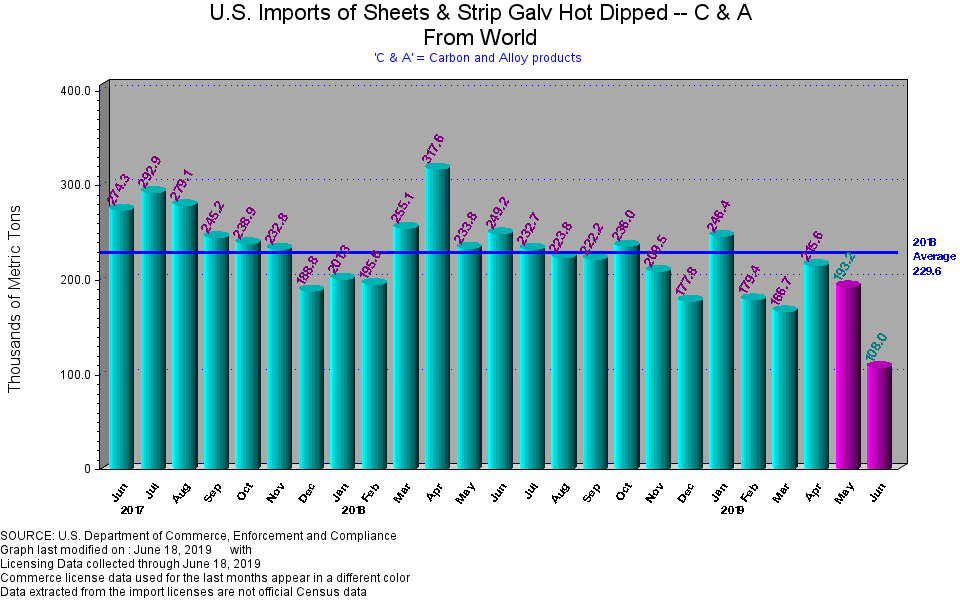 + To help Big River Steel conserve resources and control energy output, SMS group and Noodle.ai came together to couple the deep experience SMS group has in the metal industry and process knowledge with Noodle.ai's AI expertise. The joint solution was created by implementing Noodle.ai's learning algorithms into SMS group's X-Pact MES 4.0. Noodle.ai was able to leverage the existing integration of SMS group's X-Pact MES 4.0 in the steel mill's IT environment and in their SaaS (Software as a Service) applications. The new end solutions digitize applications throughout every stage of the steel-making process – starting at the liquid phase all the way to strip finishing. Noodle.ai's software and Enterprise AI Data Platform analyzes historical and current high-frequency data from the mill's 50,000 sensors, attached to SMS group's state-of-the-art equipment. Noodle.ai is able to use the mill's data, plus these sensors and external data to sense, predict, and recommend corrections that ultimately maximize production yields, enhance product quality, mitigate safety risks, and minimize costs. "By working with SMS digital, we are empowering an industry to turn business challenges into competitive advantages through the use of Enterprise AI," said Noodle.ai CEO Steve Pratt. "Our mission is to create a world without waste". – U.S. Steel plans to idle two blast furnaces in the United States and one in Europe as a result of "current market conditions," the company announced in earnings guidance released after the close of markets on Tuesday June 18.  The B2 blast furnace at U.S. Steel's Great Lakes Works near Detroit will remain idled after a planned maintenance outage. The company also will temporarily idle a south blast furnace at its Gary Works facility near Chicago.  The idlings will reduce monthly blast furnace capacity by 200,000-225,000 tons beginning in July, according to U.S. Steel.
---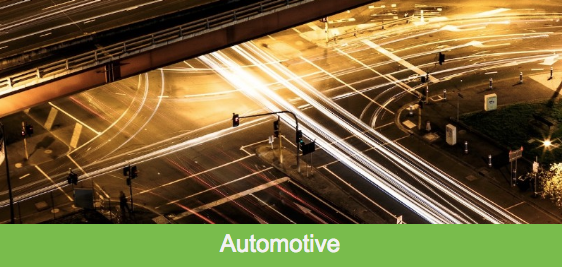 + Jim Farley is the guy who prefers to be dressed in jeans and a T-shirt, spending time in a garage wrenching on classic Mustangs and vintage motorcycles. He respects men and women who have oil-stained clothes, busted knuckles and grease under their nails. He appreciates people who do engine and body work themselves. It's how he paid his way through school. Farley at age 14 talked himself into a summer job rebuilding car engines in Southern California. And he would sort old parts, like power steering pumps and brake shoes. When he saved up $500 to buy a black 1966 Mustang with a blown motor that he spent the summer fixing. James D. "Jim" Farley Jr., 56, is not a senior executive who hangs out at the yacht club sipping martinis. A friend left Farley a vintage car two decades ago after securing his promise to drive it. So Farley took lessons and now travels the world racing an original Ford GT40. He says there's nothing like driving the Le Mans track in France at 2 a.m. in the rain. "Properly tuned, my 1965 GT40 goes over 200 miles per hour," he said. "When I get out of the car after a long hard race, you feel so calm and relaxed. It's my yoga." This is the man assigned to guide Ford Motor Co. into the future. After earning degrees in economics and computer science at Georgetown University and an MBA at UCLA in 1990, Farley scored job offers from Ford, General Motors and Toyota. At Ford, he would have concentrated on just one aspect of the F-Series truck. Toyota offered him the chance to focus on the whole car, specifically the launch of a new luxury brand no one had heard of — Lexus, where he spent the next 12 years. Then he went to Ford. Bill Ford was quoted in the New York Times in April 2008, saying, "Intense is a good description of Jim, incredibly intense. He feels everything." "He's very, very intense," said Janet Lawson, who was with the Ford Fund. He doesn't think in straight lines. He thinks in spirals. I would want my tomorrow in Jim Farley's hands. He is wicked smart."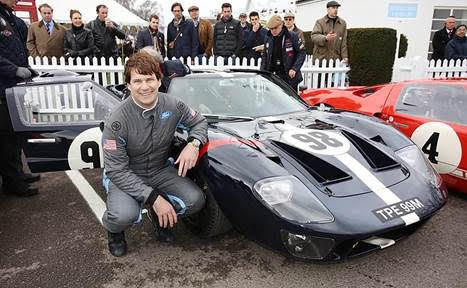 + A big jump in vehicle sales helped propel used-vehicle retailing giant CarMax Inc. to record profits in its fiscal first quarter ended May 31. The nation's largest used-vehicle retailer reported that net income rose 12% to $266.7 million, a first-quarter record. Net sales and operating revenues jumped 12% to $5.37 billion. CarMax retailed 224,268 used vehicles, a 13% spike, during its first quarter. Same-store used-vehicle sales rose 9.5% percent compared with a dip of 2.3% percent in the year-ago period. Wholesale-vehicle sales increased 6.6% to 120,768. Per-vehicle profits were stable with used-vehicle retail gross profit per unit remaining at $2,215. The company's average used-vehicle sales price dropped slightly to $20,050. The average price of a new vehicle is over $37,000 this year, so companies like CarMax are enjoying an uptick in business as consumers consider buying used cars and saving some money.
---