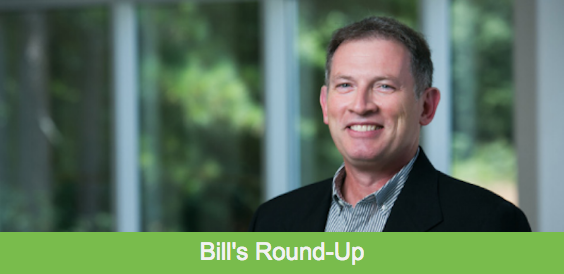 "Bill's recap:
The US GDP looked good in the first quarter. Although there are bumps on the road regarding housing and automobile sales, the US economy continues to grow. Gasoline prices are moderating. Freight rates are cheaper. The domestic steel industry continues on a steady pace. Galvanized imports remain weak. The European steel market seems to be slowing and British Steel has gone into the U.K.'s version of bankruptcy. The global automobile industry seems to be bracing for a slowdown. Has the world hit "peak car"?

---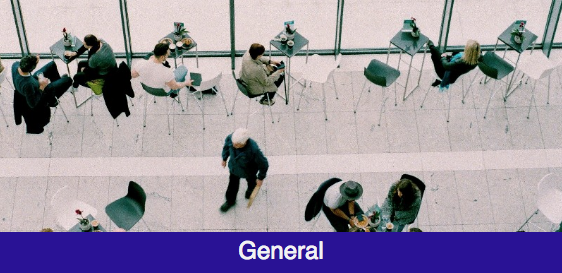 + U.S. economic growth was robust in the first quarter, although fresh government data showed less business investment, a decline in corporate profits and muted consumer spending. The Q1 GDP registered 3.1%.
– Millennials are doing worse financially than generations before them, with student loans, rising rents and higher health care costs pushing the average net worth below $8,000, a new study shows. The net worth of Americans aged 18 to 35 has dropped 34% since 1996, according to research released Thursday by Deloitte, the accounting and professional services giant. This demographic is paying more for education and such basics as food and transportation while incomes have largely flatlined. Education expenses have climbed 65% in the past decade. Food costs have jumped 26%, health care is up 21%, housing jumped 16% and transportation rose 11%. And there are now expenses that most consumers didn't have to account for 20 years ago, including smartphones and data plans. Overall, U.S. retail spending has grown about 13% since 2005, to roughly $3 trillion a year, but researchers say much of that growth is tied to population growth, not consumers spending more.
– Uber Technologies Inc. reported a $1 billion loss last Thursday as the ride-hailing service spends heavily to build up its food delivery and freight businesses, sending revenues up 20% in its first quarterly report as a public company. Chief Executive Dara Khosrowshahi cited business improvements, such as fewer consumer promotions in the second quarter, but called 2019 an "investment year."
– The ISM Manufacturing Index fell to a reading of 52.1 in May. The reading shows growth, but it has slowed to a two year low.
– Construction Spending was dead flat in April.
+ Gasoline prices are moderating even though refineries are operating at 91.2% of capacity. Oil futures are down to $58 per barrel.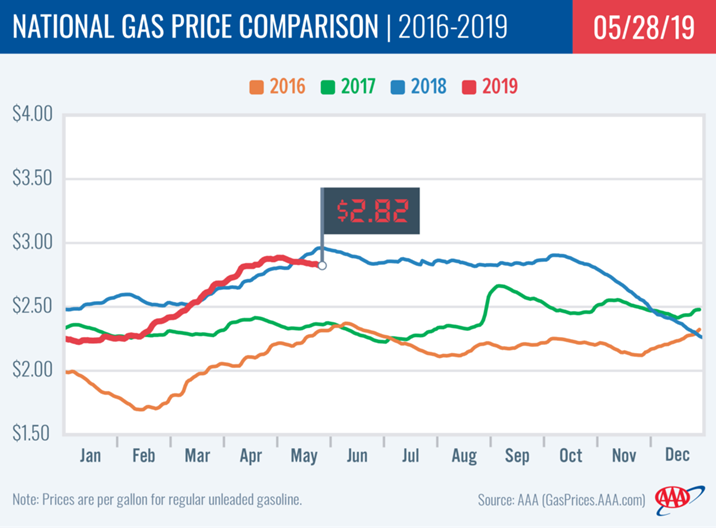 + Freight rates are a little soft.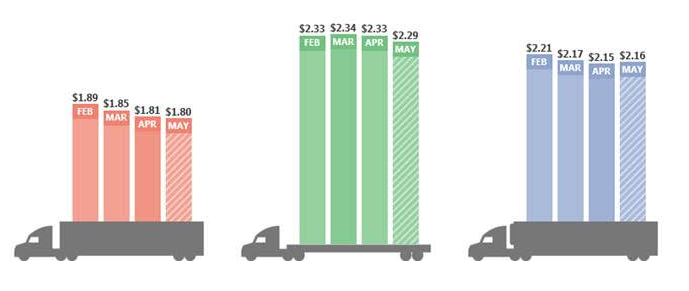 ---

– #1 heavy melt scrap is static at $263 per ton as well as #1 busheling scrap at $315 per ton.
+ Raw steel production was 81% of capacity.
– Iron ore FOB Chinese ports is $98 per dry metric ton.
+ Zinc prices are on a good trend.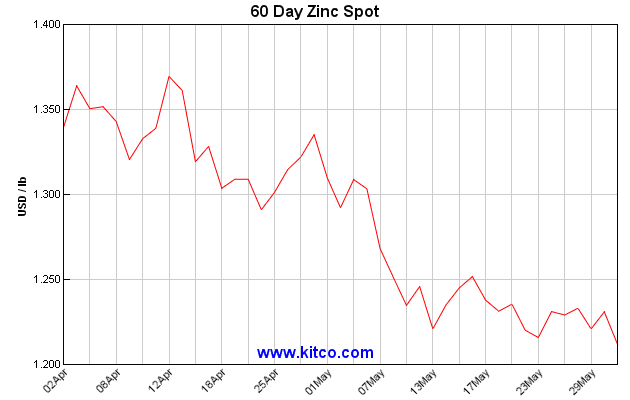 – Galvanized imports for May are slow.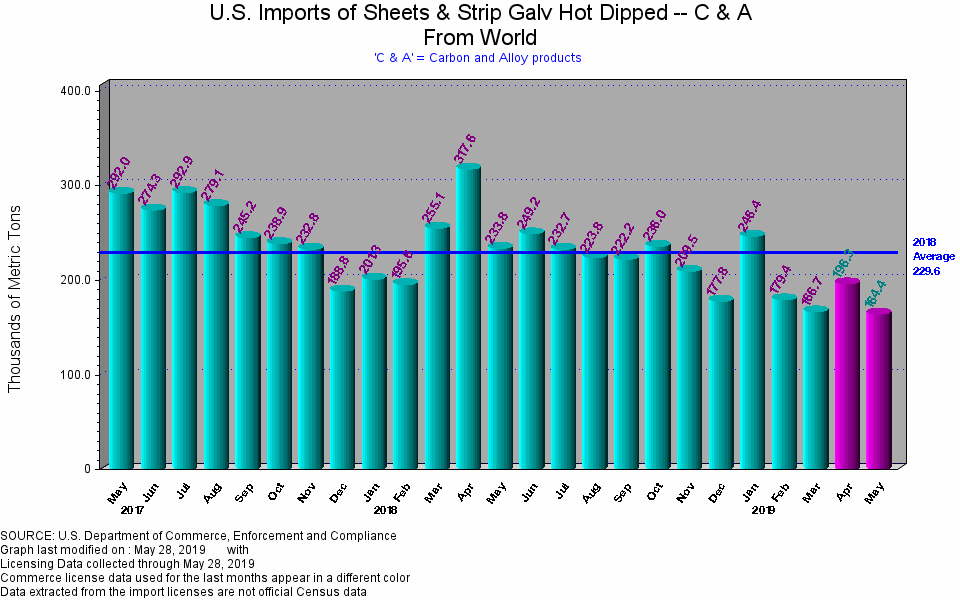 + Extraterrestrial steel ($31,741 at Auction Link). The Muonionalusta meteorite impacted in northern Scandinavia about one million years B.C. The first fragment was found in 1906 and around forty pieces are known today, of which this is one. Modern cutting has highlighted the meteorite's octahedrite crystalline fingerprint in three dimensions, resulting in a 13.1 kg cube with 4¾ inch sides. This dense iron-nickel sculpture is in effect, extraterrestrial steel.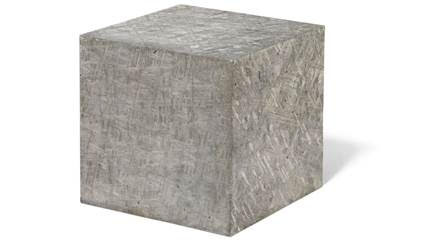 – ArcelorMittal says that it will increase its production cuts in Europe in response to ongoing steel demand weakness and high imports levels in the market. The new cuts are expected to reduce output by some 1-1.5 million tonnes/year, mainly in the flats sector, adding to the previously-announced measures impacting some 3 million tonnes of production. The company says that primary steelmaking production will be reduced in Dunkirk (France), Bremen (Germany), Eisenhüttenstadt (Germany) and Asturias (Spain). In Bremen and Asturias, the impact will be mainly in the fourth quarter, when one blast furnace at each of the plants will be halted for repair work to be carried out.
– British Steel was placed into compulsory liquidation on May 22, putting 5,000 jobs at risk and endangering 20,000 in the supply chain. It followed a breakdown in rescue talks between the government and the company's owner, Greybull Capital. For now, the government is covering the firm's wage bill. But if the Official Receiver fails to find a buyer, British Steel could be shut down. Greybull Capital bought the business for £1 from Tata during depths of the 2016 steel crisis, going on to rebrand it as British Steel. The private equity firm hoped to turn around the business, which employs most of its staff at plants in Scunthorpe and Teesside, but has recently run into trouble. On Wednesday May 15 – one week before its failure – British Steel was scheduled to complete the acquisition of French steelmaker Ascoval for $50.6 million. It couldn't afford this, so it approached the U.K. government for help and was refused. According to the French daily Le Monde, the acquisition went ahead anyway. Ascoval is now owned by Greybull. So in effect, Greybull had asked the U.K. government to fund its acquisition of a French company. It takes some chutzpah to ask your government to pay for your foreign spending spree, and even more to pull the plug on the home business when it refuses to do so.
---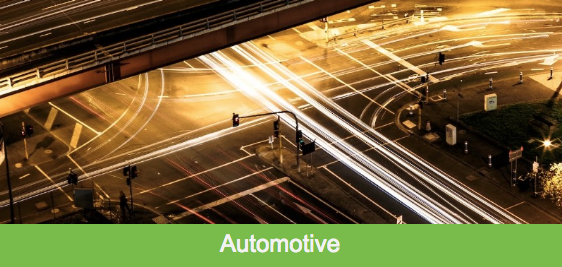 – As global auto sales slow after a decade of growth, carmakers are girding for a deeper downturn by slashing payrolls. From China to the U.K., Germany, Canada and the U.S., companies have announced at least 38,000 job cuts in the past six months. Carmakers are cutting shifts or closing factories altogether across the globe. Several recent rounds also target salaried workers, reflecting sluggish sales in the world's two largest auto markets — China and the U.S. — and the pivot auto companies are making toward a future of electric and self-driving vehicles. Ford Motor Co. said Monday it will eliminate 7,000 jobs, or 10% of its white-collar workforce worldwide. Here's a rundown of major job reductions announced or reported in the past six months:

– For the auto business, "The pain is just beginning," according to Nomura analyst Masataka Kunugimoto and his team. "We now expect global auto demand to be down 3%," year on year, in 2019, he told clients recently. He is not alone. At bank after bank, analysts are coming round to the idea that the world may have passed "peak car," and that in the future humans will need fewer personal vehicles.
+ At 61, Michelle Fountaine is asked often why she waited so long to start a new career. "Well, opportunity didn't present itself until later in life." said Fountaine, who has spent 26 years working for Ford Motor Co. on the assembly line at the Cleveland Engine Plant. "When you work on the line, it's repetition. You're doing the same thing day in and day out," she said.  "And when you're a millwright, you never know what you're going to do. We're hanging steel, boring holes, moving heavy equipment. A lot of women have a problem stepping outside their comfort zone. But hey, try it. You might like it." Fountaine and her daughter Ventura Robinson, 42, are two of thousands of workers who have signed up for special training programs through Ford, General Motors and Fiat Chrysler. The companies are spending tens of millions of dollars on skilled trades training as part of their competitive joint apprenticeship programs. Gary Johnson, Ford chief officer, global manufacturing and labor affairs, said in a statement that the training allows for technology and equipment support "critical to keeping our plants running" while it allows workers to enhance their skills and experience.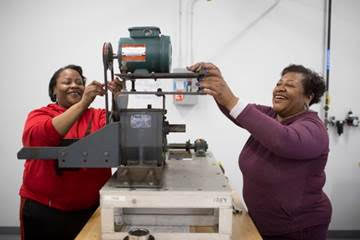 – Volkswagen AG is making changes to its battery-purchasing plan worth about 50 billion euros ($56 billion) over concerns that one of its supply deals, with Samsung SDI Co. Ltd., might unravel. Samsung initially agreed to deliver batteries for just over 20 gigawatt hours, enough to power 200,000 cars with 100 kilowatt hour packs, before different views on production volume and schedule emerged during detailed negotiations, said the people, who asked not to be identified as the talks are confidential. The impasse cut pledged supplies to less than 5 gigawatt hours, they said. Access to vast amounts of batteries to power a growing number of electric vehicles has emerged as a new battleground for global automakers amid capacity constraints, supply bottlenecks and limited access to raw materials. Producing batteries safe to use in cars is more complex than the technology used for consumer electronic devices like smartphones. VW is spending 30 billion euros on the industry's biggest push into electric vehicles with a new range of purely battery-powered cars to challenge electric-car leader Tesla Inc. The German manufacturer's electric ID.3 hatchback will start rolling off assembly lines later this year.
---