Steel Cut to Length Line Processing Services
Pacesetter is all about steel. Whether it's providing premium steel products to our customers or working on custom finishing and processing capabilities, our world revolves around steel. In addition to steel processing services, we also offer finishing services, including:
We provide three primary processing services at our advanced steel processing center: slitting, blanking/multi-blanking, toll processing, and cut-to-length services. Learn more about our steel cut-to-length processing services and contact us for a quote for your next project. We have steel service centers in Atlanta, Houston, and Chicago.
Steel Cut-to-Length (CTL) Lines
Our cut-to-length machines have a length tolerance within /- 0.015″ for dry and +/- 0.031″ for oiled steel. We provide incredibly accurate lengths engineered to meet your exact project specifications for perfectly flat sheets of steel. 
Our machines use corrective levelers to expand the steel material beyond its yield point. During the processing treatment, we'll remove internal stresses and produce a precise flat sheet of panel steel. 
We offer processing-painted and surface-critical sheets, and we can also add protective film (strippable) and oiling to your product. We offer cut-to-length services for all our steel products, including:
Types of Steel Cut-to-Length Machines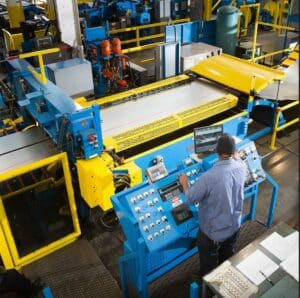 The CTL process is straightforward. Our technicians process lines of flattened steel sheets based on the customer order. The machine will cut the material to the specified length, and we can produce straight crosscut, multi-blanking, trapezoidal shearing, or scrolling lines. 
There are three primary types of cut-to-length machines: 
Row Feed Line: A machine that uses rotary and coders to run the sheet continuously through a looping pit while only halting the coil at the shear. Stopping the leveler while processing steel can leave marks which are eliminated thanks to this machine. 
Flying Shear Machine: The sheet coil is first unpackaged and placed on a turnstile. We then place the steel on a cool cart to put on the coiler. We will perform a test cut and then process the order to your desired specifications. 
Feed to Stop Line: The metal sheet runs under the sheer to a limit switch, and as it moves across the machine, it slightly angles or humps up. This type of line is also called a hump line for that very reason. The machine shears the sheet on the machine in the middle.
Benefits of Cut-to-Length Steel Processing
There are many benefits to cut-to-length processing, including: 
Reduce Processing Time: Our skilled technicians and advanced machines help us fill orders quickly so you can receive the material you need and improve your delivery time. 
Reduce Scrap: Compared to blanking processing, we don't have to worry about scrap metal because we cut to an exact measurement. 
Lower Transaction Costs and Streamline Orders: Once we have your order specifications, we can complete orders fast for quick turnarounds and lower costs to our customers.
Pacesetter: Your Trusted Steel Supplier!
If you are in the market for quality steel processed to your exact specifications, fill out the form below. We can give you an accurate quote once you tell us the requirements and quantities. Schedule an appointment if you ever want to meet in person or visit one of our steel service centers. We are happy to show you around at a service center near you.