Perforated Steel Sheet Manufacturer and Supplier
Perforated steel sheets are a unique type of steel finishing service. They combine a unique aesthetic design with durable utility. Perforated steel is one of three steel finishing types. They are:
Each type of finish has different looks and benefits, so make sure to explore all options. A Pacesetter expert can help you choose the right finishing product for your project. Speak with our experts today.
What is Perforated Steel?
Perforating steel is the process of punching small holes in a specific diameter and pattern. You've probably seen perforated steel on products like speakers and intercom facings. It has other practical applications too, including:
Fences
Flooring
Tables
Stairs
Drums
The process of perforating steel can be applied to metal of almost any thickness, from thin foil to dense plates. The shape of the perforations is customizable, too. Perforated steel sheet suppliers can create holes in designs like:
Squares
Circles
Rectangles 
Triangles
The size of the perforations is also customizable. Be sure to compare perforated sheet manufacturers, so you find the right fit. Our experts can talk specifics with you.
Benefits of Perforated Steel Materials
There are several benefits to using perforated steel. Along with the wide range of customization, there are four main advantages.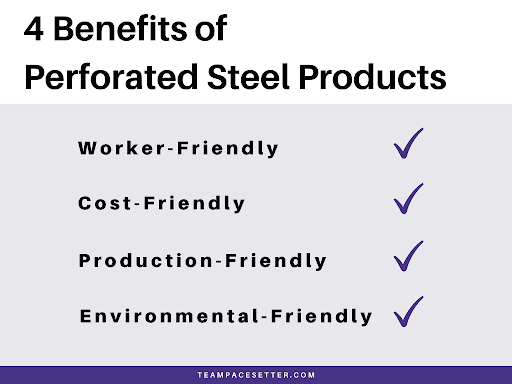 Worker-friendly
Perforated steel tends to be more lightweight than other metal products. This makes it easier for employees to handle and transport. Perforated steel may save time and money since employees can transport more lightweight material at once.
Cost-friendly
Speaking of cost-effectiveness, perforated steel provides substantial energy savings — upwards of 25% when installed into buildings.
Production-friendly
Steel sheets can be replicated with extreme precision using specialized perforation machines. This ensures a consistent look across production and guaranteed safety as well.
Environmental-friendly
For environmentally-conscious companies, perforated steel is a wise choice. Used or scrap metal is an excellent candidate for refurbishment or recycling. Another potential cost-saving opportunity!
Perforated Steel Forms
Perforated steel's versatility means it can be used in many forms. If you have a unique need not listed below, give us a call. Our team will discuss options with you.
Tubing
Perforated steel tubing comes in round, square, and rectangular shapes. Steel tubing is commonly used for structural purposes. Think furniture, appliances, and transportation. Tubing is different from piping, as you'll read later in this section.
Beams
Perforated steel beams are used most often in building construction. There is plenty of room for customization with this product including, Beam length, perforation shape, and perforation size. It's important to note that the hole size can affect beam strength. Talk with an expert to select the right choice.
Plates
Just like tubing, perforated metal plates have a utilitarian purpose. They're used to provide protection or ventilation in structures. Think sewer manholes. But metal plates can also have an aesthetic purpose. Besides ventilation, perforated plates provide light and privacy.
Sheets
Perforated sheets are what you'll find on building awnings, fences, and more. The strong material is weather-resistant — perfect for outdoor applications. And it provides an interesting texture to interior design.
Corrugated Steel
Perforated corrugated steel is another excellent choice in design and construction. It's tough, visually appealing, and cost-effective. When metal is corrugated, its load-bearing capacity increases, and builders can buy lighter-weight metals, knowing the strength will be there.
Talk with our team for more information on metal load-bearing capacities.
Trays
Stainless steel perforated trays are found in the restaurant and medical industries. Stainless steel is bacteria resistant and doesn't leave a metallic taste or odor. It's also corrosion-resistant and can last decades with the proper care. 
Pipes
Unlike perforated tubing, perforated pipes generally only come in a round size. Their primary use is to transfer matter under immense pressure. This "matter" is usually a liquid or a gas but can even be energy in some cases!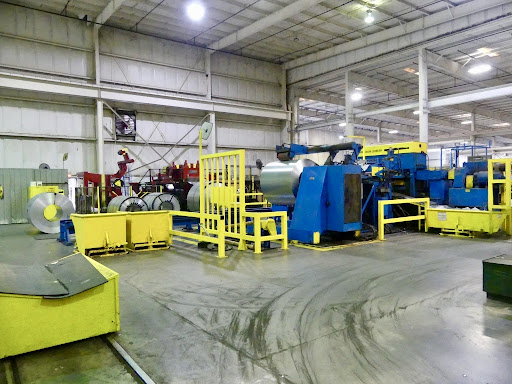 Perforated Steel Application and Uses
Let's talk about common applications and uses of perforated steel. You'll see that perforated steel is used almost everywhere. That's what makes its versatility so popular.
Fences
Perforated steel fences are durable, weather-resistant, and provide privacy. It's perfect for residential homes, commercial properties, and industrial sites.
Flooring
Perforated steel flooring is an excellent choice for businesses that work with liquids. Think auto shops where oil, washer fluid, and antifreeze can spill. It keeps workspaces clean and safe. Plus, steel flooring can hold a considerable amount of weight.
Tables
Perforated steel tables are commonly seen in parks and playgrounds. They help keep surfaces clean from accidental spills. And the durable material can withstand heat, rain, and snow for years.
Stairs
Just like flooring, perforated steel stairs are smart for businesses that work with messy materials. These stairs can handle traffic while reducing safety risks associated with spilled liquids.
Drums
Perforated stainless steel drums are found in washers, dryers, and other appliances. They're great for filtration and corrosion-resistant, so water is no problem. Plus, perforated steel drums have a long shelf life, so they won't need replacing for years to come.
Perforated steel's versatility makes it an excellent choice for companies in any industry. Its durability and strength make it a great investment for the future.
Need Perforated Steel For Your Next Project?
If you need perforated steel for your next project, contact our experts today. We'll discuss your project needs and provide you with the best quote for our perforated steel products. We offer a variety of steel processing services, including slitting, blanking, cut-to-length, and toll processing services. In addition to perforating finishing services, we can also emboss and prepaint steel to your exact specifications. We offer a premium supply of a variety of steel, including:
Get A Quote Today