6 Tips For Choosing The Best Quality Stainless Steel
Custom steel fabrication is a popular choice for businesses that need steel products not readily available off-the-shelf. And there are even more benefits to custom steel, including better durability than their mass-produced counterparts. Plus, custom steel work can be customized to meet the unique needs of your business.
But with so many steel distributors and steel suppliers on the market, it's hard to suss out the right quality stainless steel for your project. Luckily, we've got 9 tricks to make your determination easier.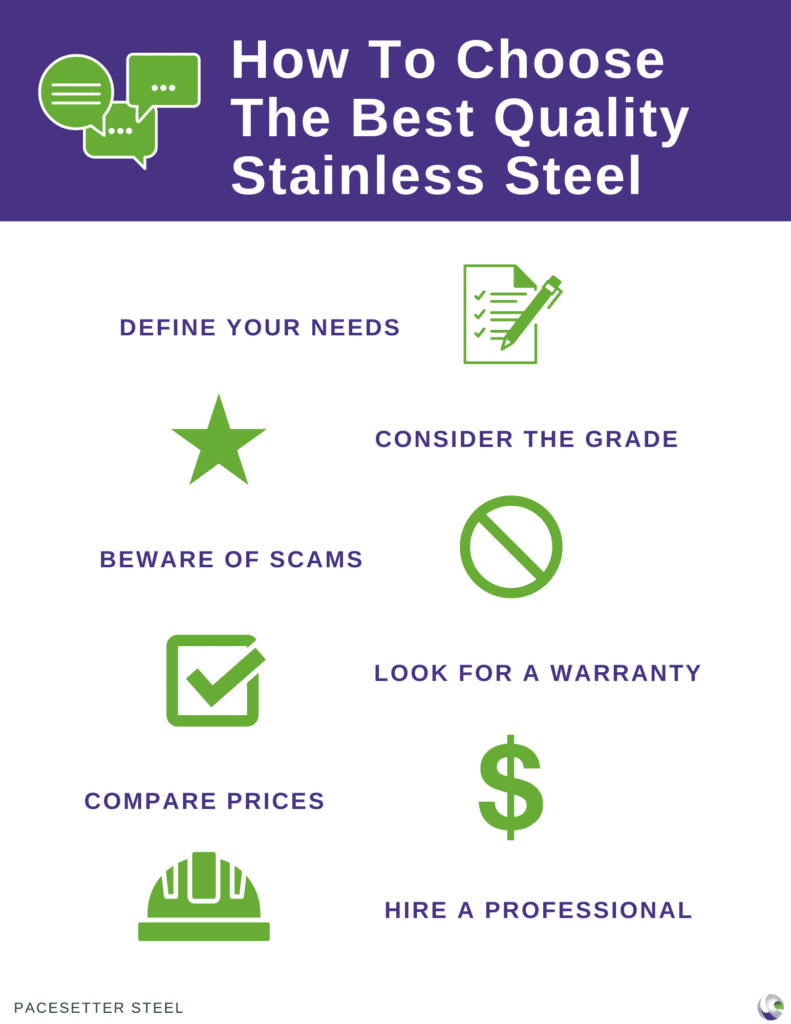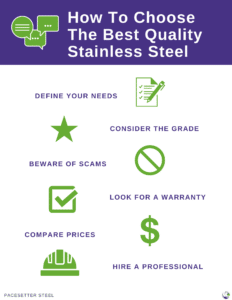 Define Your Needs
The first step in choosing the right quality stainless steel is to define your needs. What are you going to use the stainless steel for? Consider these factors:
Residential or commercial use

Practicality

Aesthetic appeal

Size

Budget

Timeline

Availability
Begin with the end. Knowing exactly what your project requires before starting will save you headaches in the long run.
Consider The Grade
When you're looking for stainless steel products, it's important to consider the grade. The grade of stainless steel is a measure of its quality, so you want to make sure you choose a high-quality grade.
Some of the most common grades of stainless steel are 304, 316, 409, and 430. Grade 304 is best for most general applications, like the food and beverage industry. Grade 316 is better for harsher environments such as the marine, aerospace and medical industries.
Related: What Distinguishes the Different Stainless Steel Grades?
Beware of Scams
Unfortunately, there are some companies out there that will try to scam you with low-quality stainless steel. They might sell you a lower grade of stainless steel or try to pass off a different metal as stainless steel. To avoid being scammed, do your research and only buy from reputable companies. If you're not sure if a company is reputable, you can ask around or look for online reviews.
And you can always do your own scam check with these methods:
Use a magnet. Stainless steel has magnetic properties.

Measure the weight. Stainless steel is heavier than other metals like aluminum.

Check the inside. Stainless steel has a light gray, shiny appearance.

Look for the 'S'. Some stainless steel objects commonly have an 'S' label.

Use an eyedropper. Drop a few drops of muriatic acid on the metal. After an hour, wipe off the acid, and if the metal is discolored, it's stainless steel.
Related: Should You Really Buy Steel From Amazon?
Look For A Warranty
Another way to determine the quality of stainless steel is to look for a warranty. Companies that offer warranties on their products are usually more reputable and sell higher-quality products. If you're not sure if a company offers a warranty, you can ask them or look for online reviews. If they don't offer warranties, ask them why. The answer may surprise you.
Compare Prices
One way to determine the quality of stainless steel is to compare prices. Higher-quality stainless steel will usually be more expensive than lower-quality options. Of course, there are always exceptions to this rule, so it's important to do your research and make sure you're getting a good deal.
Hire A Professional
When in doubt, hire a professional steel supplier. Their steel experts will help you find the right stainless steel for your project. Consider these factors:
Get A Quote Today
Remember to consider factors like pricing, quality, and customer service when choosing a steel supplier. For high-quality steel and impeccable customer service, request a quote.
If you need stainless steel for your next project, contact our experts today. We'll discuss your project needs and provide you with the best quote for our stainless steel products. We offer a variety of steel processing services, including slitting, blanking, cut-to-length, and toll processing services. And we emboss, prepaint, or fabricate steel to your exact specifications. Pacesetter is your steel expert.