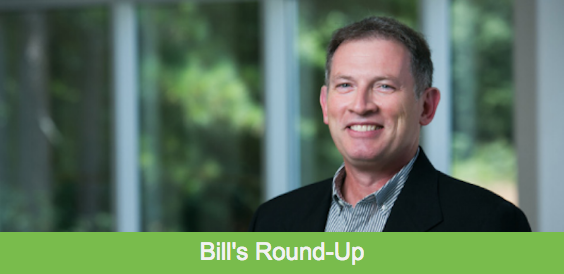 As we head into the final month of 2019, the housing industry has finally picked itself up. Durable goods orders gained ground too, but overall manufacturing and construction is slowing. The kings of Wall Street made a lot of money on our national economy. Gasoline prices are right where they were a year ago. Steel mill output remains over 80% of capacity and galvanized imports are looking weak for the balance of the year. American and Canadian steel mills raised prices (again) recently. On the automotive side, it's looking like millennials have finally decided that owning an automobile is the way to go, and since they might possibly contribute to 40% of new vehicle sales, have the attention of auto makers.

---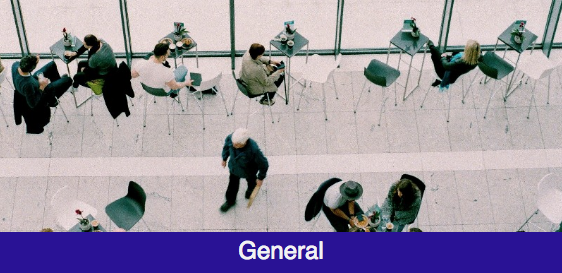 + The Q3 GDP for the USA rose to 2.1% from 1.9%.
+ New Home Sales jumped 4.3% in October, possibly due to discounting. The average price of a new home is down to $316,700. The inventory of unsold new homes is 5.3 months' worth.
+ Durable Goods Orders gained .6% in October.
– Construction Spending fell .8% in October.
– The ISM Manufacturing Index fell to 48.1 in November from 48.3 in October. Our manufacturing base is contracting faster.
+ As you can see from this chart, there are plenty of people making plenty of money in show business and Corporate America.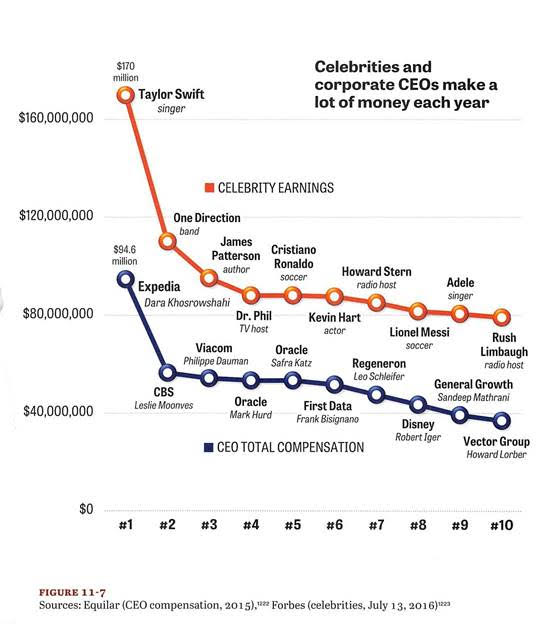 Disney's Bob Iger made $44.9 million, Oracle's Mark Hurd pocketed $53 million… Howard Stern, Kevin Hart, Lionel Messi, Adele, Rush Limbaugh, etc. Lots and lots of money. All of them. So what do hedge-fund managers have to say about it? "Hold my beer," according to a tweet from Cambria Investment Management's Meb Faber, who highlighted the two charts, including the one below, for perspective on how much the powerbrokers of Wall Street actually make.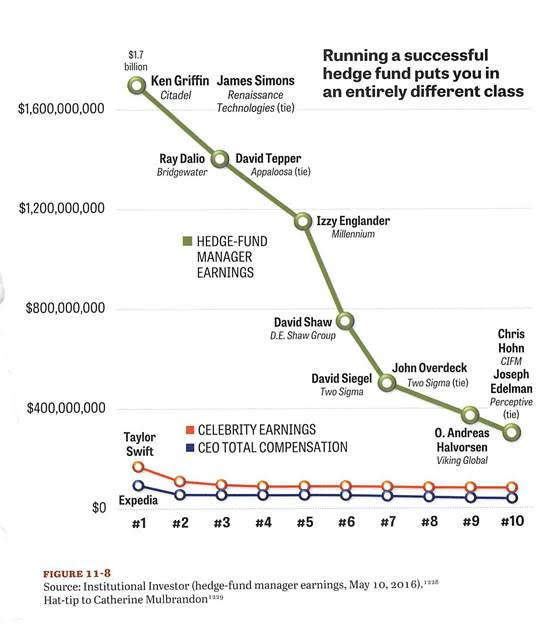 Citadel's Ken Griffin and Renaissance Technologies's James Simons brought in $1.7 billion each in 2016, combining with the rest of the top 25 earners across the hedge-fund industry to make about $13 billion that year. In the latest roundup, Bridgewater's Ray Dalio took first place with $2 billion, leaving Simons in second.  How do these guys make so much cash? Well, they typically earn 2% off assets under management and 20% off performance fees — or in Simons's case, a whopping 5% and 44%. Nice work, if you can get it.
+ Gas prices are right at where we were last year.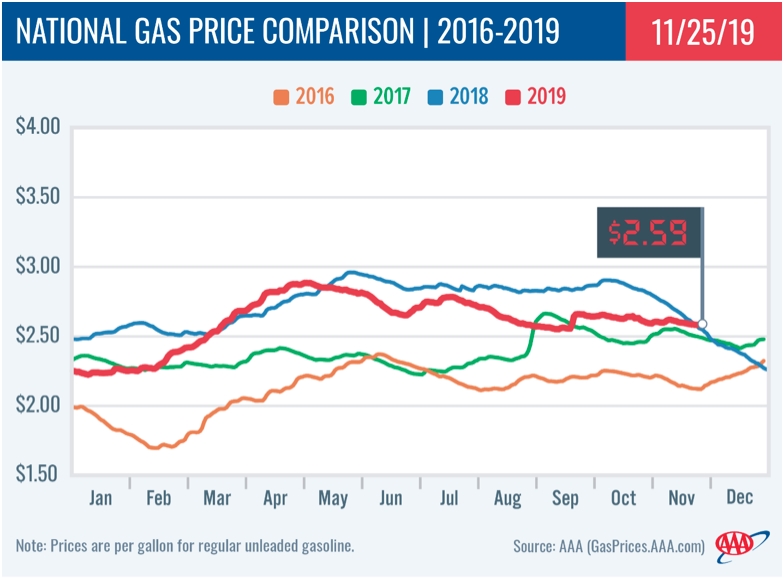 – Van and reefer freight rates went up, but flatbeds went down.

---

– #1 heavy melt scrap was steady at $202 per ton and #1 busheling scrap was at $240 per ton.
+ Raw steel production remained over 80% last week (80.4%).
– Iron ore FOB Chinese ports is at $84 per dry metric ton.
+ Zinc Prices have settled.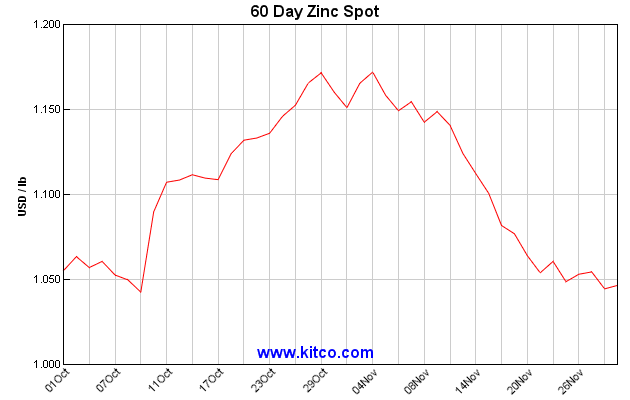 – Galvanized imports are coming in weak for November.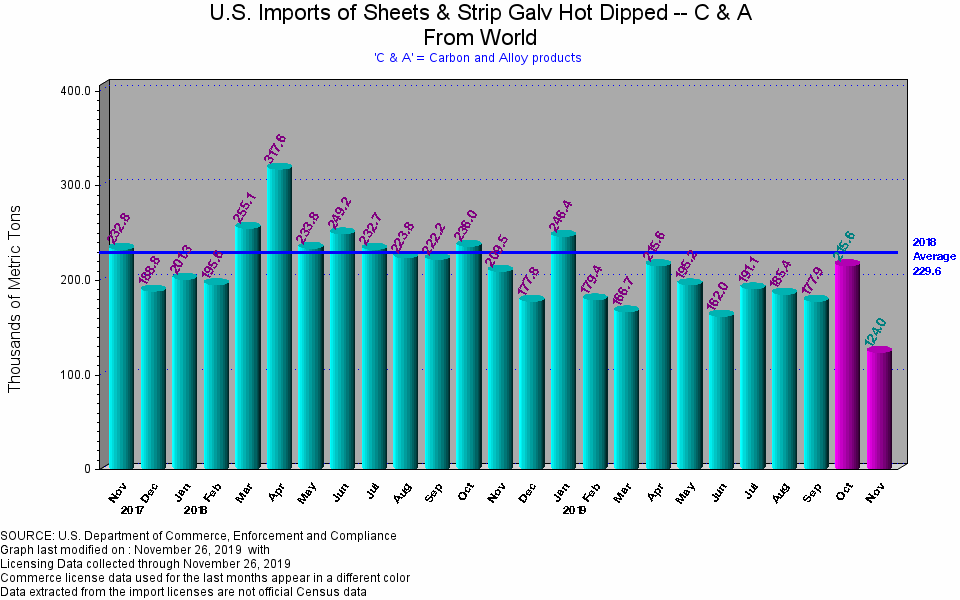 + Stelco in Canada raised prices by $40 per ton.
+ Algoma in Canada raised prices by $30 per ton.
+ Nucor raised prices by $30 per ton.
– US Steel's Gary Works steel mill was partly flooded last week after a big water pipe, being used to bring in water from Lake Michigan to cool equipment, broke forcing the steelmaker to shut down its blast furnaces and steel-making operations. Steelworkers have been working to assess the extent of the damage and ascertain what repairs are needed. US Steel spokeswoman M Amanda Malkowski said the steelmaker is trying to correct the situation, which may have resulted in a discharge into Lake Michigan. She said "We have reported a service water leak that caused flooding at our Gary Works facility near our blast furnace operations. Our blast furnaces remain shut down, as the issue is investigated. We have observed discoloration at the outfall. We are working with IDEM and have notified other appropriate agencies, as well as downstream users. Additional sampling is ongoing. We are working to resolve this issue, with safety and environmental performance as our top priority." The furnace is expected to go back on line later this week.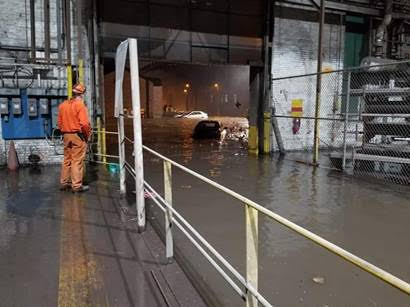 ---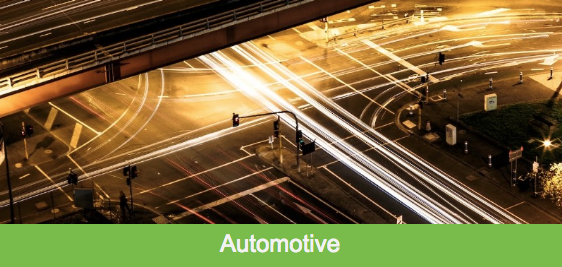 + Millennials have transitioned from a group originally deemed as uninterested in vehicle ownership to a generation that's expected to account for 40% of all new-vehicle purchases next year. Also known as Generation Y, Millennials make up 22% of the U.S. population and range from age 23 to 38. The older ones "aren't kids anymore," says Ali Chapman, a customer insights analyst at CarGurus, an online automotive marketplace. The latter wasn't always the case, which is how Millennials got an early reputation – much to the horror of the auto industry – as the generation that disdained vehicle ownership. In retrospect, it wasn't that they didn't want cars, it was that they couldn't afford them. Many older Millennials came of age during last decade's recession. Today, the average U.S. Millennial annually earns $69,000. That exceeds the overall average of $61,000, but isn't as much as Boomers and Gen X average. Seven of 10 are certain they want a utility vehicle, and 60% are certain about the approximate price they're willing to pay. They are less certain about make, model and dealership.
+ Let's celebrate the lowly 4 cylinder automobile engine. The inline 4-cyl. engine's first patron, Wilhelm Maybach, was heralded by the French as the "King of Designers." After inventing a practical petroleum-fueled single-cylinder engine in 1885 for motorcycle, motorboat and airship applications, Maybach and his partner Gottlieb Daimler created the first I-4 in 1894 to power their Phoenix automobile. By 1911, Fiat had increased I-4 displacement to an awesome 28.3 liters for racing, yielding more than 250 hp at only 1,500 rpm. Two years later, Swiss designer Ernst Henry topped an I-4 with the first dual- overhead camshaft 4-valve cylinder head, allowing Jules Goux to win the Indy 500 with ease in his Peugeot. Duly inspired, Americans Henry Miller, Fred Offenhauser and John Edwards designed the better I-4 which would succeed at the Brickyard from 1922 (first victory) through 1980. In 1935, 1938, 1949-50, 1952-56, 1959-60, 1962 and 1964, every car that started this 500-mile race was a Miller/Offenhauser. All told, this I-4 family won an incredible 39 Indy 500s. The I-4's Formula One heyday came in the 1980s when aggressively turbocharged BMW 1.5L engines produced 1,300 hp for qualifying and 600-700 hp for the race. In production cars, Henry Ford's Model T arrived in 1908 with a 2.9 liter I-4 producing 20 hp. To minimize cost and simplify service, the 20th century's most influential car had no water, oil, or fuel pump. More than 15 million Ford Model T's were sold over two decades. And where would allied soldiers have been without the I-4-powered Jeeps produced by Ford and Willys for World War II? The 60-hp Go Devil engine designed by Willys had the strength and stamina needed to win the day. More than 640,000 were built, many of which are still running. One of the more interesting stretches of the I-4's wings arrived in '19 with GM's turbocharged 2.7L I-4 producing 310 horsepower, trumping GM's full size trucks' 4.3L V-6 and 3.0L turbodiesel I-6 alternatives.
---