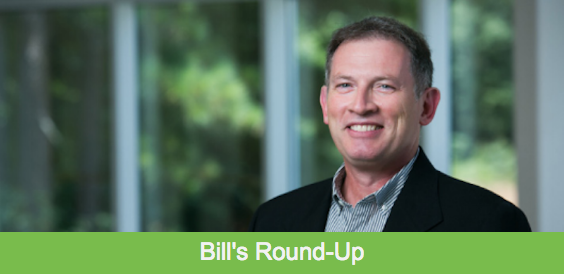 Bill's recap: "The US economy is looking good as we head into the Labor Day weekend. Gas prices are down. So are freight rates. Steel mill production broke the 80% mark again. Imports are weak. The auto industry continues to churn with new products and new alliances."
---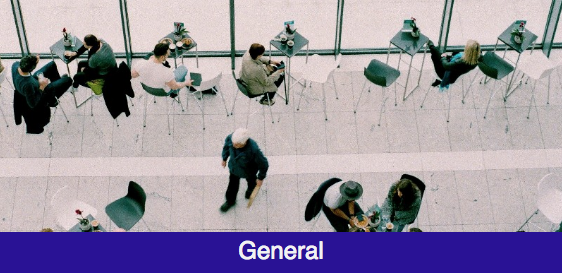 + Durable Goods Orders rose 2.1% in July, driven by aircraft and motor vehicle orders. – Foreign agents are exploiting social media to try to recruit assets, with LinkedIn as a prime hunting ground. Intelligence agencies in the United States, Britain, Germany and France have issued warnings about foreign agents approaching thousands of users on the site. Chinese spies are the most active, officials say. "We've seen China's intelligence services doing this on a mass scale," said William R. Evanina, the director of the National Counterintelligence and Security Center, a government agency that tracks foreign spying and alerts companies to possible infiltration. "Instead of dispatching spies to the U.S. to recruit a single target, it's more efficient to sit behind a computer in China and send out friend requests to thousands of targets using fake profiles." The use of social media by Chinese government operatives for what American officials and executives call nefarious purposes has drawn heightened scrutiny in recent weeks. Facebook, Twitter and YouTube said they deleted accounts that had spread disinformation about the Hong Kong pro-democracy protests. Twitter alone said it removed nearly 1,000 accounts. It was the first time Facebook and Twitter had taken down accounts linked to disinformation from China. Many governments have employed similar playbooks to sow disinformation. LinkedIn, owned by Microsoft, is both another vehicle for potential disinformation and, more important, an ideal one for espionage recruitment. That is because many of its 645 million users are seeking employment opportunities, often from strangers. To enhance their prospects, many former government employees advertise that they have security clearances. LinkedIn is also the only major American social media platform not blocked in China because the company has agreed to censor posts containing delicate material. Chinese agents often make offers over various channels, including LinkedIn, to bring the prospective recruit to China, sometimes through the guise of a corporate recruiting firm offering to pay them for speaking or consulting engagements or aid in research. From there, agents develop the relationship. "The Chinese want to build these options with political, academic and business elites," said Jonas Parello-Plesner, the former Danish Foreign Ministry official who reported the apparent recruiting attempt by the Chinese that began over LinkedIn. "A lot of this thrives in the gray zone or the spectrum between influence-seeking and interference or classical espionage." People who have just left government are especially vulnerable because they are often looking for new employment. + Heading into Labor Day weekend,  gasoline demand remains strong. Data from the Energy Information Administration measures demand at 9.9 million b/d, which is 300,000 b/d higher than the previous week.  Meanwhile, gasoline stocks declined by 2.1 million barrels to total at 231.9 million. While demand chips away at supply, it's not at a high enough rate to significantly impact gas prices. In fact, the national average is cheaper week-over-week by three-cents. That's good news for motorists hitting the road for the holiday weekend. They can expect to find the cheapest Labor Day weekend gas prices in three years. + Freight rates are coming down.

---
– #1 heavy melt scrap is stagnant at $248 per ton as well as #1 busheling scrap at $300 per ton. + Raw steel production increased to 80.6% of capacity. – Iron ore FOB Chinese ports is at $91 per dry metric ton. – Zinc prices seem to be leveling out.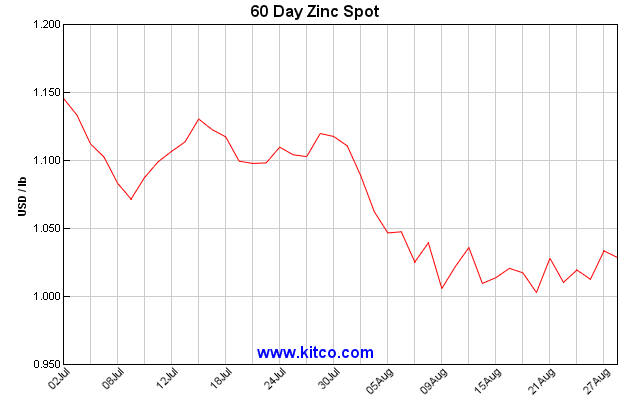 – Galvanized imports are slowing again.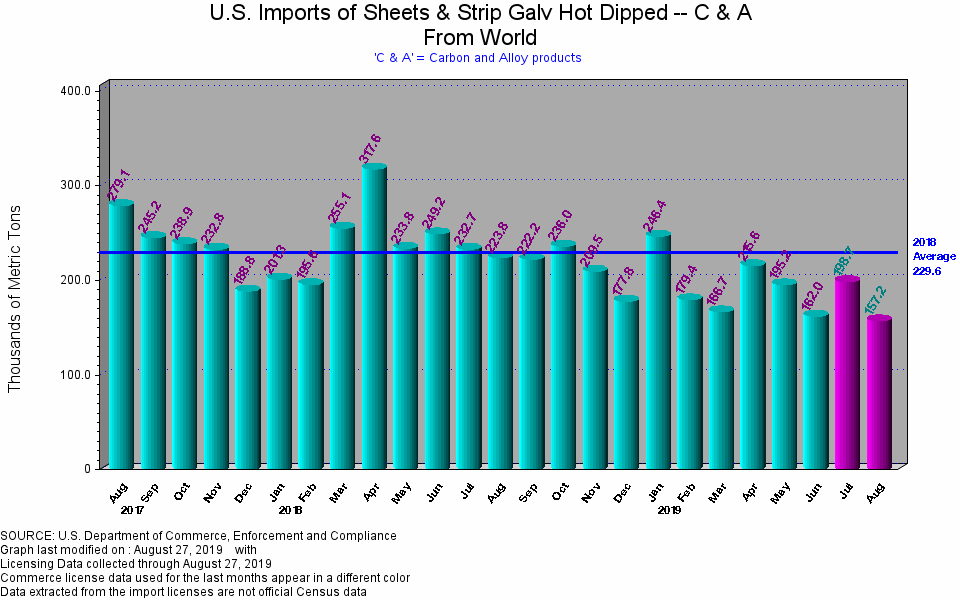 ---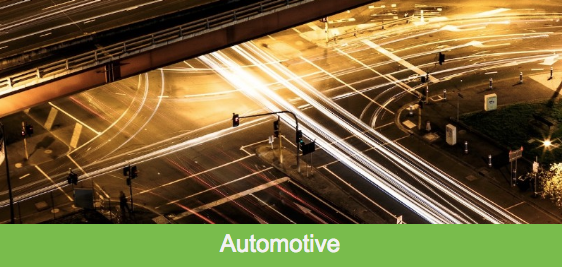 + Toyota is buying a 4.9% stake in Suzuki at a cost of ¥96 billion ($906.8 million). The two automakers began discussing a business partnership on Oct. 12, 2016, and since then have continued to consider specific details. They say the alliance will combine Toyota's strength in electrification technologies with Suzuki's strength in technologies for compact vehicles. "Specifically, to take up challenges together in this transitional era, the two companies plan to establish and promote a long-term partnership…promoting collaboration in new fields, including autonomous driving," the statement says. Suzuki joins a growing list of partnerships for Toyota, which already holds a 5.1% stake in Mazda, a 16.8% stake in Subaru and 100% of Daihatsu. + The ID. Buggy was conceived to inject some fun into Volkswagen's upcoming ID. family of electric vehicles. It also showcases the versatility of VW's MEB EV platform, which makes its production debut next month underneath the new ID. 3 hatchback. It successfully updates the look of the Meyers Manx with a friendly face featuring a low-set bumper and round headlights that contain daytime running lights and pupil-like main-beam projectors. As with the Meyers Manx, the ID. Buggy's plastic body appears to float above the chassis. The reinforced windshield is freestanding, without any additional support. A composite fabric roof provides protection from the elements. Rollover protection is provided by a sturdy structure behind the two seats. Power comes from a rear-mounted electric motor developing 202 hp and 228 lb.-ft. of torque. It drives the rear wheels exclusively, with an electronic differential providing a torque-vectoring effect for optimal traction. As with other ID. models already signed off for production, VW says a second electric motor could be packaged up front to provide 4-wheel drive should buyers request it. Will the ID. Buggy ever reach production? It seems likely. Nothing is official just yet, but VW says is actively seeking partners to build what is arguably the most radical ID. model yet.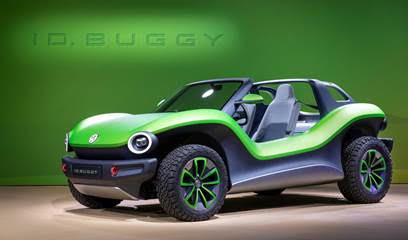 ---