Can you believe it's June already? The surreal situation created by the Covid-19 virus seems to have occupied our consciousness and helped us lose track of time. Now that we are on the tail end of the virus debacle, it's like waking up, and it's June. It seems like only yesterday, it was February. Speaking of February, the Dow Jones Industrials are at the same level they were on Feb. 1, 2020. The US economy has weathered the storm pretty well considering all the trouble from the virus. The stock market doesn't lie. People invest with only one thing in mind. Profit.  The US GDP took a hit this year (so far), but there are bright spots in the economy, like home sales. Other pieces might take longer to recover, like vehicle sales and airline travel. I'm still betting that by Thanksgiving, we will have plenty to be thankful for.
---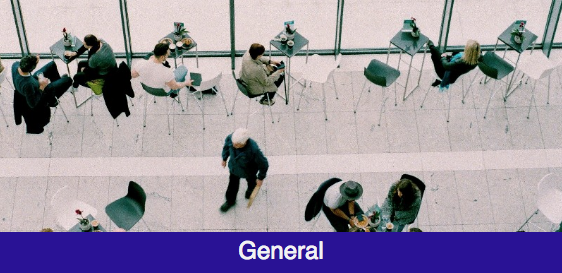 + New Home Sales unexpectedly gained .6% in April. The average price of a new home was $309,900. The inventory of unsold new homes was 6.3 months' worth.
+ Where the recent stimulus checks went.
– Gasoline isn't far from crossing the $2.00 per gallon mark. Refineries are picking up a little, running at 71.3% of capacity. West Texas crude oil is selling at $33 per barrel.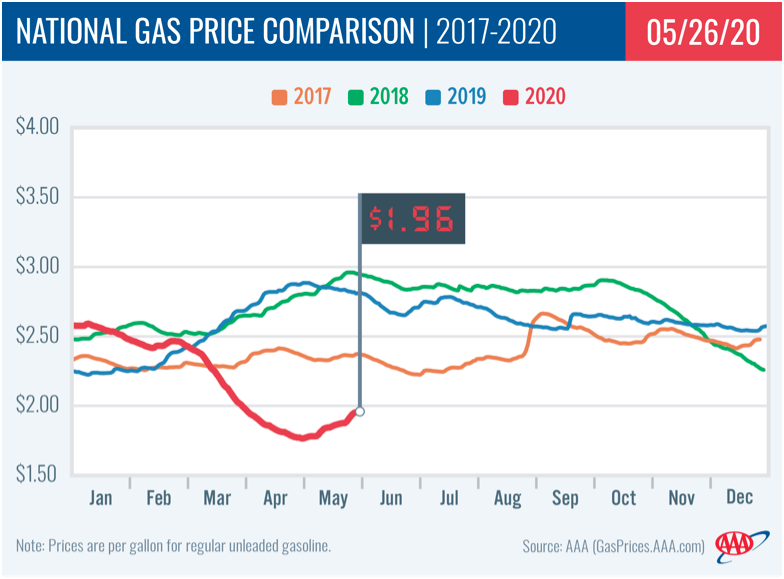 – Q1 U.S. GDP was down 5%.
– While more companies and workers are embracing the benefits of remote work, long-term arrangements may not live up to the hype. Extended remote work threatens a "decay in culture," says Axios, as out-of-office workers face increased isolation, distractions and blurred lines between work and home life. Short-term success amid the pandemic has largely been rooted in established relationships, which are harder to build and maintain online. It's even led some companies to rebuild virtual simulations of their offices to give employees the social experiences of office life.
– Hartsfield-Jackson International Airport is starting to see a slight uptick in passengers amid the coronavirus pandemic, but a full recovery could still be years away. Airport General Manager John Selden told an Atlanta city council committee Wednesday that gross revenue from concessions and rental cars at the airport declined by nearly $42 million in the January-to-March quarter compared with a year earlier. The decline reflected just the first weeks of the pandemic. Since then, more concessions have suspended operations. About 310 of the airport's 347 concessions are now closed, after the airport shuttered Concourses B and E and parts of Concourses C and T in response to airlines cutting as much as 85% of their flights. Passenger counts declined as much as 97% at the lowest point in April, but have recovered slightly to about an 88% decline year-over-year. He hopes to see passenger counts recover next year to closer to half the level seen before the pandemic. But he cautioned that a full recovery to pre-COVID 19 levels could take two to five years.
– Durable Goods Orders are down 17.2% in April. New orders, transportation orders, and shipments are down, while inventories are up.
---

– #1 heavy melt scrap is at $202 per ton and #1 busheling scrap is up to $310 per ton.
– Raw steel production registered 53.2% of capacity.
– Iron ore FOB Chinese ports is up to $92 per dry metric ton.
– Zinc trading is keeping the graph choppy.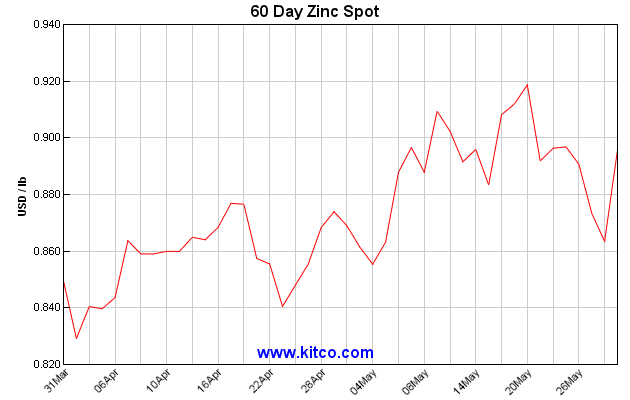 – Galvanized imports for May might end up slightly better than April.
---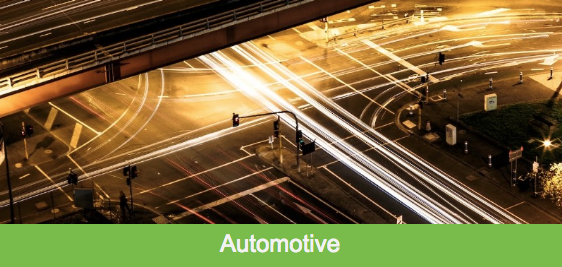 – Hertz filed for bankruptcy protection, unable to withstand the coronavirus pandemic that has crippled global travel and with it, the 102-year-old car rental company's business. The Estero, Florida-based company's lenders were unwilling to grant it another extension on its auto lease debt payments past a Friday deadline, triggering the filing in U.S. Bankruptcy Court in Delaware. Hertz and its subsidiaries will continue to operate, according to a release from the company. Starting in mid-March, the company — whose car-rental bands also include Dollar and Thrifty — lost all revenue when travel shut down due to the novel coronavirus, and it started missing payments in April. In late March, Hertz shed 12,000 workers and put another 4,000 on furlough, cut vehicle acquisitions by 90% and stopped all nonessential spending. The company said the moves would save $2.5 billion per year. But the cuts came too late to save Hertz, the nation's No. 2 auto rental company founded in 1918 by Walter L. Jacobs, who started in Chicago with a fleet of a dozen Ford Model T's. Jacobs sold the company, initially called Rent-A-Car Inc., to John D. Hertz in 1923. Under a Chapter 11 restructuring, creditors will have to settle for less than full repayment, but the company is likely to continue operating. Hertz isn't the first struggling company to be pushed into bankruptcy by the coronavirus crisis. The company joins department store chain J.C. Penney, as well as Neiman Marcus, J. Crew and Stage Stores.
– Carl Icahn has sold his entire stake in Hertz Global Holdings the first business day after the car-rental firm said that it would file for bankruptcy. Entities controlled by Icahn sold 55.3 million Hertz shares (ticker: HTZ) on the open market for $39.8 million, an average per-share price of 72 cents. Icahn disclosed the transaction in a form he filed with the Securities and Exchange Commission. He had been the company's top shareholder, as the shares sold represented a 39% stake in the company. Mr. Icahn lost almost $2 billion on the transaction.
– The newest normal? Nissan aims to cut $2.78 billion in fixed costs and reduce global production capacity from 7.2 million to 5.4 million vehicles. Nissan will close plants in Indonesia and Spain, and realign its U.S. production footprint.
– New vehicle sales are expected to drop by almost a third in May, dragged down by the collapse of fleet sales highlighted by the recent bankruptcy by Hertz. ALG Inc., a subsidiary of TrueCar Inc., expects new vehicle sales will reach 1.008 million units in May 2020, down 32% from a year ago. This month's seasonally adjusted annualized rate for total light vehicle sales is an estimated 11.8 million units, a level last seen during the Great Recession. Excluding fleet sales, ALG expects U.S. retail deliveries of new cars and light trucks to be 1,008,916 units, a decrease of 21% from a year ago.
+ Coronavirus can be killed by disinfectant, but if you're cleaning a car, just imagine all the nooks and crannies the microscopic organism can get into—places your bleach wipes can't reach. But Ford has a plan to use heat, specifically the heater in its Police Interceptor Utility vehicles, to kill 99 percent of the virus in just 15 minutes. The Blue Oval has updated its software in newer Explorer cop cars—and has a tool that connects to the onboard diagnostics port to do the same in older ones—to kick the heat on, keep the revs high and raise the interior temperature to 133 degrees Fahrenheit. The company has already conducted trials in New York, LA, Michigan, Massachusetts, Ohio and Florida. Officers will be able to monitor the progress of the bake by way of the hazard lights and taillights. Once the vehicle has sustained the 132.8-degree temp for 15 minutes, the AC will come on to cool the cabin back to normal temperatures. The procedure will keep Police personnel as well as their passengers safe from possible exposure to viruses.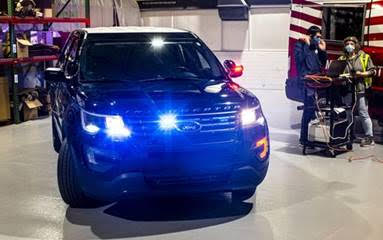 ---